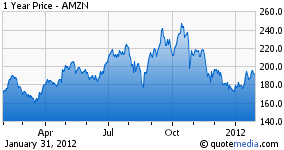 By now, everyone knows Amazon.com (AMZN) missed its revenue estimates, guided down revenue estimates for Q1 2012, and guided toward a possible operating income loss for Q1 2012 (something I had predicted months ago).
What some seem to be missing is that Amazon.com's slowdown was much, much worse than it seems. Yes, Amazon.com still reported that revenues increased 35% to $17.43 billion in Q4. But those revenues had something that did not exist in Q3: The Kindle Fire (as well as an updated Kindle lineup).
So, we can try to calculate an "ex-Kindle Fire" growth rate, comparable to the previous quarter when no Kindle Fire existed. Estimates from analysts and Amazon.com ("selling 1 million Kindles per week") point to around 5 million Kindle fires sold during the quarter. At $199 per Kindle fire, this makes for around $1 billion in additional revenues. So, an "ex-Kindle Fire" growth rate would be more like $16.43 billion/ $12.95 billion ... representing 26.9% growth, down from 39% the quarter before - a very significant slowdown, and yet not really captured in the (disappointing) headline numbers today.
Other Highlights

Media sales in the U.S. are also slowing down fast in spite of the supposed positive Kindle impact, and are now growing just 8% year-over-year.
Fulfillment costs continue their march upwards, with net shipping costs now eating up 5.4% of revenues.
In spite of all the investment into free video and free book lending, shipping revenue grew just 21%, much slower than revenues.
The international segment has the most margin compression by a mile … guess where Amazon.com collects taxes the most?
Although much has been said about how Best Buy (BBY) is going out of business because of Amazon.com, the truth remains that Amazon.com's earnings are both lower and falling faster than Best Buy's.
Conclusion
Amazon.com is showing dramatic growth slowdown while still revising forward earnings lower. This makes for a higher and higher multiple to earnings in spite of what the stock has already fallen. The stock makes absolutely no sense at the present levels, given revenue growth or earnings.