Telular (NASDAQ:WRLS) released its first quarter FY2012 results on Thursday, January 26. Management not only exceeded our expectations but raised forward guidance again. Telular agreed to acquire SkyBitz for $42M in cash and stock on Dec. 5. This is a major transaction for Telular, increasing the size of the company approximately 70%. The transaction is expected to close on February 1, 2012 and be immediately accretive to both cash and earnings.
Business Segments
Telguard: Provides primary and backup alarm communication solutions for residential, VoIP, small business, financial, commercial and fire system markets. These products transmit full data from virtually all security and fire systems to central stations using the cellular network.
TankLink: Tank monitoring products offers solutions for M2M communications. Tank monitoring and automatic replenishment solutions help address the inventory management needs in the petroleum logistics, bulk chemicals and bio fuels industries.
SkyBitz will make up the third segment. Based outside of Washington, D.C., SkyBitz provides real-time information on the location and status of assets. More than 700 enterprises rely on SkyBitz technology. SkyBitz delivers its solution via SkyBitz Insight, a secure web-based application that is fully customizable and requires no software downloads.
Performance
Telguard service revenue continues to grow sequentially as shown below.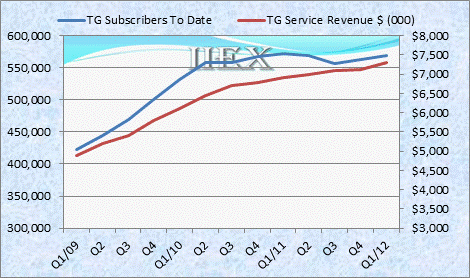 Telguard service revenue increased approximately 6.3% over the last 12 months. The slow growth is due to a decrease in subscribers during FY-Q3 from Telular's largest customer (probably ADT) terminating 29,000 subscribers in that quarter. The latest deactivation was during the recent quarter. We estimate the number of terminations at approximately 20,000. We noted in a previous article management expected another 25,000 disconnects from this customer. Revenues and ARPU (average recurring revenue per unit month per subscriber) increased because margins attributed to this customer are much lower than newer activations. The large customer enjoys the benefits of volume discounts. The reason given for the terminations is the large customer is cleaning up its inactive accounts. If accurate, disconnects from this customer should be substantially less going forward.
Guidance for quarterly Telguard unit sales increased from 20,000 - 30,000 to 25,000 - 35,000 throughout fiscal 2012. Telguard ARPU increased to $4.30, a sequential increase of $0.06. The total subscriber base increased from 563,500 to 569,100 during the quarter.
Management expects yearly churn in the ten percent range. The industry average is 12-15% and Telular could trend toward this range as the subscriber base grows. Below is a graphic view of our longer term subscriber projection and past data.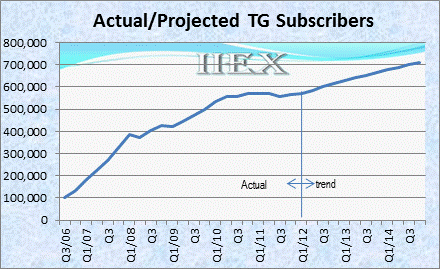 TankLink recurring revenues increased approximately 142% over the last 12 months. Growth has been rapid in this segment; 2011 revenues up 95% over 2010. Actual revenue and tank count continue to trend up, shown below, followed by our longer term tank projection: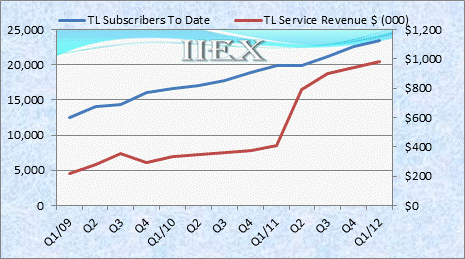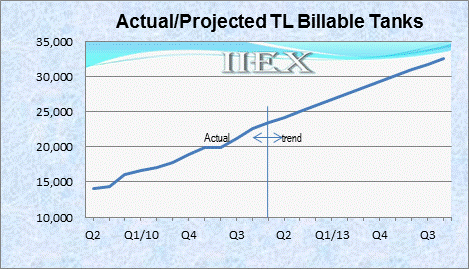 Cash Flow and Dividends

Management announced EBITDA guidance for fiscal year 2012 in the range of $16.0- $17.0 million, pending the closing of the SkyBitz acquisition. Joe Beatty, CEO, had this to say about the EBITDA guidance in the earnings release:
Our new guidance is the result of stronger than anticipated demand in our Telguard business as well as the inclusion of the financial results of SkyBitz for the remainder of our fiscal year. We remain very excited about our long-term growth and profitability as we continue to generate cash and deliver a regular quarterly dividend to shareholders.
EBITDA increased 75% over the last 12 months. Based on guidance EBITDA is expected to increase another 40% over the remaining three quarters of FY2012. The following graph plots operating income, EBITDA and free cash flow, including past and projected figures.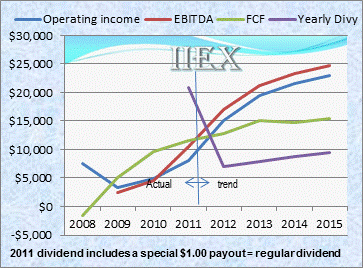 Free cash flow levels out in future years due to the debt incurred with the SkyBitz transaction. The cash portion of the deal will be financed with a $30 million five-year bank loan. Loan amortization is expected to be 10% the first year, 15% in year 2 and higher in years 3 through 5, slowing cash flow growth. This schedule will produce a sharp increase ($2M+) in free cash flow after year 5 due to the elimination of debt. Bottom line the dividend is safe given the current and projected cash flows with room to grow as illustrated above.
Telular pays a quarterly dividend of $0.11 or a yearly rate of $0.44; a current yield of 5.1% at the time of this writing. The total payout next year is about $7 million or a free cash flow payout ratio of 54%.
Summary
The stock remains attractive for the following reasons:
Fiscal year 2012 EBITDA projected at $16-17 million.
Dividend of $0.44 (increase of 10% over FY2011) per share yielding 5.1% at the time of this writing.
The dividend commitment implies high confidence by management going forward.
Sustained cash and earnings growth going forward.
Gross margins for services (recurring revenue) are currently exceeding 70% from 65.4% in FY2011 and 59.8% in FY2010.
Growing potential with the SkyBitz acquisition.
Risk
Reliance on significant customers such as ADT, a Tyco (NYSE:TYC) International company.
Competition from much larger companies such as Honeywell (NYSE:HON) and DSC, a Tyco International company.
A complete set of updated detailed financial data and projections reflected in this article is found here.
Disclosure: I am long WRLS.