The Hershey Company (NYSE:HSY), North America's largest chocolate producer, has eleven manufacturing plants in North America. As well as the iconic Hershey brands, these factories make Hershey-owned Reese's and Kisses brands, Scharfen Berger premium chocolate and home baking products, organic Dagoba products, and Nestlé (Kit Kat and Rolo) and Cadbury products under license. Overseas manufacture takes place in joint ventures in Brazil, India and China, and by licensees in Japan and Korea.
Full year revenue for 2011 is expected to show a growth of 7%, according to Hershey's third quarter earnings press release. 2011 earnings per diluted share should increase by around 25%, and revenue and earnings growth in 2012 is expected to be in line with long-term targets. Predictions for full year 2011 are supported by results for the nine months to October 2: net sales of $4.5 billion (up 8% on comparable 2010) and adjusted non-GAAP net income of $489 million (up 9%).
Cost savings and productivity initiatives mitigated the effect of higher commodity prices in 2011, as outlined by president and CEO John P. Bilbrey in the third quarter earnings conference call. Hershey' seasonal market share is estimated to have risen for the fourth consecutive year, and the company also has 54% of the billion dollar-plus king-size candy bar market in convenience stores. International business is growing ahead of plan, and could achieve the target of $1 billion annual sales earlier than 2015. CFO Humberto P. Alfonso provided further detail, confirming that sales outside the US and Canada had grown by 25%.
Confectionery market share data shows that Hershey has about 29% of the total US confectionery market. It is second only to the privately-held Mars Inc, owner of the Mars, M&M and Wrigley brands, which has 32% of the market. Hershey has the largest share of the US chocolate market at 43%, putting Mars Inc's 31% into the shade. More significantly, Hershey's market share grew in 2011, for both total confectionery and chocolate alone, while Mars' share declined. Other competitors in both the US and overseas markets include Kraft (KFT), Nestlé, privately-held Russell Stover and the Swiss company Lindt.
The company's customers include wholesale distributors, chain grocery stores, mass merchandisers, chain drug stores, vending companies, wholesale clubs, convenience stores, dollar stores, concessionaires, department stores and natural food stores. Sales to McLane Company amounted to 22% of total sales. McLane is owned by Berkshire Hathaway (NYSE:BRK.A) and is one of the largest US wholesale distributors to convenience stores, drug stores, wholesale clubs and mass merchandisers, including Wal-Mart (NYSE:WMT). This concentration of sales to a single customer presents a significant business risk, and Hershey would no doubt prefer a better spread of customers.
A further risk is posed by the need to guarantee the consistent supply and price of raw materials. Cocoa beans, the source of the cocoa butter, chocolate liquor and cocoa powder used by Hershey to manufacture its products, are an internationally traded commodity with a volatile price history dependent on conditions in parts of the world subject to political, climatic and agricultural turmoil, principally West Africa. Hershey tries to minimize the effect of cocoa bean price fluctuations by sometimes forward purchasing large quantities of chocolate liquor, cocoa powder and cocoa butter, and by hedging using cocoa futures and options contracts.
Revenue has grown steadily every year from 2006 to 2010, a period in which the company recorded a 5-year compound sales growth rate of 3.3%. Business realignment and impairment charges have distorted the net income in some of those years, but income growth has been constant since 2008. Revenue was $5.7 billion in 2010, while net income was $510 million. The company's stated long-term objectives are to achieve an annual revenue increase of 3-5% and an annual earnings per share growth of 6-8%.
What this all boils down to is that Hershey may experience slower growth in 2012, with US volumes probably impacted by the price rises implemented in 2011. Yet the company's growth guidance, though modest, is expressed with confidence.
Hershey's stock price is up about 35% over the last year and is near its 52-week high as shown below: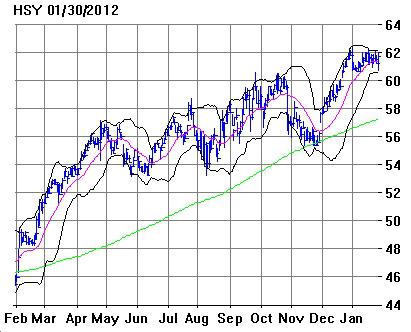 The company's trailing and forward P/E's are pretty expensive for a confectioners-related company at 22 and 20, respectively. With Hershey's premium price and the prospect of slower growth, an investor might consider entering a collar position for the company. A collar may be entered by selling a call option against the stock and using some of the proceeds from selling the call option to purchase a protective put option.
Using PowerOptions tools, a collar position was found for Hershey with an unchanged potential return of 2.7%, an assigned potential return of 8.3% and a maximum potential loss of 8.4%, even if the price of the stock goes to zero. The potential returns and maximum potential loss assume dividend payments of $1.38 and assume midpoint bid/ask pricing. The specific call option to sell is the 2013 Jan 65 at a midpoint price of $2.60 and the put option to purchase is the 2013 Jan 55 put at a midpoint price of $2.33. If the price of the stock is greater than or equal to the $65 strike price of the call option at options expiration in January of 2013, the position will return 8.3%. A profit/loss graph for one contract of the collar position is shown below: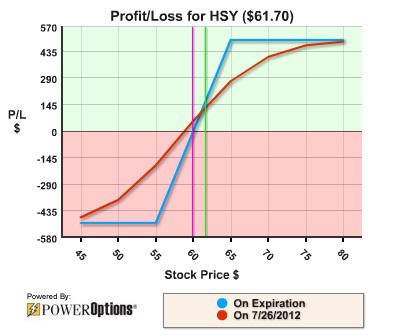 If the price of the stock increases to around $70 or greater, the collar position may be rolled in order to realize increased potential return.
Disclosure: I have no positions in any stocks mentioned, and no plans to initiate any positions within the next 72 hours.