By Stephen D. Simpson, CFA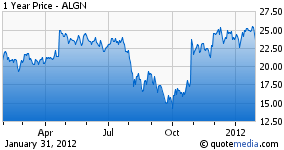 Although I'm quite willing to bemoan the lack of good growth stories in med-tech today, the reality is that it's not so much a lack of good growth stories as a lack of good undervalued growth stories that is the problem. Align Technology (NASDAQ:ALGN) is a good case in point. While this company has a lot of things going for it - including market share, under-penetrated markets, and good profits - valuation has caught up with the shares and company guidance is denting some of its growth expectations.
A Good Quarter, But ...

Align did what it needed to do for the fourth quarter, and then a little extra. Revenue was a bit ahead of expectations and grew 39% from the year-ago quarter (and more than 2% from the third quarter). This overstates things a bit because of the Cadent acquisition, but core Invisalign revenue was up 28%. Case volume growth in the Invisalign business was an impressive 30% and more than offset weakening ASPs.
Profits were also fine. Although gross margin did decline more than two points from the year-ago quarter, this was better than expected (and the margin compression was due in part to an acquisition). Operating income growth was likewise strong; up 85% this quarter as operating margin improved almost six full points.
... Guidance Is A Kick In The Teeth
What growth stock investors want out of med-tech stocks is pretty simple - double-digit year-on-year growth for as long as possible with no nasty surprises. Unfortunately, management offered something a little less than that. In point of fact, the top line guidance revision amounts to just a couple millions of dollars, but that's what happens when stocks get bid up to these sorts of multiples. If there's good news in the guidance is that it looks as though management may be conservative - perhaps not so much on sales growth, but definitely on margins.
Can Align Both Grow And Defend Its Market?
Align has done quite a lot for itself already - penetrating the orthodontic market and taking double-digit share with what was a very new approach and attractive alternative to braces (a clear, removable mouthguard-type appliance). It has done so well, in fact, that it holds more than 80% of the aligner market.
Now the question is whether the company can go forward and hold on to what it has. Align has done a very good job of addressing initial doctor concerns about cost, time and efficacy, but its products cannot address every type of malocclusion. What's more, it's safe to assume that a lot of the thus-far unpenetrated market is aware of the product and choosing to stay with more traditional approaches marketed by Ormco (part of Danaher (NYSE:DHR)), GAC (part of Dentsply (NASDAQ:XRAY)), and Unitek (part of 3M (NYSE:MMM)).
Competition is also increasing. Ormco has its own clear aligner product line and generally offers lower price points than Align. Ormco has already garnered more than 10% of the clear aligner market and Dentsply too is looking to enter. 3M has been quieter on this subject, generally looking to promote its Incognito and iBraces systems that attach to the tongue side of the teeth and are therefore almost invisible.
It's fair to ask what Align can, or should, do about this competition. For starters, the company has done a good job of keeping up the pace with new products. In addition to its Invisalign Full and Teen systems, the company recently launched the Invisalign Express 5 - a lower-price offering that is adequate for patients needing relatively minor adjustment.
There is a threat, though, and that's the company strays too far from its growth path. While adding the Cadent business made a certain amount of sense (the 3D digital scanning is complimentary to the Invisalign business), it has already weighed on growth and margins and at this point seems unlikely to be a big help. Should the company continue to "round out" its offerings, it seems safe to assume more risk to reported organic growth rates and margins.
The Bottom Line
It frankly shocks me that Align is still a publicly-traded company. I would have thought that either Dentsply or Danaher would have taken this one out a while ago. As it stands now, though, that actually may be a little harder.
With Danaher now the only other competitor of note, it's worth wondering if they could clear antitrust (even with the argument that clear aligners are a relatively small part of the relevant addressable market). What's more, Dentsply could do it, but it would be a large and expensive deal for the company. As for 3M, who knows? It would have made arguably more sense for them to buy this business instead of Avery Dennison's no-growth home/office business, but clearly management saw it differently.
As it stands, Align is not especially cheap unless an investor believes they can continue to gain share at a pretty meaningful rate. Give the company's double-digit revenue growth (and ongoing improvement in free cash flow conversion) out to 2016 and the stock is only slightly underpriced. To get to a more compelling target (like, say, $30), an investor has to assume a compound free cash flow growth rate of about 16% for the next decade - a level that not many companies can maintain.
Disclosure: I am long MMM.