Amazon (NASDAQ:AMZN), the internet's largest ecommerce retailer, reported fourth quarter earnings of $177 million or $.38 per share after the close today. This was more than double the expected earnings that Thomas Reuters had set at $.17. Although earnings surpassed the Street's expectations, revenue missed by roughly $1 billion, coming in at $17.4 billion. This news sent shares down nearly 10% in after-market trading.
This speaks to how reactive investors are to slight variances in the company's earnings, revenues, and overall business model. CNN Money reports "Amazon warn[s] that it might lose money this quarter. It forecast its operating income in the range of a $200 million loss to a $100 million gain." Sentiment like this on a company with a valuation of nearly 100 times forward earnings is, to put it lightly, disturbing. AMZN is about to face a period of realization that its current valuation is excessively high, and days of exponential growth may be permeated by shrinking margins, and further competition.
Three fundamental reasons to stay away from AMZN:
Valuation: AMZN has long been considered one of the hottest stocks on Wall Street and for years has surpassed expectations quarter after quarter. This has resulted in the stock price trading at 106.25 times forward earnings. This type of valuation is only warranted by a company that is in rapid expansion. Though AMZN has grown at an exponential rate, there will come a time when this valuation proves both unrealistic and unsustainable.
The company's 5 year expected PEG ratio, which measures price/earnings to growth ratio, is 5.85. This figure illustrates how overvalued the company truly is at its current market cap of $88.4 billion.
Karen Finerman of Metropolitan Capital Advisors, Inc. offers us this after today's earnings:
10 year ago Wal-Mart was a juggernaut (like Amazon) and it traded within $1 of where the stock is right now. At that time they earned $1.45. Now they earn $4.25. In other words, they had to grow into their valuation. And that's where I think Amazon is now. They can do everything right - triple earnings - but the stock can still go nowhere because valuations are so stretched!
This marks a parallel between Wal-Mart (NYSE:WMT) in 2002 and AMZN today. AMZN's high valuation could slow growth to near 0%, even if the company reports earnings at expectation.
Dividend: With a PE ratio and PEG value as high as AMZN, investors should expect a dividend to reward this type of growth and expected earnings. AMZN does not pay a dividend and thus this adds to the risk an investor in the company is taking on. Being that no income can be generated from the investment, the only means of upside is in the value of the stock. From the numbers previously stated, this does not mark great upside for investors and poses a potential for extreme losses.
Although the data below shows earnings per share growth, it indicates that investors are not be rewarded for that growth in the way of income. The only way to make money is if the PE ratio stays excessively high and earnings increase. This is not a risk worth taking.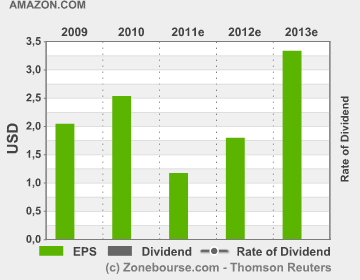 (Source: 4 Traders)
Growth Slowdown/Margin Squeeze: The company has experienced incredible growth over the past years due to ecommerce rising and the fact that AMZN sits in the driver seat in this sector. The problem lies in the fact that future growth prospects are not as high as what has dictated the PE ratio in the past. AMZN growth could slow due to retailers like Apple (NASDAQ:AAPL) and Barnes & Noble (NYSE:BKS) infringing upon the sale of its Kindle as well as other retailers like Google (NASDAQ:GOOG) entering more heavily into ecommerce.
Collin Gillis of BGC Partners offers this perspective:
Investor sentiment has been willing to overlook [profit] margin compression because of growth, growth, growth. Now the growth story is starting to break down.
Most analysts express concern that AMZN's newest product, Kindle Fire, is being sold at a loss. The Los Angeles Times reported last quarter "Amazon's $199 Kindle Fire costs $201.70 to build." Although Amazon is making money on the media side, this may prove to be an unsustainable business platform and if prices increase (which they will), AAPL could steal even more market share from AMZN and drive the company's margins down further, making the $200 million loss this upcoming quarter seem routine.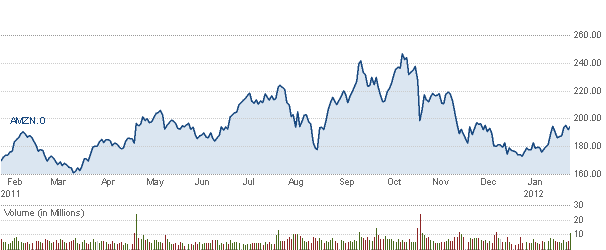 (Source: CNBC)
Conclusion: AMZN is not a wise position to take anytime within the near future because there is far more downside than upside within the retailer's business prospects. The stock may not go down dramatically, but the stock has little potential for upside growth due to a valuation that is too high, a lack of a dividends, and a growth slowdown that could cost investors serious percentage losses.
Disclosure: I have no positions in any stocks mentioned, and no plans to initiate any positions within the next 72 hours.