Last week, The Procter & Gamble Company (NYSE:PG) announced that it had a difficult quarter due to a weak economic environment. Although Fortune magazine in 2011 ranked PG in fifth place for its "Most Admired Companies" list, PG shares are down in 2012, even as the major stock indexes have rallied. Recognizing that one should always be on the lookout for an opportunity to buy one of the world's great collections of brands, we at Turnkey Analyst decided to run the company through our rigorous, academically-tested quantitative screening and evaluation processes to see what the numbers have to tell us, given PG's recent pullback.
PG is the largest branded consumer packaged goods company in the world, and boasts two dozen billion dollar brands. The firm is organized into three Global Business Units, Beauty, Health and Well-Being, and Household Care, which are responsible for brand strategy. Its products are sold through mass merchandisers, grocery stores, membership club stores, drug stores and other outlets in more than 180 countries.

Reviewing our Turnkey Fundamental Factors for a big-picture fundamental assessment of the company, we see a Quality Measures score of 70.6%, and a Pricing Measures score of 64.0%, which combine for our overall Turnkey Score of 67.3%. In general, it appears our fundamental overview is telling us that PG is a high quality company trading at a fairly cheap price. Before we investigate some of the factors driving these fundamental scores, we will also review a quantitative snapshot of the firm by observing how PG fares on several quantitative screens.

Looking over our Turnkey Quantitative Measures, one notable item is that PG scores in the 86th percentile on our Magic Score screen, which some will recognize as the one popularized by Joel Greenblatt in his "Little Book that Beats the Market." Companies that score well on this screen tend to have high cash flow yields, generate strong returns on capital, and require minimal capital to maintain. This score on its own is a decent statistical reason to buy the stock, although it does not quite reach the top decile of our screening universe. PG also scores in the 77th percentile, with a 6.0 out of a possible 9.0, on Joseph Piotroski's accounting-based F-Score screen, which is a measure of the general financial strength of a company. PG also scores in approximately the 70th percentile in our Asset Growth and Long Term E/P screens. While these are not especially strong scores, they are comfortably above average, which suggests the stock is a statistical bargain. PG scores fairly poorly on our Profit and Value screen, but we can safely discount this output as this screen is dangerous to short.
On our two accounting-based short screens, Goodwill Gone Bad, and Percent Accruals, we are seeing lower than average scores, in the 29th percentile and 36th percentile respectively. These could be areas where a human analyst could do some additional research, perhaps with a particular focus on goodwill. PG is a brand business, and sometimes when the firm purchases brands, it acquires goodwill. For example, when PG spent $53 billion on Gillette in 2005, $35 billion was allocated to goodwill. This is a big number, and PG carries a significant additional portfolio of goodwill on its balance sheet. If the company is postponing any impairment charges, the eventual income statement effects could be substantial. Indeed, last week the company announced a $1.6 billion charge related to the deterioration of two of its business units; is there anything else the company wants to tell us?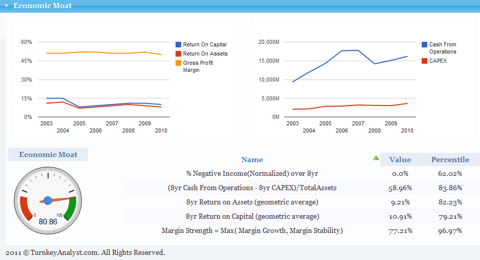 PG scores an 80.9% on our Economic Moat quality measure, an impressive result driven by the strong returns and margins associated with the company's well-known brands. PG has potentially the most recognizeable brand portfolio on the planet, including such heavyweight names as Ivory soap, Crest toothpaste, Pampers diapers, Duracell batteries, Tide laundry detergent, Scope mouthwash, Pringles potato chips or, for that recent market volatility, Pepto Bismol. Moreover these brands are widely-known generally due to years of advertising and marketing. Anyone reading this research note likely knows the whistling Old Spice theme song, that Bounty is "the quicker picker upper," and that Secret is "strong enough for a man, yet made for a woman." Consumers develop a relationship with these products, and people will pay more for these brands because they are familiar with them and they trust them. This creates an economic moat for PG, allowing the firm to generate high returns on capital and strong margins. So what do the numbers tell us? In what ways are they consistent with a strong economic moat?
Overall, the numbers are signaling that PG does indeed have many moat-like characteristics. One value that leaps off the page for us is our margin stability measure; with a value of 77.2%, the company scores in the 97th percentile of our universe, which includes even very small ($250 mm in market capitalization) companies. Clearly, the company's strong brands provide it with enough pricing power to defend its margins. Normalized (8 yr average) returns are also solid. Normalized (8 yr average) cash from operations - capex / total assets are 59.0%, good for the 84th percentile of our universe, while Normalized (8 yr average) return on assets and capital, of 9.2% and 10.9% respectively, are in approximately the top quintile of our universe. Additionally the firm has not lost money in any of the past eight years.

Although PG's economic moat appears solid, the company's Improvement score of 44% is indicating some mixed results in its recent operating metrics. PG's trailing 12 month net income is lower versus the prior year, contributing to shrinking returns on assets and capital, and total debt / capital has increased. Additionally, gross margins have slipped. Still, the company is growing revenues, is showing higher A/R and asset turnover, and the quick ratio has increased. While some positive dynamics are intact, PG is facing headwinds from the weak economy. One puzzling aspect of this output is that the company's economic moat scores indicate very high margin strength, yet margins have weakened over the past 12 months. Why should this be? Given the company's top line growth, a human analyst might want to investigate the company's prospects for increasing margins and returning to positive net income growth over the next year.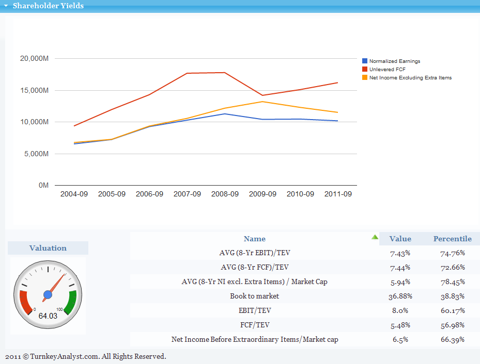 Turning to our Shareholder Yields output, we see again that the company scores 64% overall. Normalized (8 yr average) net income / market cap yield of 5.9% was the best observed statistical output, landing the company in the 79th percentile. Normalized cash flow yields were also fairly strong, with practically identical 8-year average EBIT / TEV and FCF / TEV yields of 7.4%, good for the 75th and 73rd percentiles respectively. Trailing 12 month yields were not quite a strong, with an EBIT / TEV yield of 8%, a FCF /TEV yield of 5.5%, and a net income / market cap yield of 6.5%, all generating above average percentile scores, but not by that much. Overall, while the company looks cheap versus the average for our universe, it is not as cheap statistically as hundreds of other companies available in the market.
So what are our conclusions? PG scores near the top decile on our Magic Score screen, and fares reasonably well on several others. There are no glaring red flags from our short screens, although the potential for future goodwill impairment should be investigated. The company appears to be a high quality business, with a strong, brand-driven economic moat that allows PG to earn solid returns on capital, as well as to maintain exceptional margin strength. PG's recent operating history is showing some strength, such as increase revenues, but also some areas for review, such as shrinking net income and diminished margins; in particular the margin weakness seems inconsistent with the company's traditional margin strength, and is therefore worth focusing on. In general, the price looks cheaper than average, but the stock is not as cheap as many other companies.
While the company undoubtedly manages a world-class brand portfolio, the price looks only marginally better than many other stocks. If you already own PG, then you can safely hold onto it, but if you are thinking about buying it, you may want to wait and see if you can get a slightly better deal on the stock.
Disclosure: I have no positions in any stocks mentioned, and no plans to initiate any positions within the next 72 hours.