Radioshack (NYSE:RSH) is getting slammed after hours as the electronic retailer issued a serious profit warning after missing fourth quarter earnings expectations. It also warned that 2012 is going to be less profitable than 2011, a year in which profits already fell by about 60%. Shares trade about 30% lower in after hours trading. [Chart below as of the close, Tuesday.]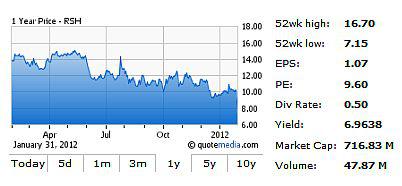 Fourth quarter results
Radioshack expects earnings between $0.13-$0.15 for the final quarter of the year 2011 which is much lower compared to expectations of $0.37 and the $0.51 it reported in 2010. Full year earnings drop to $0.65 vs. $1.68 in 2010, while revenues are essentially flat at $4.4 billion.
Two factors jump out from interim report. First, the holiday season has compressed margins alot, with gross margins retreating a full 6 points falling to 35%. More worrying is the underperformance of the joint venture with Sprint (NYSE:S). The telecom provider upgraded less models, which caused revenues to drop year-on-year and even on a quarterly basis.
Strong balance sheet
Radioshack confirms that new technological advances (including tablets) have an uncertain impact on the profitability of its business and the effectiveness of its business model. Fortunately the company enters this period of uncertainty with almost $600 million in cash.
To preserve financial flexibility, the company has announced plans to shore up its repurchase program. It does, however, intend to continue to pay its annual $0.50 dividend (which it just doubled in October 2011). Investors stand to receive a whopping 6.3% yield at these levels in the stock.
Long term entry point
Radioshack has enough financial resources to cope with these headwinds. While 2012 can already be considered as a lost year, investors should look for any encouraging signs in the months to come, especially if the stock falls further. The company has a relative stable revenue base at $4.5 billion. A margin recovery to 3% in healthy times could swiftly push the stock back to the $20s. Given the strong financial position, one should not be too worried about dilution in a stock offering at depressed prices, making it an interesting long term play.
Disclosure: I have no positions in any stocks mentioned, and no plans to initiate any positions within the next 72 hours.