Too much supply, not enough demand, and lagging legislation all seem to be playing their parts in the falling rock that represents the current state of natural gas prices. For many companies, the price of natural gas as seen in the current futures contract below, has reached a level of non-sustainability. Even natural gas giant Chesapeake Energy (NYSE:CHK) bowed out in a noble (and likely economical) gesture as it cut its natural gas output. As drillers and exploration companies feel the pain, profit margins have become near non-existent, and the fire sale of cheap natural gas prices continues to rage on.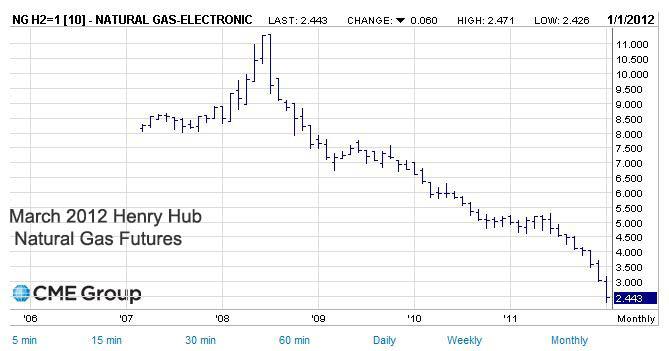 click to enlarge
Technology's innovation that brought about horizontal drilling and hydraulic fracturing has come to be a double-edged sword as the implementation of these breakthroughs opened the flood gates for natural gas. As the potential for shale rock was previously unknown, drillers have since come to find very large amounts of accessible reserves sufficient to sustain the nation's energy needs for decades to come.
Yet the demand in the United States for natural gas has hardly been able to keep up with the amount of supply being found in these shale formations. Milder weather this past year only complicated any vain effort towards the industry's stabilization of the commodity's prices. And as Congress stalls on the implementation of a national drive towards a comprehensive natural gas strategy, the reality of a cheap alternative to oil becomes ever more glaring with falling prices.
For investors looking to enter into the natural gas space, it's important to know there are alternatives to pursue apart from the many natural gas exploration companies that have become victims of their own success. Companies like EnCana (NYSE:ECA), Canada's biggest natural gas producer, have continued to struggle to meet their estimates in light of declining prices. Though such companies are often sheltered by futures contracts and offtake agreements, falling prices continue to cast a bearish environment that can affect both the short- and the long-term.
However, low natural gas prices have been more than accommodating for Westport Innovations (NASDAQ:WPRT) for instance, which has found itself in a strong bull market as a global leader in the production of natural gas engines. The rise in demand for its products have come at the attraction of decade-low prices and continually rising oil costs. Having struck an agreement back in September 2011 with Royal Dutch Shell (NYSE:RDS.A) to co-market the benefits of liquefied natural gas-powered vehicles to consumers, the company continues to capitalize upon its success with the ever increasing domestic acceptance towards the cheaper energy source.
Along with Westport, Fuel Systems Solutions (NASDAQ:FSYS) also provides an opportunity to also tap into the infrastructure needs for natural gas consumption. As the designer and manufacturer of critical auto parts used for alternative fuel systems the company is prone to steadily grow with a wider consumer adoption of natural gas-based vehicles. The company provides a wide spectrum of fuel delivery components, flow control valves, injectors, and regulators tailored just for such vehicles.
Golar LNG (NASDAQ:GLNG) has also found itself on a bullish streak of late as one of the few publicly traded liquefied natural gas-shipping companies. Positioned in an inelastic industry due to the long timeframes necessary for bringing supply capacity online, the specialized shipper can find itself in an advantageous pricing position when chartering its vessels. With the disparity of natural gas prices between nations growing, the need for foreign exports will continue to rise in a domestic market with declining natural gas prices.
Cheniere Energy (NYSEMKT:LNG) is the operator of the Sabine Pass LNG receiving terminal in Louisiana. The company also owns the Creole Trail Pipeline, which feeds the terminal to its downstream markets. As a stationary and critical part of the natural gas network, Cheniere is poised to benefit from the increased export volume of LNG abroad in light of increasing price differentials between nations.
Investors should also continue to exercise caution over their investments in master limited partnerships and royalty trusts that base their revenues significantly on natural gas sales. Take the San Juan Basin Royalty Trust (NYSE:SJT) for instance, which derives well over 90% of its production from natural gas. Since April 2011, the company has shed about 30% of its value in the face of a harsher pricing environment that dictates over the value of a given production level. With falling prices, such trusts continue to not only distribute less over time back to their shareholders, but exhaust their limited resource at meager rates.
With present uncertainty surrounding the price of natural gas, choosing the winners and losers can often depend on the viewpoint of the individual in regards to the outlook of those prices. Investors satisfied at the current share prices but who are looking to have an edge on their entry points into whichever investments they choose may find it beneficial to utilize a covered put strategy rather than trying to time their initial investments. Such a strategy can at least tap into the power of time decay while the market sorts out a more stable outlook.
Disclosure: I have no positions in any stocks mentioned, and no plans to initiate any positions within the next 72 hours.