Amazon (NASDAQ:AMZN) is getting hit hard after hours as it trades 9% lower despite announcing "beating" fourth quarter earnings. Analyst expectations have been extremely downbeat after a disappointing third quarter. The main cause of the after hours correction is undoubtedly a very weak guidance for the first quarter of 2012.
Quarterly results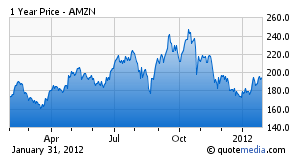 Revenue for the holiday quarter was up 35% to $17.4 billion driven partially by successful Kindle sales which were up 177% on the year. Despite the aggressive growth, profits fell 58% to a mere $177 million or $0.38 per share. This was actually above analyst expectations of $0.17. For the full year sales were up 41% to $48.1 billion with net profit down coming in at $631 million or $1.37 per share.
Outlook
Amazon expects 22-36% revenue growth for the first quarter of 2012 which would translate into $12.0-$13.4 billion in revenue. Margins will be further depressed and it expects to lose anywhere between $200 million and a $100 million profit for the quarter. Analysts were expecting $227 million in profit and revenue at the high end of the outlook range at $13.4 billion.
Margin compression, wiping out competition?
Amazon has been on an aggressive growth campaign for the last years where it sacrifices margins at the expense of profits. Revenues tripled from a mere $15 billion in 2007 to $48 billion in 2011. At the same time margins have fallen to 1.3% in 2011 which used to be over 3% in the years before. Amazon has expanded its horizon and developed the Kindle in an attempt to compete with the iPad, and at the same time offered video services competing with Netflix (NASDAQ:NFLX). Despite the revenue growth investors are getting nervous about the duration of low of the low-margin expansion era.
Strong financial position
At the moment the world's most financially sound companies are technology companies which have bulky cash positions with little leverage. The same applies for Amazon which has enough financial flexibility as it does not have any long term debt and holds about $10 billion cash and marketable solutions. This luxury position allows Amazon to engage in these kind of strategies.
Valuation
The stock is currently valued at $82 billion, which is already 30% less compared to October when shares almost touched $250 valuing the company well over $100 billion. If we subtract the net cash position of $10 billion from the market value the company is still valued at 1.5 times 2011 revenues and a price-earnings ratio well over 100.
While the strategy to weed out weaker competitors in a range of offerings might be attractive in the long run, it is not paying off right now. Even if revenues increase another 25% in the next year and margins would recover to the historical 3-3.5% range, the company would still be valued at over 35 times earnings. I like to stress that these targets seem unattainable for 2012, especially after the weak outlook.
A stock like this does not appeal to me. If the stock might fall 50% from October's high I might reconsider the situation at the moment, but for now I would not touch it.
Disclosure: I have no positions in any stocks mentioned, and no plans to initiate any positions within the next 72 hours.