SuperValu (NYSE:SVU) reported a $750 million loss on January 11th. This loss was partially due to good will accounting, but many analysts saw it as an indication of the company's inability to turnaround in the midst of rising competition and shrinking margins. SVU has seen 16 quarters of declining sales. After the earnings call, the stock has hovered near $7.00-- its lowest value in recent years. SVU is not a stock for the faint hearted. The only people who should invest in SVU are those willing to look past high debt, low-profit, and a struggling overall business model with potential for a turnaround. Do not allow the 5% forward annual dividend yield to reel you in. You may never get out…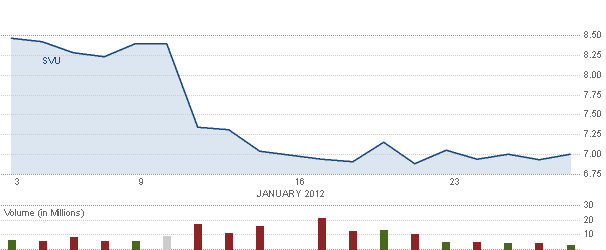 Source: CNBC
Here are the three checks you should make before taking a position in SVU:
A stronger business model that proves to be working: Craig Herkert's attempt to turn around the depressed retailer costed the company $907 million in the fourth quarter alone. His actions to minimize costs within distribution, invest in strong formats like Save-A-Lot, deal with extremely high costs attributed to debt levels, and give retail stores more buying power, have resulted in losses beyond what analysts expected.
Sherry Smith, the company's CFO commented that the "efforts will help to improve customer perceptions of the relative value offered by our traditional stores." Though this may have a level of validity, retailers like Target (NYSE:TGT), Wal-Mart (NYSE:WMT), and Whole Foods (NASDAQ:WFM) are far ahead of SVU in nearly every aspect of their business. However, this is not to say that SVU cannot turn around. Save-A-Lot is a very strong format, and as Aldi has demonstrated, one strong concept may be all that is necessary to secure a position in the marketplace.
Until you see tangible evidence for a stronger and more unified network of stores, do not take a position in SVU.
Paying off Debt: SVU is currently holding $6.9 billion in debt with only $196 million in cash. This disparity marks a true risk to the company's future. This type of debt is what has brought retailers like Sears (NASDAQ:SHLD) and J. C. Penney (NYSE:JCP) to the brink of bankruptcy, and grocery retailer A&P to Chapter 11.
Until Herkert's strategy proves to be working in paying off debt and building a stronger bottom line for investors, SVU is too large of a risk. The dividend alone cannot be the driving factor behind the investment, because it may be in jeopardy to pay off long-term liability.
A quarter of zero loss and a minor gain: The only way for SVU to turnaround is if the company begins delivering quarterly gains instead of losses. It is economically unsustainable to run a company where losses in the millions are being reported every quarter. On this current projectile the company will receive further downgrades on its debt and take another step toward bankruptcy as net margins are in the red due to debt-servicing costs. The only way that debt can be paid and a solid footing can be reached is if profits are on the horizon.
A quarter of strong earnings will signify that the company has the power enhance its business model and has the power to become viable into this decade. Until this commences, I would avoid taking a position in SVU.
Conclusion: This is an example where we need to listen to longtime economist Dennis Gartman: "The objective is not to buy low and sell high, but to buy high and to sell higher." The price of SVU may seem cheap now considering the dividend the company pays, but many current investors may wish they sold at $7 in the coming months. The future of SVU is not clear, but what is apparent is that without the three aforementioned pieces of criteria commencing, SVU is on the road to Chapter 11 bankruptcy. I'd avoid buying SVU on the hopes of the company's actions, rather, I prefer to wait for tangible results.
Disclosure: I have no positions in any stocks mentioned, and no plans to initiate any positions within the next 72 hours.