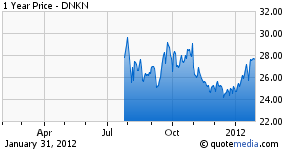 Nothing is worse to a short than a stream of positive news flow coming from a company, even if that news is worthless information. The stories that have been released by Dunkin' Donuts (NASDAQ:DNKN) via PR Newswire have added zero value to the Dunkin' story. The stories I am referring to are: "Dunkin' Donuts & Baskin-Robbins Community Foundation Announces $102,000 Donation to Feeding America," "Baskin-Robbins Sweetens February with Introduction of Valentine's Day Ice Cream Cake Bites and "Box of Chocolates", and my favorite here. This is only a small sampling of the "news" that has been circling about Dunkin' Donuts.
I have worked in the food service industry all my life. The changes across this industry are quick and unforgiving. To say you are going to double your store count in 20 years is one of the most ridiculous claims I think I have ever heard. Even if the management believes they can see that far into the future, it is easy to fall into unhealthy growth as Starbucks did. While it is great to know what directions you are taking your company, such a growth plan takes into account no future change in how we consume Dunkin' Donuts service. This is a costly mistake in this industry.
Dunkin' Donuts is a franchise model. While it can incentivize franchisees to expand, it has no direct control on how many stores will be built. Also the more "incentivizing" it does will directly affect its bottom line. This is dangerous for a highly levered company with its current debt terms.
While Dunkin' Donuts has a strong presence in the East, I still have doubts that it will be able to expand westward with no problems. For two major reasons, the first being brand degradation. Many of us in Central and Western United States' only contact with Dunkin' Donuts is in gas stations. This is not the best way to promote a premium brand. Secondly, rising competition from major brands and small businesses is another obstacle. Coffee stores are one of the cheapest small businesses to start, costs starting as low as $25,000. Ever wonder how three coffee shops make it on the same street?
While there is nothing wrong with promoting your brand, Dunkin' Donuts press releases as of lately have been a bit laughable, unless Valentine's Day Ice Cream Cake Bites blew your mind. I would not be surprised to see another secondary being offered after earnings. Smart money is taking their profits to the bank before this story turns stale.
Disclosure: I am short DNKN.
Disclaimer: Investing is risky doing so may cause loss of principle. My article should only be used for informative purposes.