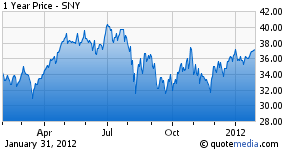 Within the healthcare sector, Pfizer (NYSE:PFE), Bristol (NYSE:BMY), and Sanofi (NYSE:SNY) all receive bullish sentiment. Even still, the Street clearly prefers Pfizer with its near "strong buy" rating. Bristol Myers and Sanofi are both rated lower at a "buy". Based on my multiples analysis and DCF model, I find particularly strong upside for Sanofi.
From a multiplex perspective, Sanofi is the cheapest of the three. It trades at a respective 15.8x and 9.4x past and forward earnings while offering a dividend yield of 4.9%. Pfizer and Bristol trade at a respective 16.9x and 15x past earnings while offering lower dividend yields.
At the third quarter earnings call, Pfizer's CEO, Ian Read, noted strong performance:
"Overall, we delivered a solid financial performance for the quarter despite a challenging global operating environment and the ongoing impact from LOEs. And given our performance year-to-date, we have increased our EPS guidance range for the full year.

In terms of highlights for the quarter, our Emerging Markets business had a strong quarter, delivering operational growth of 12% with solid performance in key countries such as China, Russia, Turkey and India. All we know, these markets will continue to be volatile going forward. Our performance this quarter demonstrates the traction we are getting as a result of the investments we are making".
As much Pfizer has showcased remarkable performance, Sanofi has a few more rolling catalysts that compliment its own track record. The Framingham plant for Genzyme just gained FDA approval and will help to normalize volumes for the rare disease products, including Fabrazyme and Cerezyme. This will in turn help to dissipate uncertainty and raise shareholder value. The strong execution has further down well in mitigating the impact from worsening economic forecasts. The IMF recently became more conservative on world economic growth, dropping its previous growth rate estimate by 70 basis points to 3.3% - Europe being the main concern. While this generated unusually high volatility across the market, the impact was less dramatic on Sanofi.
Consensus estimates for Sanofi's EPS forecast that it will decline by 4.7% to $4.46 in 2011, decline by 11.4% in 2012, and then grow by 13.7% in 2013. Assuming a multiple of 13x - as a low figure - and a conservative 2012 EPS of $3.91, the rough intrinsic value of the stock is $50.83, implying 37.3% upside.
And then we have Bristol, which recently guided for 2012 EPS of $1.90 - $2.00. While this estimate appropriately accounts for issues at Plavix, it was above expectations in terms of gross margins. Fourth quarter results on key products were nevertheless more or less in-line: YERVOY sales of $144M; Plavix sales of $1.6B; and a decline in Avapro. Double-digit growth for Sustiva/Atripla and Reyataz were notable, as were the greater than 20% growth for Baraclude, Sprycel, and Orencia. Management recently announced that it was acquiring Inhibitex, which will have a -$0.04 impact on EPS this year and continue to be dilutive until around 2016. ROE is forecasted to decline by around 500 bps to 18.3% in 2013 while free cash flow declines slightly to around $3.5B at the end of the same time period.
Consensus estimates for Bristol's EPS forecast that it will decline by 13.6% to $1.97 in 2012, decline by 0.5% in 2013, and then grow by 17.3% in 2014. Assuming a multiple of 18x and a conservative 2013 EPS of $1.93, the rough intrinsic value of the stock is $34.74, implying 7.6% upside.
Disclosure: I have no positions in any stocks mentioned, and no plans to initiate any positions within the next 72 hours.