QR Energy LP (NYSE:QRE) carries the highest CAPS rating of five stars. The big brokerage houses like it too with an average recommendation of 1.7 (a BUY). Why not? It pays an annual dividend of 8.9%. Plus it recently hiked the Q4 2011 distribution by 15%. Admittedly this stock is riskier than some others with a market cap of only $764.22M, but you can't argue with its results. QRE is forecast to grow EPS by 87.80% in 2012. This should help the stock price. Plus it has a strong relationship with its sponsor/owner (67%), Quantum Resources Fund.
In fact the drop down buys from QRF are a major source of growth. It is also able to acquire easily from affiliate Quantum Energy Partners. These relationships have allowed QRE to grow production by 165% and reserves by 126% since its Dec. 2010 IPO. This beneficial relationship will continue. In addition QRE was added to the Alerian MLP Index (AMZ) in Sept. 2011. This should add to the demand for QRE's stock.
QRE produces both oil and natural gas. Assuming flat production from the Q4 2011 midpoint of 13,300 Boe/d through 2015, QRE has a well hedged portfolio (see the chart below).
click to enlarge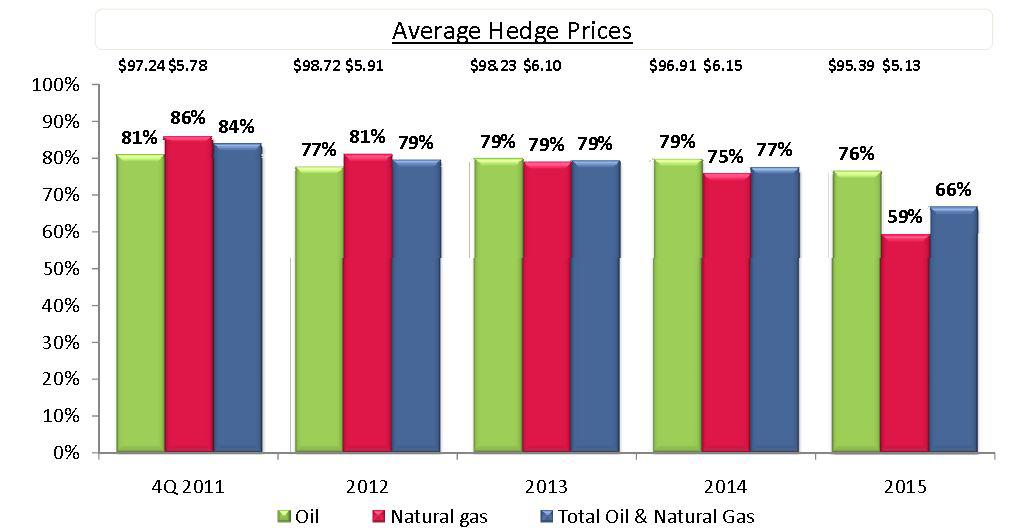 Click to enlarge
No one is really worried about oil hedges at this time. Goldman Sachs has forecast an average price of WTI oil of $112.50 for all of 2012. Oil is in a secular growth phase, which is being driven by the quickly increasing demand of emerging market economies. This situation is unlikely to change. Most people are instead worried about the currently low US natural gas prices. The current Nymex futures price is $2.46 as I write. The chart above shows that QRE is well off with 81% of its natural gas production hedged at $5.91 for 2012. It is similarly hedged in 2013. Beyond that there are many factors which should lift natural gas longer term.
First, the BP Energy Outlook asserts that natural gas use/demand will grow three times as fast as oil over the next twenty years. Second both European and Asian prices for natural gas are already much higher than those in the US. Some have been at $16+ recently. Third the US is starting to build LNG liquefaction terminals (natural gas export terminals). The earliest of these should come online in 2015. Fourth Chesapeake Energy (NYSE:CHK), ConocoPhillips (NYSE:COP), EnCana (NYSE:ECA), Occidental Petroleum (NYSE:OXY), Ultra Petroleum (UPL), and others have already announced that they will cut their drilling for natural gas extensively in 2012 and possibly beyond. This should eventually help natural gas prices to rise.
Fifth, President Obama in his State Of The Union speech this month came out in favor of federal incentives for natural gas use in the trucking industry. A bill from Congress could be forthcoming soon. All these things should eventually add up to higher natural gas prices. QRE should be in good shape in this area longer term. Meanwhile its hedges should stand it in good stead.
QRE has little history in dividend growth, but what it does have puts it at the top of the energy MLP hierarchy. The chart below of distribution growth since IPO shows how QRE compares to its peers in this category.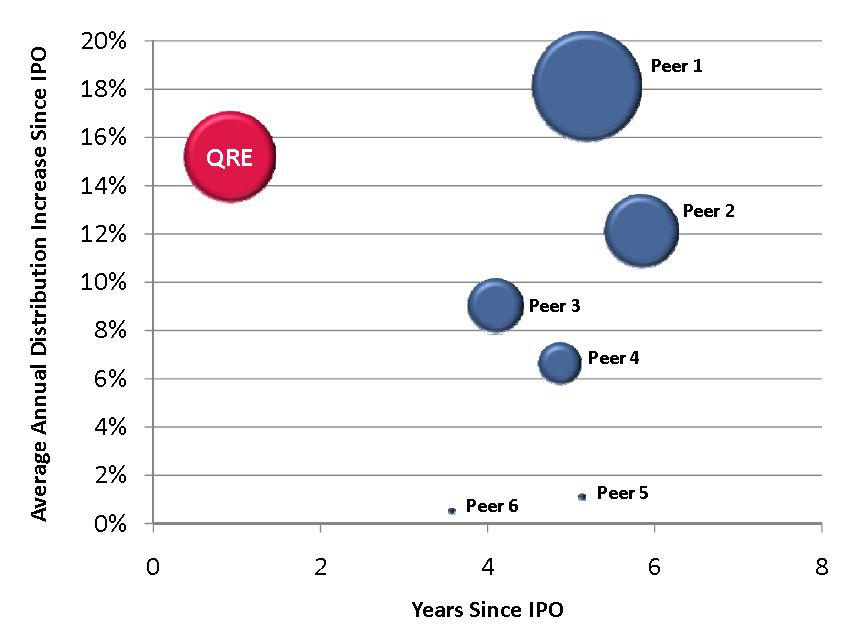 Click to enlarge
The chart compares QRE to other recent IPO MLPs: BreitBurn Energy Partners LP (BBEP), EV Energy Partners LP (NASDAQ:EVEP), Legacy Reserves LP (NASDAQ:LGCY), Linn Energy LLC (LINE), and Vanguard Natural Resources LLC (NYSE:VNR). QRE compares very favorably.
The chart below compares QRE's distribution yield to the same peers, with the addition of Pioneer Southwest Energy Partners LP (PSE) and LRR Energy LP (NYSE:LRE).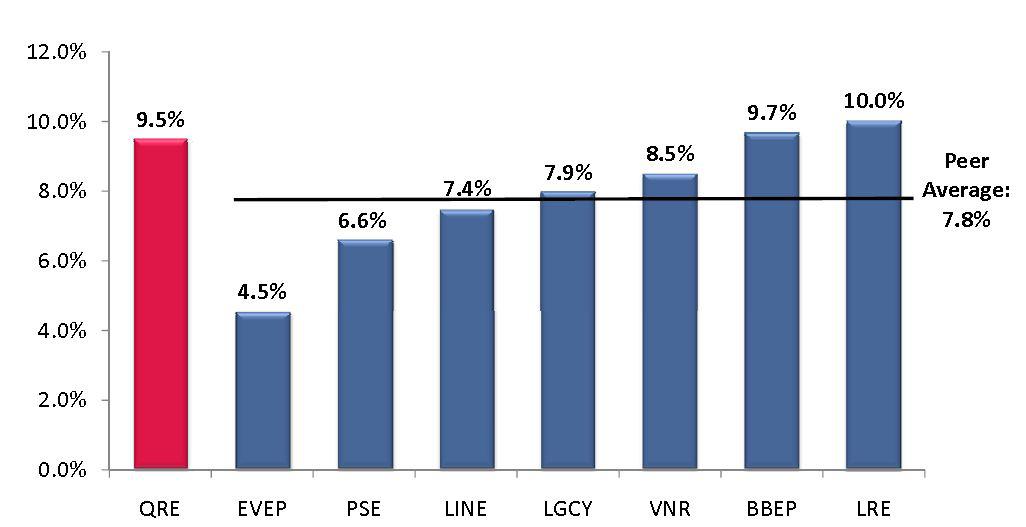 Click to enlarge
QRE again compares very favorably.
A two year chart of QRE gives some idea of the stock's price stability.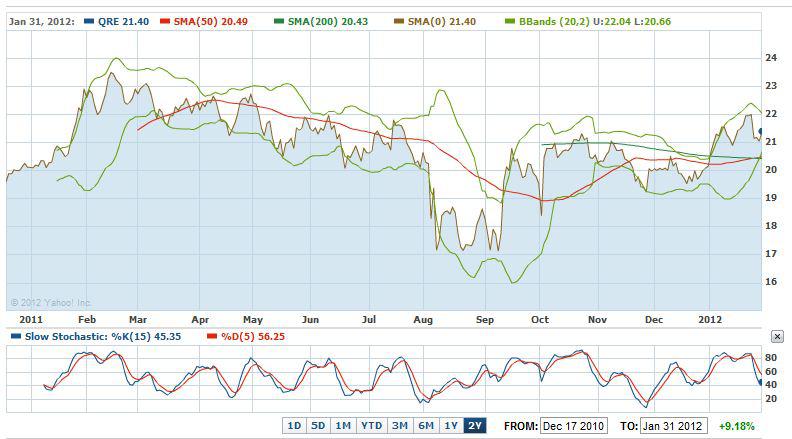 Click to enlarge
The slow stochastic sub chart indicates that QRE is neither over bought nor over sold at this point in time. The main chart shows that QRE has been consolidating since mid September 2011. It may even be starting to move higher. However, I would not count on this. The overall market has been rising since early October ($109.93 on the SPY) to its recently closing high of $132.56. This is a 20.58% rise in just a few months. It is overdue to retrace, and the recently weaker than expected US economic data may be just the pin prick to deflate the worldwide QE fueled balloon.
The Q4 2011 GDP came in lower than expected at 2.8%. The recent US home sales and home price data have been weak. A lot of the EU data this week has been weak, etc. For example, French Consumer Spending (NYSEARCA:MOM) missed at -0.7% versus an expected +0.3%. German Retail Sales missed at -1.4% versus and expected +0.8%. Japanese housing Starts missed at -7.3% versus an expected -1.5%. In the US CB Consumer Confidence missed at 61.1 versus an expected 68.2. The Chicago PMI missed at 60.2 versus an expected 63.0. I could go on.
Greece seems to be haunting the world markets. Just today, Feb. 1, 2012, the Swiss data is bad with a SVME PMI of only 47.3 (contraction) versus an expected 51.8, and Swiss Retail Sales were only +0.6% versus an expected +1.6%. If the Swiss are having problems, you can be sure that weaker EU economies will experience severe troubles soon. The only real good news was the slightly higher Chinese PMI of 50.5 (expansion).
All this means that it should not take much to change the near term momentum of the US markets despite the worldwide QE euphoria (buy all dips mentality). The good news is that the Chinese data should help oil and oil stocks rise as China is increasing a larger oil consumer. Averaging into QRE seems like a good strategy. You should be able to at least buy some at the low that way, and the high dividend is very attractive in a volatile market, especially with a secular bull market in oil in place.
Good Luck Trading.
Disclosure: I have no positions in any stocks mentioned, but may initiate a long position in QRE over the next 72 hours.