Introduction
With Facebook going public in 2012, the mobile and social media revolution will come to the forefront of investors' attention. In 2011 the market welcomed companies such as Zynga (Nasdaq: ZNGA), Pandora Media (NYSE: P), LinkedIn (Nasdaq: LNKD) and Groupon (Nasdaq: GRPN) with a warm reception. While many of these companies have unproven financial models, and rich valuations supported by the promotion of their large investment banking underwriters, there is one company that has quietly built a successful brand and proven model in the past 6 years that investors have overlooked.
Snap Interactive, Inc. (OTCQB:STVI) is the leading provider of social dating and location-based applications built on Facebook and accessible through the company's website and mobile platforms for the Apple (Nasdaq: AAPL) iPhone and Google (Nasdaq: GOOG) Android. Their core dating brand is "Are YOU Interested?" which has over 55 million user installations, 8 million monthly active users, and quickly received 675,000 downloads of its iTunes mobile application in Q3 2011. The company's location-based social application is branded under "Who is Near?" and was launched in Q2 2011. The application allows users to access their social network for ideas on what's hot and happening across the country; the app launch quickly garnered almost 700,000 downloads.
Since being founded in 2005, revenues have grown at a torrid pace. As of the last 12 months ended September 30, 2011, the company has recorded $16.5 million in sales. Quarterly revenues hit $5.1 million (+198% YoY) in September, which puts the company on pace for approximately $20.0 million in sales for 2011. These figures do not even include full year revenues from the launch of the mobile dating application for the iPhone and Android, or the location-based app Who is Near? which both hold great potential for future growth.
The company's revenue model switched from advertising-based to subscription-based in 2009. Today, substantially all of the revenues are derived from dating subscriptions and the sale of "points," which can be used in exchange for premium services.
Online-Dating is a High Growth, Attractive Business
Few things in life are certain, but the quest for love touches each and every person in the world at some point. In the past decade, the internet has become a socially acceptable medium for dating and finding lasting relationships. A recent research study from Chadwick Martin Bailey in 2010 covering online dating trends indicated that nearly 17% of people surveyed, reported they had met their most recent spouse online, versus only 8% who reported they had met at a bar, club, or other social venue.
Why has online matchmaking become so successful? The advantages for the user are numerous and include: 1) Allows for targeted searches for matches along numerous physical and personal dimensions and qualities; 2) Reduces search time for increasingly time-constrained people; 3) Expands people's dating pool beyond traditional social circles; 4) Facilitates indications of romantic interest and minimizes potential embarrassment from rejection; 5) Promotes a secure and safe way to screen potential matches; and 6) Saves money through free browsing of potential matches, and cost-effective membership plans for subscribers.
The business of online dating has grown remarkably. A look at Match.com and eHarmony's reported results indicates that industry revenues have grown at an approximate 16% compounded annual growth rate ("CAGR"). The total market size for online dating is now in excess of $1.0 billion and comprises large and small players that appeal to customers based on specific interest groups such as age, religion, sexual orientation, geographic location, income, cultural heritage, and others.
click to enlarge
Industry Trends Accelerating Market Growth and Benefiting Snap Interactive
Growing Total Addressable Market
As is often the case for most new products and services in nascent industries, there are customers that are "early adopters." They are then followed by additional customers in other segments of the market that are often characterized as "late adopters." This consumer adoption paradigm is currently being exhibited in the online dating industry. Whereas the industry's early adopters encompassed college students and young professionals, recent industry research suggests that the fastest growing segment of the market is individuals over 50 years old.
To illustrate, Match.com now reports that over 20% of its members are >50 years old, up from a negligible amount just a few years ago. Match.com member statistics can be found here. According to the U.S. Census Bureau, these baby boomers have the highest overall disposable income levels. Overall, this trend helps to greatly expand the total addressable market potential for online dating, and further illustrates its growing popularity and universal appeal to consumers.
Facebook and the Social Media Effect
With Facebook anticipated to hit 1 billion profiles globally in 2012, it's no surprise that it has become a fertile dating ground for many singles. Facebook allows its users to leverage their social circle of friends, and to identify and connect to potential matches of interest. Facebook provides a natural setting for people to obtain a more holistic picture of a person through their photos, likes and dislikes, opinions, and information and content that other friends contribute; much of this rich content is not obtained from paid dating profiles, and is perceived as more genuine and trustworthy through Facebook.
This is the exact philosophy behind Snap Interactive's highly successful dating application called "Are YOU Interested?" Snap was the very first company to realize Facebook's potential as a dating platform, and today has the largest installation of profiles, and highest monthly active users ("MAUs"). The table below illustrates the popularity of dating applications on Facebook, with 3 of the top 80 belonging to this category. Online leader Match.com has been noticeably late to embrace the power of the Facebook platform, and ranks 360 on the list. Snap's dating application even ranks ahead of wildly popular Twitter.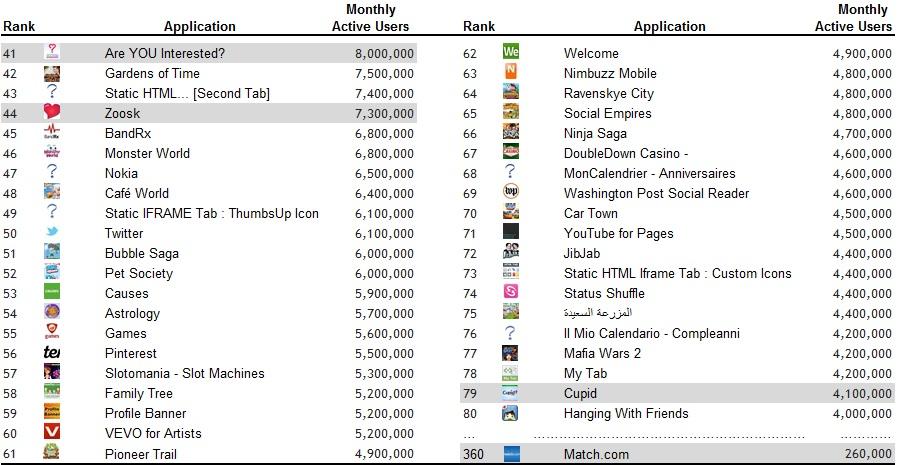 The age trends in the 50 years and older category that are occurring in online dating are also mirrored in the Facebook population. Recent studies in 2009 and 2010 indicate that the 55+ year old age category is the fastest growing segment. These studies can be found here and here. Meanwhile, the overall percentage of this age group among the Facebook user population is still under 10%. This indicates there is ample room for substantial growth in attracting potential dating customers in the years ahead.
The Mobile Revolution
For the first time in 2011, smartphone and tablets exceed PC unit shipments. Not only are consumers spending more time on their smartphones, but a greater percentage of their time is now spent on web browsing, social networking, gaming, and applications than on email and telecommunications. Appsfire.com estimates 60% users' time is spent on the web and apps versus 40% on email and telecommunications.
The proliferation of smartphones with location-based GPS systems has also vastly expanded the opportunities for online dating by facilitating timely and actionable dating opportunities by closeness of proximity to the user. A recent report from Juniper Research estimates the mobile dating market to be worth $2.3 billion by 2016, up from $1 billion this year, and that over 1.3 billion people will use their phone for dating purposes. For more information click here. A recent study by Google in the UK found that the volume of dating queries rose tenfold in just the past 3 years.

Snap Interactive astutely dedicated its resources in the past few years to provide products to address consumers shifting preferences for mobile dating solutions. The company has released two mobile applications for its "Are YOU Interested?" and "Who is Near?" brands to gain first mover advantage in this evolving market segment. The applications are available for both the iPhone and Android platforms, and each quickly received nearly a million downloads. The customer reviews, as illustrated by the iTunes reviews, have been extremely favorable with a majority of users rating each application with 5 Stars.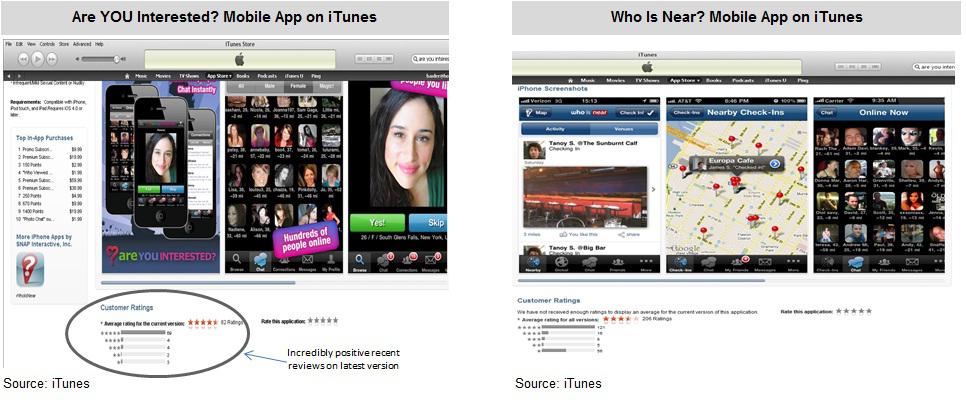 Recent developments with Facebook and its mobile channels have significantly benefited Snap. According to a recent report on Tech Crunch, Facebook launched a new set of social channels for apps to reach mobile users late last year, which includes notifications, search, news feed stories and bookmarks in its mobile web and iPhone apps.The number of average daily logins on its Are YOU Interested? iPhone app increased by 70% between the 30 days before the October 10th Facebook integration and the 30 days after. This resulted in the app rising from the #10 to #5 position in the iTunes App Store top-grossing social networking apps chart. For more information click here.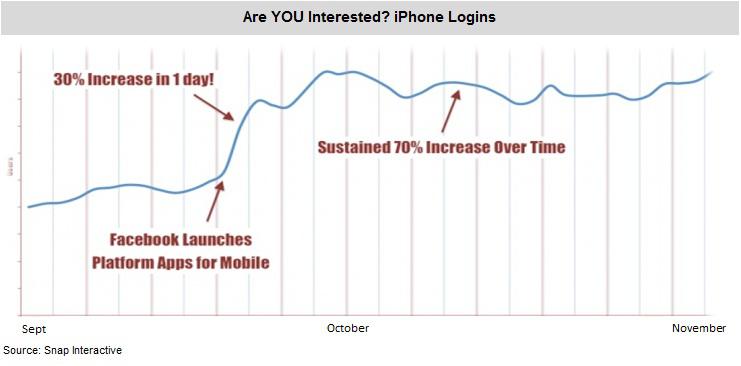 Snap's mobile product, along with their Facebook and website portals, provides its customers with a total dating solution. In the table below, we provide an overview of the key offerings by the major players in online dating. Part of Snap's success is that it offers customers an attractive pricing plan for as little as $9.99/month and access to the largest potential dating pool with over 55 million users.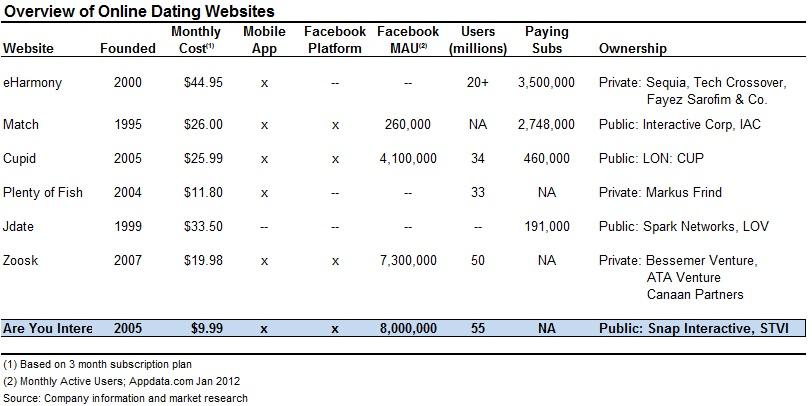 Industry M&A Activity Heating Up
There has been a noticeable acceleration of M&A activity in the online dating sector and for Facebook social gaming companies with popular applications in the past few years. Interactive Corp. and Cupid have been very active in consolidating the dating sector. Of the 10 announced deals since 2002, the average EV/Sales, EV/EBITDA, and EV/Subscriber multiple paid was 4.5x, 8.8x, and 398x, respectively. Interactive Corp. significantly raised the bar for valuations in 2011 when they announced the acquisition of OkCupid for a total of $80 million, including earn-outs.
While OkCupid's model is based on free subscriptions for its users, industry sources believe the company had less than $5 million in revenues at the time of the deal; this equates to an EV/Sales multiple of 17.0x. The multiples paid for Facebook applications with a gaming component are noticeably higher at around 10.0x. Disney (NYSE: DIS), International Game Technology (NYSE: IGT), and Electronic Arts (Nasdaq: EA) have all made aggressive moves in this fledgling market. It is entirely possible that SNAP uses its excess cash on hand, and experience in Facebook application development to move into the gaming segment in the future.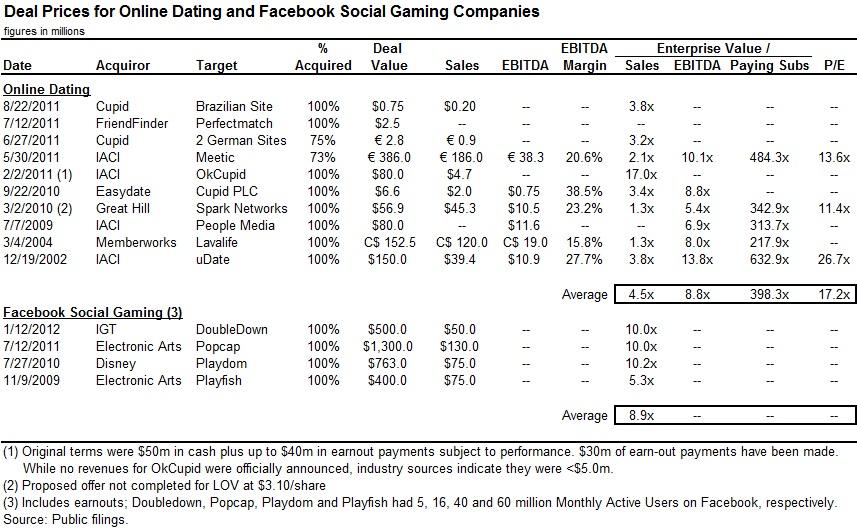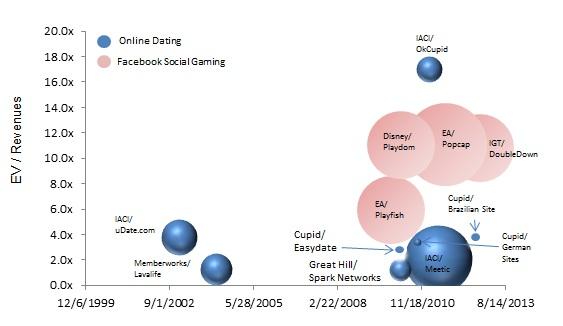 Snap's Financial and Operational Model
SNAP's impressive revenue growth is mirrored by its increasing active users, and accelerated in 2010 when the company switched to a subscription-based model. The company is re-investing its significant free cash flow resulting from its high gross margins of 86% in the business by increasing its marketing and advertising expenditures. The company is able to acquire subscribers and operate at a near cash flow breakeven pace; this illustrates their judicious use of the capital they raised last year. (describe the adv/marketing program in more detail)
For 2012 and beyond we estimate the mobile opportunity will begin contributing meaningfully to revenues.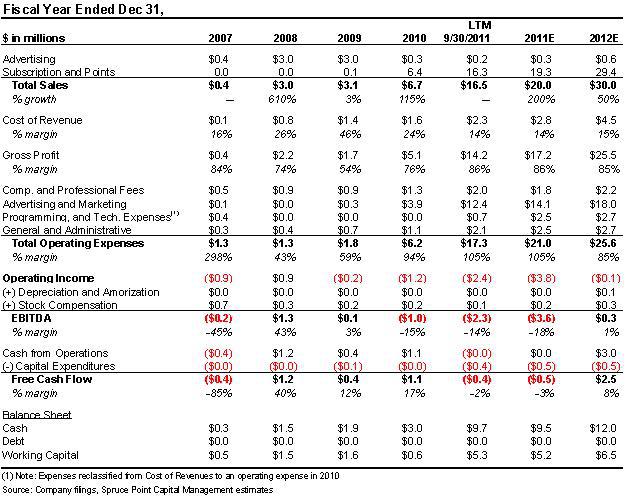 Share Price Performance, Valuation and Price Target

2011 proved to be a break-out year in many regards for STVI's share price. In late 2010, Bloomberg highlighted STVI's success in adding more than 50,000 users a day vs. 20,000 for Match.com.
Facebook Friends in Search of Romance Drive App Growth
The article generated significant interest in the stock, which eventually soared to $4.50/share. The company shrewdly took advantage of market conditions to raise $8.5 million in cash by issuing 4.25m shares at $2.00/share and 2.15m warrants for 5 years at $2.50/share. After the hysteria subsided, the stock slid all the way back to under $0.50 cents for no apparent reason. However, the largest investor in the deal, the John Hancock Small Cap Intrinsic Value Fund, has not sold a single share as of their last reporting period in November 2011. Insiders also did not sell any of their existing shares in the deal, which signaled their commitment to the long-term growth potential of the company.
As the chart below indicates, quarterly revenues continue to hit new highs, yet STVI's share price has swooned on low volume. Furthermore, most online dating stocks have showed positive share price appreciation in the past 12 months, with the exception of Quepasa.com (Nasdaq:QPSA) and Jiayuan.com (Nasdaq: DATE). With respect to Quepasa, the company has consistently lost money and made an acquisition of myYearbook.com, which apparently the market has not completely understood. Jiayuan.com, on the other hand, has likely seen its share price impacted by investors' overall risk aversion to Chinese equities, and its unproven business model. Comparing SNAP's $1.47 share price and $50m valuation to Quepasa's $5.00 share price and $160m valuation, make SNAP appear incredibly undervalued.

In the table below, we have listed the closest online trading comparable companies to Snap Interactive. We note that eHarmony and Zoosk are currently privately owned companies, but valuation information was obtained from private share exchange sources that are footnoted in the table. We have also listed social media stock valuations for reference.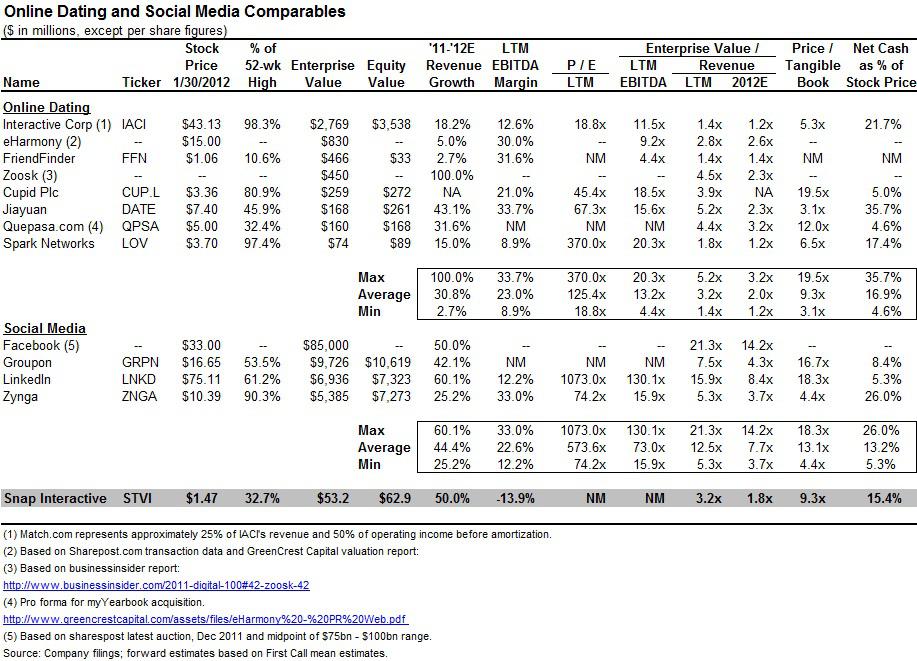 As illustrated more clearly in the charts below, STVI appears significantly undervalued. Despite having among the highest revenue growth rates in the industry, the stock trades at significant discount on an EV/2012E at 1.8x vs. a peer average of 2.0x - 8.0x for online dating and social media stocks. Furthermore, on a price to tangible book basis, STVI trades at 9.3x vs. a 9.0x - 13.0x peer average. STVI has a pristine balance sheet with ~15% of its stock price in cash, and no debt.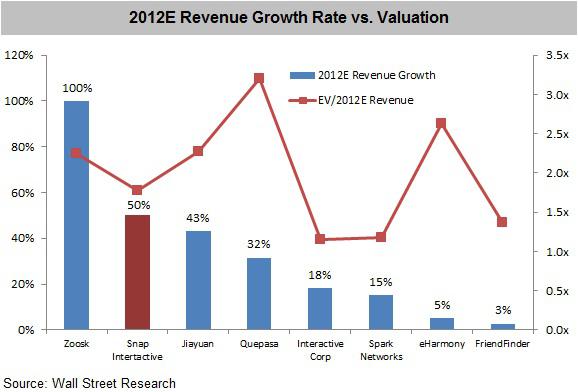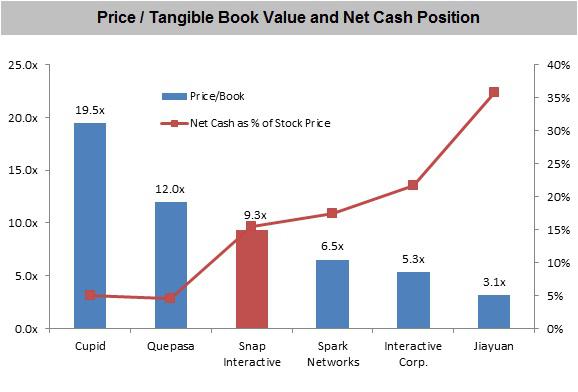 The shares of STVI are tightly held with insiders owning a majority of the shares; insiders have not sold any shares. The John Hancock Small Cap Intrinsic Value Fund is the largest institutional holder. Numerous other small funds participated in the company's 2010 cap.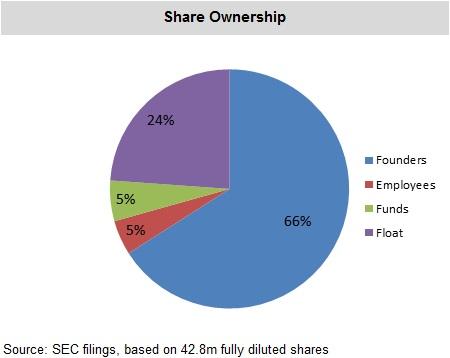 Price Target, Catalysts and Conclusion
Snap Interactive is an excellent business and investment opportunity that is currently being overlooked by the market. From its humble beginning as a self-financed start-up, the company has grown to be a formidable competitor in the online dating industry by quickly realizing the game-changing potential that Facebook and social media offer to the dating experience. Instead of focusing on stock promotion and marketing its business to investors, the company's founders have wisely concentrated their efforts on building a superior product, and user experience that caters to its customers where they are spending the most time: on Facebook and their mobile devices.
The results are clearly illustrated in its financial position: revenues are on pace to potentially eclipse $30m in 2012, the company has 8 million monthly active users on Facebook, all while limiting cash burn and preserving its nearly $10 million in cash which it raised at a significant premium to the current share price of $1.47 cents.
The future looks even brighter for the company in 2012; the recently released mobile applications for Are YOU Interested? and Who is Near? have received significant positive customer reviews, and are poised to contribute incremental revenues, which are not currently factored into the share price.
Furthermore, in October 2011, the company announced the addition of Jon Pedersen as Chief Financial Officer to the management team. Jon joined Snap from Warner Music Group where he served as the Senior Vice President and Controller. The addition of a new CFO should greatly enhance the company's profile in the investor community. The company also recently rang the opening bell to the Nasdaq in late December 2011, and hired ICR as its investor relations firm just this month.
Snap Interactive and Hotlist.com Ring the Opening Bell
We believe the company may be positioning itself for a Nasdaq listing, which will significantly improve trading liquidity, and serve to correct the unwarranted discount in the share price to its intrinsic value.
We arrive at our target share price of $3.00 by applying conservative revenue multiple ranges implied from comparable dating businesses and transaction premiums. We believe Snap should be valued at the high end of the trading range given its above market growth rate, and exposure to Facebook and mobile devices. We note SNAP is most comparable to Zoosk, which is second to Snap on Facebook and growing just as fast. We also note that Zoosk has raised over $40 million dollars to build their business, almost more than Snap's entire enterprise value.
Moreover, given that we believe Snap is eventually positioning itself for a sale down the road, the M&A comparables are very relevant to our price determination. In the tables and chart below, we illustrate the resulting equity value and share price ranges implied from these revenue multiples. We believe our price target is validated by the $2.00/share capital raise completed last year, and the much stronger financial results and product releases the company has delivered subsequent to the share offering.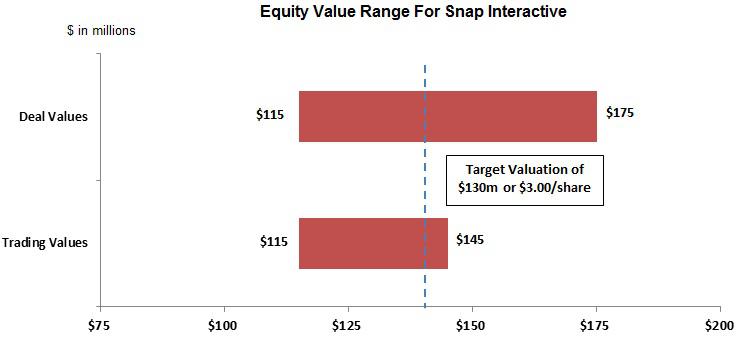 Disclosure: I am long OTCQB:STVI.