We believe there are two factors that have a major influence over the success of US Steel in 2012. We take a look at both of them here and give our opinion as to the value of looking at it as a long term investment.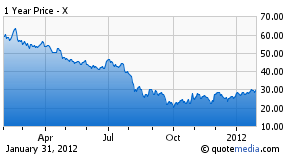 United States Steel Corporation (X) produces and sells steel mill products in North America and Central Europe. It operates in three segments: Flat-rolled Products (flat-rolled), U. S. Steel Europe (USSE), and Tubular Products (Tubular). The flat-rolled segment offers slabs, rounds, strip mill plates, sheets, and tin mill products, as well as iron ore and coke. This segment serves the service center, conversion, transportation, construction, container, and appliance and electrical markets in North America.
United States Steel's Success is Directly Related to Two Things
How steel is used world wide speaks loudly of the world's economic growth and expansion. A rise in demand for steel will raise its prices. One would expect just the opposite to be true; when we have a slow down, steel prices drop. China has been the sustaining factor in the sales of steel lately. For 2012, flat rolled stainless steel prices are expected to rise by mid February showing signs of economic life.
Yet, economic conditions world wide will still be influenced by Europe. Clouded by uncertainty, investments in Europe are expected to grow by about 2% through 2012. If the sovereign debt crisis deteriorates, industry confidence will follow and that will not sit well for the steel industry as a whole. This will have an adverse effect upon US Steel.
Two thirds of the economic picture that influences US Steel's profitability is populated by the 'end users' in general and the automotive industry. It is the automotive industry we will look at now. This industry accounts for 20% of sales for the steel industry in general. Several different types of steel products are used for automobiles including flat rolled sheet for auto bodies, bar products for suspension, drive shafts and axles as well as steel alloys for wheels and engine blocks. Performance in 2012 of these automakers will have a direct effect upon US Steel also.
After three of the most woeful years in recent memory for the auto industry, sales for some automakers are steadily improving, with projected purchases in the United States is 13.5 to 14.5 million vehicles this year. That's up from 12.8 million in 2011 and 11.6 million in 2010.
So wrote Josh Max from the New York Daily News. The big three automakers in the USA have done well revamping popular car brands and getting rid of unpopular ones. This is expected to help US Steel through 2012.
US Steel's Outlook for 2012
Based upon these two industries, segments that make up 66% of steel sales in general, it seems like the world economic market will continue with uncertainty as we wait and see how Europe pans out. The auto industry should have a good year, thus helping US Steel's bottom line.
Taking all this into account, we are mildly bullish on US Steel through 2012. We believe they would make a good stock for an investor to look at and consider.