by Brendan Gilmartin
Overview
Merck & Co. (MRK) is slated to report 4Q 2011 earnings before the opening bell on Thursday, February 2. Results from the drug giant follow mixed reports from counterparts Pfizer (PFE) and Eli Lilly (LLY). The results are typically available at 7:00 a.m. eastern and will follow with a conference call at 8:00 a.m. Merck is also a member of the Dow Jones Industrial Average and given the company's size and profile, has the potential to influence the U.S. index futures and other broad market barometers.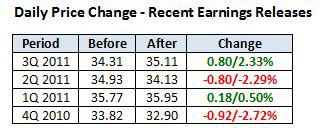 Outliers & Strategy
Key measures:
Non-GAAP Earnings Per Share: The Street is look for Merck to report Non-GAAP EPS of $0.95, the midpoint of analyst forecasts ($0.93 - $0.97). Over the past four quarters, earnings have topped estimates by an average margin of $0.04, or 5.7% (Source: Yahoo Finance).
Revenues: Merck is seen posting revenues of $12.53 billion, a 3.6% increase over the year-ago period.
Adjusted Earnings Per Share Guidance (FY2012): Keep an eye on the outlook for 2012. The Street is looking for a slight increase to $3.83, up from an estimated $3.72 - $3.76 for FY2011.
Merck is among the higher dividend paying companies in the S&P 500 with a yield of 4.39%. The annual dividend is $1.68.
Even after the recent run-up in Merck, the shares are still trading at just 9.97x forward earnings and 2.4x sales.
Recent News
01/24: ISI Group initiated coverage on Merck with a Buy rating and a $45 price target, according to a post on Benzinga.com, citing longer-term upside.
01/09: Jefferies downgraded Merck from Buy to Neutral and cut the price target from $40 to $37, according to a post on StreetInsider.com. The rating cut was based on valuation.
11/10: At its annual R&D meeting, Merck disclosed its strong late-stage pipeline has considerable potential with 19 candidates in Phase III clinical trials targeting a broad range of diseases. The company plans to submit 8 new U.S. filings in 2012-2013. In total, Merck's late-stage pipeline consists of 32 Phase II and Phase III candidates, including new molecular entities and combination programs.
11/10: Merck raised its quarterly dividend from $0.38 to $0.42, an 11% increase.
Technical Review
Merck shares are up close to 20% since its previous earnings release back in October, en route to a recent 52-week high of $39.43 (1/19/12). Headed into the 4Q earnings release, the rally is showing signs of fatigue, evidenced by the waning MACD, declining Relative Strength Index (RSI) (was above 70 a couple weeks earlier), and shortening candlesticks - potential clues the stock is poised for a pullback. If that scenario plays out, look for support at $38, with potential downside risk to $36 - a key technical level going back to early 2010. Conversely, resistance is at the recent high of $39.43. (Chart courtesy of StockCharts.com).
click to enlarge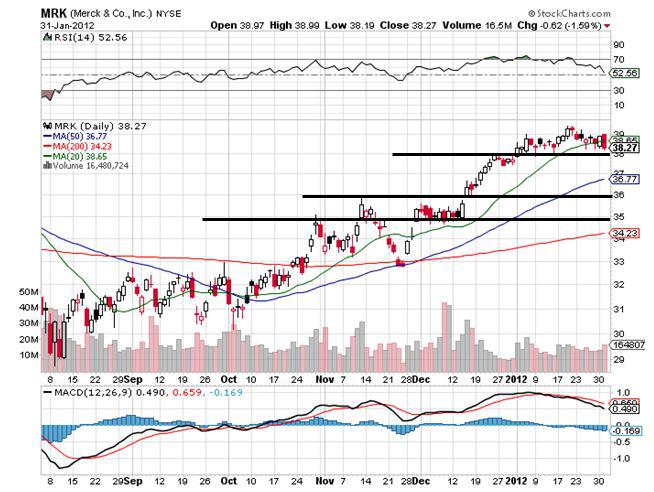 Summary
Merck shares have been on a nice run over the past several months, reaching a 52-week high on January 19, thanks to a growing pipeline and improving economic backdrop. The shares are also yielding 4.39%, more than double the payout on the 10-Year Treasury Note, while trading at less than 10x forward earnings. Heading into the 4Q report, much of the focus will center on the company's outlook for 2012. With Merck shares near a 52-week high, missteps make the shares vulnerable at these levels.

Disclosure: I have no positions in any stocks mentioned, and no plans to initiate any positions within the next 72 hours.