In this article, we will discuss the following stocks: Apache Corporation (NYSE:APA), Newmont Mining Corporation (NYSE:NEM), State Street Corporation (NYSE:STT), Occidental Petroleum Corporation (NYSE:OXY) and Wells Fargo and Company (NYSE:WFC).
The stocks covered are corporations with a national reputation for quality, reliability and the ability to operate profitably in good times and bad and are generally the leaders in their industry. They are S&P 500 large caps with the following compelling fundamental statistics of a PEG ratio of 1 or less coupled with above industry average profit margins and returns on equity. They are undervalued due to the fact that although they have strong growth potential, they are currently priced as value stocks.
Nevertheless, great fundamentals are only one aspect to consider when finding winners for your portfolio. Stocks must also have positive future catalysts for organic growth in the form of new products or services coupled a positive macro market environment to sustain upward momentum. We will review these companies' prospects in the company review section and the macro picture in the market backdrop section.
Compelling Fundamental Statistics Review
PEG Ratios Near Or Below One
The PEG ratio is a widely accepted indicator of a stock's prospective value. It is favored by many analysts over the price/earnings ratio for the reason that it also accounts for growth. Similar to the P/E ratio, a lower PEG means that the stock is more undervalued. Many investors use one as the cut-off point for PEG ratios. A PEG of 1 or less is believed to be promising. As Warren Buffett would say, "Price is what you pay, value is what you get." There is one caveat regarding the use of the PEG ratio though, and it's a big one: You need to perform additional due diligence and determine if the projected growth of the company is from healthy growth sources such as organic growth versus growth by acquisition or stocks buy backs, which are not necessarily bad, but may be unsustainable.
Above Industry Average Profitability
A company's profitability is conceivably the most important statistic to understand before investing in a stock. Each time you consider starting a position in a stock, you should prudently scrutinize its earnings information. The reason earnings are so vital to investors is that they tell you about the relative profitability of a company. Earnings per share is defined as the net income of a company divided by the shares of common stock outstanding. With the EPS measure, you are looking at the amount of money left over for shareholders. The value is reported after taxes are subtracted.
Above Industry Average Return On Equity
Return on equity (ROE) measures the rate of return on the ownership interest (shareholders' equity) of the common stock owners. It measures a firm's efficiency at generating profits from every unit of shareholders' equity (also known as net assets or assets minus liabilities). ROE shows how well a company uses investment funds to generate earnings growth. ROEs between 15% and 20% are considered desirable.
Company Reviews
Apache Corporation, together with its subsidiaries, operates as an independent energy company. It engages in the exploration, development and production of natural gas, crude oil and natural gas liquids (NGLS).
Apache has a PEG ratio of 0.96, a profit margin of 25.49% and a ROE of 16.91. Future earnings guidance was raised in recent months. Apache's earnings are steadily improving with expected 2011earnings of $11.90 and projected 2012 earnings of$12.31. Apache recently announced that it has agreed to acquire Cordillera Energy Partners III LLC, a privately held company with substantial operations that include approximately 254,000 net acres in the prolific Granite Wash, Tonkawa, Cleveland and Marmaton plays in western Oklahoma and the Texas Panhandle, for $2.85 billion. This is an important growth step for Apache that more than doubles Apache's acreage in a highly liquids-rich fairway in the Anadarko Basin. The stock is technically sound, recently crossing its 100 day moving average.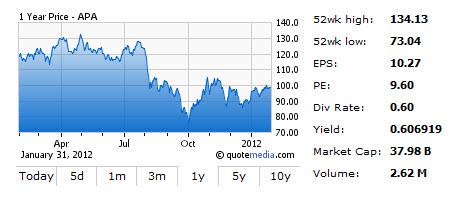 Newmont Mining Corporation, together with its subsidiaries, engages in the acquisition, exploration and production of gold and copper properties.
Newmont has a PEG ratio of 0.73, a profit margin of 29.91% and a ROE of 18.16. Newmont recently announced it will report fourth quarter and year-end 2011 results before the market opens on Friday, February 24, 2012. The company preannounced 2011 production, operating costs and capital expenditure performance in line with our original guidance for the year.
Richard O'Brien, President and CEO said:
Combined with higher metal prices, our strong financial performance allowed us to return significant capital to shareholders in the form of a gold price-linked dividend.
2012 Outlook
The company announced that it anticipates 2012 attributable gold and copper production of approximately 5.0 to 5.2 million ounces and 150 to 170 million pounds, respectively, at CAS of approximately $625 to $675 per ounce and $1.80 to $2.20 per pound, respectively. The company also announced that it currently expects to invest approximately $3.0 to $3.3 billion in attributable capital expenditures, of which approximately 60% is allocated to growth project initiatives, including further development of the Akyem project in Ghana and potentially the Conga project in Peru, with the remaining 40% expected to be spent on sustaining and maintenance capital.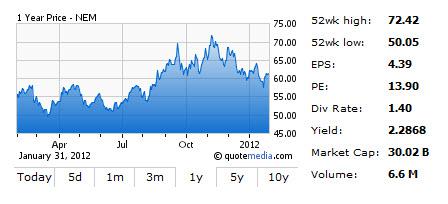 State Street Corporation, through its subsidiaries, provides various financial services and products to the institutional investors worldwide.
State Street has a PEG ratio of 0.81, a profit margin of 20.01% and a ROE of 10.26%. State Street Corporation recently announced full-year and fourth-quarter 2011 earnings per common share of $3.79 and $0.76, respectively, compared to full-year and fourth-quarter 2010 earnings per share of $3.09 and $0.16, respectively. Revenue of $9.594 billion in full-year 2011 increased 7% from $8.953 billion in 2010 and expenses were $7.058 billion, up 3% from $6.842 billion in 2010. Return on average common shareholders' equity was 10.0% in 2011 and 9.5% in 2010.
2011 was a very successful year amid extremely challenging market conditions for State Street. Nevertheless, in the face of these conditions, State Street was able to achieve strong growth in both revenue and earnings per share.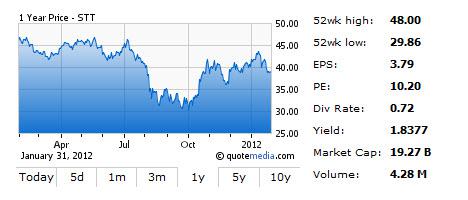 Occidental Petroleum Corporation, together with its subsidiaries, operates as an oil and gas exploration and production company primarily in the United States.
Occidental has a PEG ratio of 0.88, a profit margin of 25.82% and a ROE of 18.24. Occidental Petroleum Corporation recently announced net income of $1.6 billion ($2.01 per diluted share) for the fourth quarter of 2011, compared with the $1.2 billion ($1.49 per diluted share) for the fourth quarter of 2010. Core income was $1.6 billion ($2.02 per diluted share) for the fourth quarter of 2011, compared with $1.3 billion ($1.58 per diluted share) for the fourth quarter of 2010. Net income for the twelve months of 2011 was $6.8 billion ($8.32 per diluted share), compared with $4.5 billion ($5.56 per diluted share) for the same period in 2010. Core income for the year 2011 exceeded $6.8 billion ($8.39 per diluted share), compared with $4.7 billion ($5.72 per diluted share) for the same period in 2010.
The 2011 net income of $6.8 billion was 49% higher than 2010. For the year, Occidental continued to generate strong financial results with cash flow from operations of $12.3 billion and ROE of 19 percent. Occidental increased the dividend by 21% to $1.84 per share. These are strong results.
Chart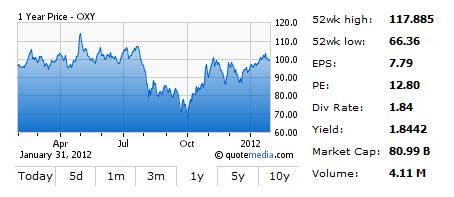 Wells Fargo & Company, through its subsidiaries, provides retail, commercial and corporate banking services primarily in the United States. The company operates in three segments: Community Banking; Wholesale Banking; and Wealth, Brokerage, and Retirement.
Wells Fargo has a PEG ratio of 0.97, a profit margin of 20.03% and a ROE of 12.91. Wells Fargo reported record quarterly and full year net income. Q4 net income was $4.1 billion and Q4 revenue was $20.6 billion. Wells Fargo reported continued strong financial results, continued solid loan and deposit growth, an improved capital positions, strong credit quality and stable net loan charge-offs for the year.
Chart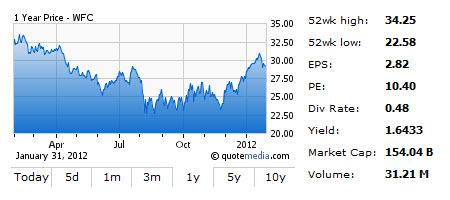 Market Backdrop - Slight Negative Bias
Stocks never fully pared early losses, leaving the major indices flat to mixed for the day. Although nothing official was released regarding Greece's restructuring of debt terms, this alleged headway underpinned European markets. The positive movement may have been a reaction to a recent commitment by Europe's officials regarding future bailouts. Initially, the euro traded higher, nevertheless, withdrew 0.5% against the dollar by session end.
Stocks slid quickly on the release of the latest Chicago PMI. The PMI fell to 60.2 in January from 62.5 in the prior month, disappointed many as the forecast called for a reading of 62.8. Shortly thereafter sellers redoubled their efforts in response to a Consumer Confidence Index for January that fell to 61.1 from 64.8 in the prior month, clashing with expectations for an improvement to 67.0.
Conclusion
All these stocks seem to meet my criteria for good investments. The question now is when to start a position. For the stocks that have had recent run ups in price or are trading at 52 week highs, I would wait for a 5% to 10% pull back to enter. For those trading in a downtrend or near their 52 week lows, I would wait for a confirmed change in the trend prior to starting a position. Currently, the market seems a bit overbought at current levels. I am expecting a pullback in the near term which may provide a buying opportunity in these stocks.
Moreover, this exercise is only the first step in finding winners for your portfolio. Use this information as a starting point for your own due diligence and research methods before determining whether or not to buy or sell a security. If you choose to start a position in any stock, I suggest layering in a quarter at a time on a weekly or monthly basis depending on your time horizon to reduce risk and setting a 5% to 10% trailing stop loss order to minimize losses.
Disclosure: I have no positions in any stocks mentioned, and no plans to initiate any positions within the next 72 hours.