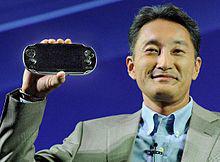 The April handover of Sony Corp. (NYSE:SNE) to its former gaming head, Kazuo "Kaz" Hirai, gives shareholders one more chance to see if the company can return to glory. (Photo: Wikipedia.)
Sony has the pieces to play a big role in the future, but it lacks a coherent strategy.
Despite its lack of profitability (its last year of profits was 2008, and the company lost half its market share in 2011) Sony has some tremendous assets. Hirai is best-positioned to take advantage because PlayStation is more than just a gaming platform, but an ecosystem, selling digital
products and gaming time to millions of customers.
The son of an international banker, Hirai came up through the gaming market, using cross-promotion to generate profits that hid the rot within the rest of the company for most of the last decade. He insists the current PlayStation 3 has five more years of success ahead of it, although it's now facing new competition from smart phones and tablet-based gaming.
Outgoing CEO Howard Stringer did give Hirai some string to work with:
Sony now controls its smart phone destiny, having bought Ericsson out of that business.

It now controls its music destiny, having bought out half of EMI.

Sony Pictures has three sure-fire hits in the can for 2012, Spider-Man, Men in Black and a new James Bond feature.

Sony is getting out of its LCD joint-venture with Samsung and taking the hit to earnings now.
For now, Hirai's vision for Sony remains conceptual, tied to "convergence" among its PCs, game consoles, TVs, and smart phones. There remains plenty of growth in smart phones, but Hirai must quickly decide how the software convergence will happen, and deliver product that implements a strategy that lets consumers buy digital goods, through Sony, on any device they own.
The clock is ticking. The TV business is crumbling, smart phones and tablets are becoming a two-horse race (Sony isn't one of the horses), and it has no operating system of its own to offer.
Shareholders want results, and if moving his chess pieces around delivers even the appearance of results, shareholders will profit in 2012 and Hirai will get the chance to make major changes. SNE today is a stock for speculators, but if you are willing to bet on Hirai for a year or two, your patience may well be rewarded.
Disclosure: I have no positions in any stocks mentioned, and no plans to initiate any positions within the next 72 hours.