Data center-related stocks closed a very positive month in January 2012, in line with the best start for stocks in 15 years, but also with several companies delivering stronger than average double-digit increases.
A quick look at some of the general market data, to put these numbers in prospective. The Dow Jones industrial average rose 3.4 % in January, while the Standard & Poor's 500 gained 4.4 %, the best performances, for both indexes, to open a year since 1997.
The Nasdaq gained 8% for the month, in its best January since 2001. Akamai (NASDAQ:AKAM) is the only stock under our coverage delivering a slightly negative return, of just -0.15%. All other stocks are in the green, with Equinix (NASDAQ:EQIX) delivering the best performance with a 18.30% increase in the month. Here is a quick look at each company's performances, divided as usual into sub-sectors :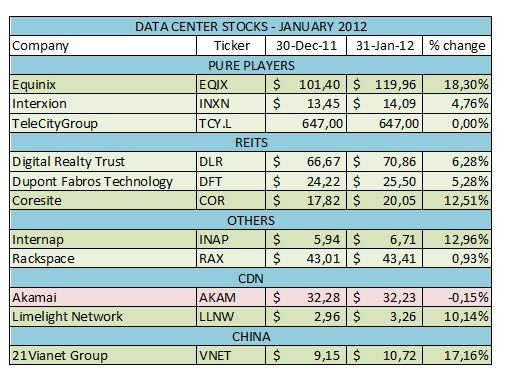 REITs delivered the most solid performance, with CoreSite (NYSE:COR) gaining more than 12%, and both Digital Realty (NYSE:DLR) and Dupont Fabros Technology (NYSE:DFT) showing increases of more than 5%.
Chinese data center provider 21Vianet (NASDAQ:VNET) also delivered a strong performance, with a 17% rebound in the first month of 2012 (as a reminder, the company IPOed in 2011 at $15 per share).
This strong one-month performance follows a very good year for data center-related stocks that delivered mostly positive results in 2011. Some performances, like TeleCityGroup's flat January, must probably be evaluated, remembering that the company had the strongest performance in the sector, with a 38% stock appreciation in 2011.
Above all, network-neutral data centers and REITs confirm a long lasting positive momentum for the sector, with all stocks in the green both at the start of 2012 and last year: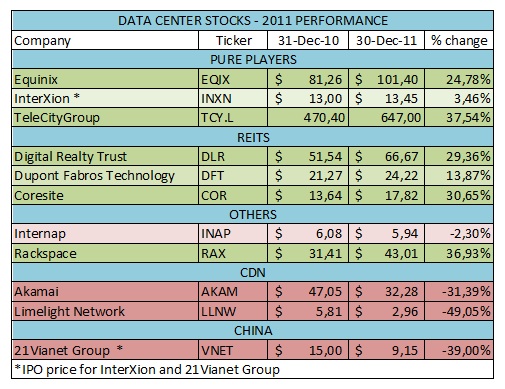 Disclosure: I am long EQIX.