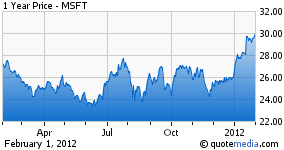 Since the start of the year Microsoft (NASDAQ:MSFT) shares are up 15%, while those of Google (NASDAQ:GOOG) are down 10%. It's the reversal of a long-term trend and brings Microsoft back within 2% of the level it was at in 2007. Despite this Microsoft still sells at a PE south of 11, half that of Google. Is this just a re-adjustment or has Microsoft got a long-term advantage?
One thing is clear. Microsoft is now focused on Google as its main adversary. It is trying to take full advantage of Google's privacy problems (which I described here) and offering its own services as a full alternative. The privacy brouhaha is going into a Microsoft print campaign and we might speculate if it also might get into its TV advertising as well.
But it's not all good news for Microsoft.
Google's integration of social and search is powerful stuff for advertisers and search engine optimization, according to Search Engine Watch. They target ads to people, not just search queries.
If Microsoft is deliberately avoiding this advance on privacy grounds, it may deliver a good feeling, but it won't help the bottom line at Bing or elsewhere. Even Bing's recent market share gain, from 13.9% last March to 15.1% in December, won't mean much to shareholders if the company can't capitalize on that in terms of revenue.
Slashgear says the Putting People First campaign by Microsoft is having an effect. A survey under its recent story on the program shows almost 40% planning to ditch Google services or saying they already have.
That's not representative, but it's also not nearly as relevant to Microsoft shareholders as its expansion of the Kinect interface into something all Windows PCs can use, the coming launches of Office 15 and Windows 8, and its effort to wrest market share from Android while maintaining momentum for its Azure cloud.
Right now, 2012 is shaping up to be a very, very good year in Redmond. But we've seen false dawns before. Moving a few chips from Google to Microsoft might work for now, but be ready to jump away once the good news is in, Microsoft's new products are released, and Google has a chance to respond.
Disclosure: I am long GOOG. I may well take my own advice and pick up some MSFT.