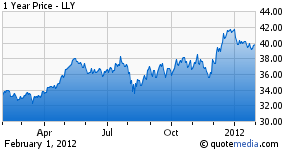 There don't seem to be very many pharmaceutical companies less-liked than Eli Lilly (NYSE:LLY). There's a long tradition here of blaming others for their problems (the government and prior management teams, especially), designing trials poorly, and generally mismanaging the pipeline to say nothing of the expense structure. Said differently, Lilly doesn't have one of the highest dividend yields in Big Pharma because its payout ratio is high.
A Little Good News In Q4
Against that dour intro, Lilly had a pretty respectable fourth quarter with a few catches. Revenue declined 2% overall as strong volume growth (8%) was buried by price erosion (11%). Pharmaceutical sales fell 4%, with sales in the U.S. down 6% (despite a 11% volume increase). Lilly's good quarter largely came down to strength in the diabetes franchise (which is definitely a positive) and less-than-expected erosion of the now off-patent Zyprexa.
Profit performance was mixed. Gross margin did decline two points from last year, but was stronger than most analysts had expected. Operating income, though, tumbled 19% on an adjusted basis and SG&A expenses rose 7%.
Lilly's Pipeline More Like A Roulette Wheel
Though I'm not a fan of casino table games, my understanding is that games like keno and roulette offer the worst odds. That feels a bit like how Lilly has structured its pipeline.
The most interesting compound, solanezumab for Alzheimer's, is far and away the least likely to make it to market. Although Lilly reported that the drug has passed through a futility analysis, the reality is that all four endpoints would have had to show less than a 30% chance of success for the study to stop. That's not terribly convincing.
Success would make this is a multi-billion dollar drug, but the odds are poor and incrementally better with Baxter's (NYSE:BAX) Gammagard and bapineuzumab (co-developed by Johnson & Johnson (NYSE:JNJ) and Pfizer (NYSE:PFE). With final results expected later this year, that will be a major driver to Lilly's long-term value.
Beyond solanezumab, edivoxetine for depression is another low-probability/high-potential drug that likely won't be a blockbuster, but could be a strong contributor in the $500M sales range. There may be more promise with Lilly's JAK drug for rheumatoid arthritis, but this too is becoming a crowded drug class.
In contrast, Lilly will have to launch dulaglutide against a two-year headstart for Amylin's (AMLN) Bydureon (assuming the data is good enough for approval), while other insulin products in the pipeline represent more of a chance to maintain the franchise against Sanofi (NYSE:SNY) and Novo Nordisk (NYSE:NVO) as opposed to real growth.
Mind The Gap
Why does all of this talk of the pipeline matter? Well, something on the order of 60% of 2012's estimated sales will be generic by 2018, with Cymbalta (about 20% of this quarter's revenue) being the biggest loss in late 2013. Any major disappointments will pretty much force the company to significantly tighten the screws on SG&A and R&D spending to maintain margins and running a tight ship has been an issue for Lilly relative to rivals like Pfizer and Merck (NYSE:MRK).
Many analysts are expecting products currently in Lilly's pipeline to contribute roughly half of the company's forecast revenue in 2018 - a pretty lofty assumption given the difficulties in getting drugs to market for conditions like Alzheimers, depression, and diabetes. What's more, analysts have taken Lilly to task in recent times for sloppy trial design and that could up the risk on the entire pipeline.
The Bottom Line
Time will tell if Lilly made the right decision in jointly ending its development and marketing agreement with Amylin on Bydureon. While management made sure it was "blood in, blood out" for Amylin, the fact remains that Lilly's revenue 2014-2016 is not looking so strong and a drug with $1 billion-plus potential like Bydureon would have helped.
Either way, Lilly needs to stop making excuses and start delivering better performance. As it stands today, Lilly is a decent enough yield play but not a very compelling stock. Success in Alzheimer's would definitely boost the fair value of this stock meaningfully, but investors should pause to ask themselves if they really want to invest with a management team that has structured a Big Pharma more or less in line with the high-risk/high-reward biotech sector.
Disclosure: I am long AMLN.