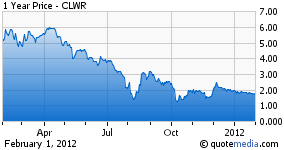 The Wall Street Journal published an article today (1/31/2012) on its "CFO Journal" blog entitled "Clearwire Hanging By A Thread." This came as quite a surprise to those of us that follow Clearwire (CLWR) given that the company has raised $1 billion in the last two months and recently secured a commitment from Sprint for over $1 billion in payments for access to CLWR's network.
The article cites CLWR's substantial cash burn and the high rate of interest on its recent bond issue, but fails to mention the company's massive spectrum position or the fact that Sprint (NYSE:S) is heavily dependent on CLWR for its own survival. These factors are at the heart of the CLWR investment thesis and it is surprising that the Wall Street Journal would publish an article that draws negative conclusions about CLWR's prospects without bothering to mention either of them. Both of these principles are explained here and here.
The article doesn't even bother to summarize CLWR's business plan, which is to build an LTE network that will be capable of providing much greater data capacity to consumers than Verizon or AT&T. CLWR has secured the financing required to build the first phase of the network, which will cover most dense population centers nationwide. The piece even contradicts itself, saying in one place that CLWR has yet to achieve positive cash flow from operations while pointing out later in the story that the company has announced positive EBITDA for the 4th quarter. This doublespeak reminds me of President Clinton when he was trying to mislead us about Monica Lewinsky without technically lying.
The article talks about CLWR "flirting with skipping" an interest payment in December as if the company were running out of money, when in fact it was a negotiating tactic designed to force Sprint to the negotiating table (and which worked brilliantly). It also quotes a source as saying that the company still needs to raise more capital to complete the planned $600 million LTE build out, when in fact it is fully funded at this point. The piece goes on to say that Comcast (NASDAQ:CMCSA) and Time Warner (TWC) (both CLWR shareholders) will stop selling access to CLWR's network without pointing out that the cable companies have long been a negligible part of CLWR's revenue stream and business plan.
If you're a CLWR investor (whether long or short), it's worth reading the WSJ article and the comments that people have posted. The article does a good job of illustrating the conventional wisdom on Wall Street that has led to CLWR's equity and debt trading at bargain basement levels. The comments attached to it (as well as several articles posted on Seeking Alpha by myself and others) help explain the case for limited downside risk and substantial upside potential in both the stock and the bonds.
Disclosure: I am long CLWR.