LoJack (NASDAQ:LOJN) has an innovative product, but it appears it is being replaced by alternative solutions. LoJack's volumes have not kept up with automotive sales growth the past few years. Management has offered many excuses - Q4 results will be a key test for the stock.
What LoJack does
LoJack (LOJN) makes concealed radio transmitter devices to track cars in case they are stolen. These devices cost $700-$1,000, though the dealers often purchase them for significantly less (closer to $200). The company has broadened the use of the their technology to track other valuable equipment, but cars remain the main focus.
Since 2009, car sales have recovered but LoJack's sales have not
Since 2009, car sales volumes are up almost 40% off their lows on a seasonally adjusted basis. However, LoJack's sales for this year are forecast (based on management's Q3 guidance) to be ~$138M for 2011 relative to $135M for 2009, so in other words, practically flat. Car sales have recovered, yet LoJack's sales have not.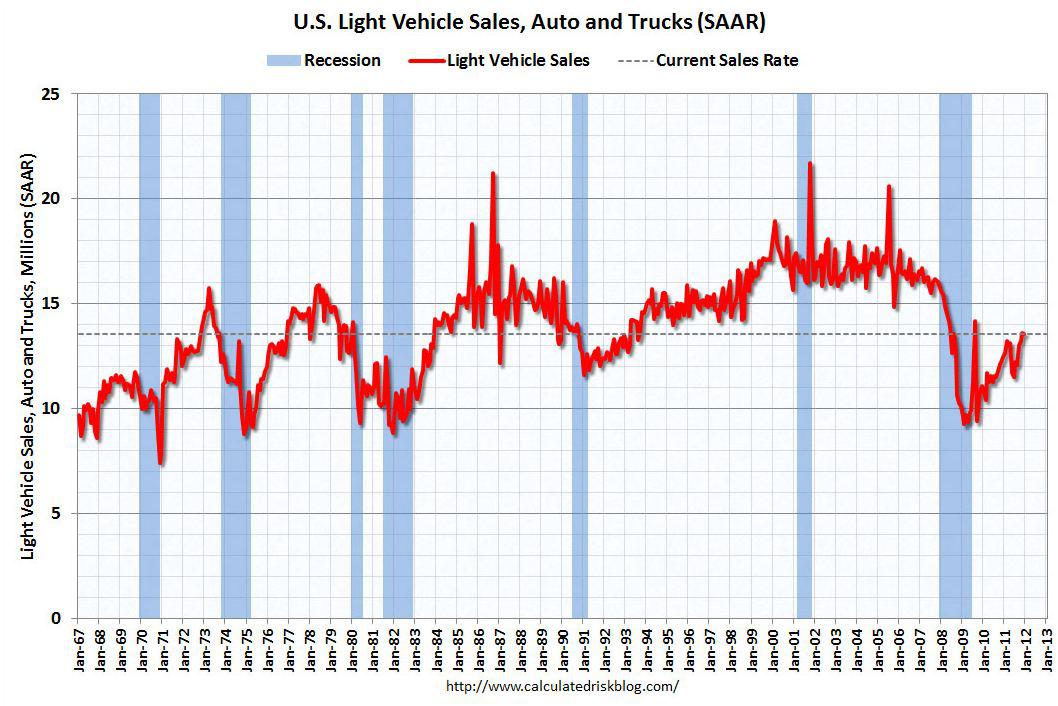 Why LoJack has not kept up
LoJack sells much better with some brands/dealers than others. For example, since General Motors (NYSE:GM) offers OnStar, which can provide somewhat similar services to LoJack, LoJack's 'attach rate' to GM vehicles is likely to be lower. In fact, looking at LoJack's recovery stories for 2010 and 2011 it appears LoJack devices are more prevalent in Japanese cars (Honda, Acura).
However, despite shifts in brands, the 40% increase in overall volume should have entailed an increased in LoJack sales, because it is not possible that the brands that LoJack supports have experienced a 28% decline in market share (which would be mathematically necessary to offset 40% growth).
Other factors hurting LoJack
With other competitors now offering substitutes to LoJack such as BMW Assist and Lexus Link, LoJack is not the unique product it once was. The police still favor the system and its radio based, concealed transmitter offers some benefits in catching professional thieves, but auto makers are increasingly offering their own alternatives. LoJack appears to have offered price cuts too as an incentive to dealers, although the exact terms are not clear. In addition, LoJack claims to have been hit by the Japanese tsunami's impact on automotive supply chains.
What to do with the stock
LoJack is levered to a recovery in it sales volume. Gross margins are approximately 50%, but gross profit is more than offset by operating costs, and a similar result seems likely in 2011. Theoretically, with 10% revenue growth, LoJack could generate $7M in incremental gross profit, and therefore perhaps $5M in incremental net income in 2012, vs. perhaps a $3M-4M loss for 2011 depending on how Q4 nets out. So even double digit growth may not be enough to restore meaningful profitability for the stock. Given that LoJack is currently priced at a market cap of $60M, which on a 15x multiple suggests an expectation of $4M of net income, there doesn't seem to be much margin of safety in the stock, especially since growth has not emerged yet despite the automotive recovery.
The bullish case
The bullish case on LoJack has 3 elements. First, the company is slightly more cash generative than net income suggests as D&A is significantly higher than capex. Second, the company has stripped out significant costs in past years and this would obviously help leverage earnings growth in the event of a meaningful recovery. Third, in the event of substantial revenue growth (>10%) the stock rapidly becomes cheap because of operational leverage. For example, with 30% revenue growth, net income could be $11-12M, at which point the stock does look interesting, and revenue would still be below 2008 levels. But there are no signs of that growth at this point. Another slightly unintuitive reason to be positive on the stock is because after years of disappointment I suspect most people have given up.
Q4 as a key test
Q4 will be a test for the stock but if growth is once again not realized, LoJack starts to look like an out-of-date technology being replaced by auto manufacturers' built in car technologies rather than any sort of automotive growth play. At 1.7x book and no dividend, there is no fundamental value to support the stock. LoJack has to grow and that growth isn't happening.
Disclosure: I am long LOJN. I may sell down my position depending on Q4 results.