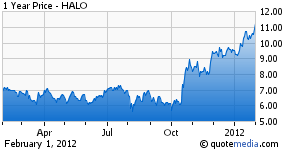 Halozyme, Inc. (NASDAQ:HALO) hit a 52-week high Wednesday on heavier than usual volume following its announcement that HTI-501 has data support to move into a Phase 2 clinical trial. The news came at the 8th World Congress of the International Academy of Cosmetic Dermatology in Cancun, Mexico. This comes after the stock has already experienced steady gains over the past year. HALO is up 62% over 52 weeks and over 17% in 2012.
HTI-501 may just be a long sought after "holy grail" of cosmetic medicine for many women, treating endmatous fibrosclerotic panniculopathy, the condition better known as cellulite. The drug, a recombinant human protease enzyme called cathepsin-L, breaks down the local collagenous fibrosis of the extracellular matrix at the site of injection. The digestion of sorts of this tissue prevents the subcutaneous adipose tissue from having the appearance so endearingly described as "cottage cheese thighs," though cellulite, as the approximate 90% of adult female population can tell you, can appear on just about any section of the body.
Data suggests the treatment is well tolerated with a clean safety profile. With very few effective treatment options, HTI-501 may be a pioneer in the aesthetic field provided it navigates successfully through FDA regulation as Halozyme's good record suggests. Skinny women, curvy women, models, mothers, exercisers and endomorphics alike shell out roughly $10 billion a year currently for products without the scrutiny or effectiveness of an FDA approved aesthetic pharmaceutical. The price tag on cellulite removal, something once questioned as forever, could be as infinitely valued.
Despite obvious market interest, the current economy may seem leery of buying into the potential of a superficial luxury. As profiled on Mad Money this week, however, despite the average American's discretionary income may be limited, the rich are spending big on extravagancies with results. Cramer's eye has turned to "ultra-discretionary" show off stocks like snowmobile maker Polaris (NYSE:PII), boating, billiards and bowling focused Brunswick (NYSE:BC) and Harley Davidson (NYSE:HOG), which have seen gains in 2012 and good valuation.
Pharmaceuticals may seem a distant cousin to play toys of the rich, but the power of cosmetic correction cannot be denied, especially for the wealthy. The success of injectable aesthetic drugs is evident, even among those not in the 1%. Despite a weak economy, sales of Allergan's (NYSE:AGN) wrinkle reducer Botox rose to $1.42 billion in 2011. The $1.17 billion market cap Halozyme looks poised for further gains.
Competitors in this market include those in laser technology. Palomar Medical (NASDAQ:PMTI) for example, which once looked promising in the field of consumer skin topography with its partnership with Johnson & Johnson (NYSE:JNJ), looks more focused on wrinkle removal now that the partnership has dissolved. PMTI still holds promise, but with its smaller market cap and an aging population it looks to stick to its smile lines. Additionally, FDA regulation and cost in the market of laser assisted aesthetics opens the door for injectable therapies in the realm of cellulite.
In the speculative sector which HALO competes, one might be feeling cautious about taking a position in the stock with concern it may have hit its ceiling. The sheer diversity of Halozyme's portfolio and its ubiquitous nature in the home run or strike out world of drug discovery make it unique.
Not comfortable with cosmetic pharmaceuticals? Halozyme offers Enhanze technology which enhances chemotherapy treatment, most namely Roche's (OTCQX:RHHBY) Herceptin. Strong partnerships with Baxter (NYSE:BAX) and VioPharma (VPHM) keep the pipeline supported. Recently, news was released of upcoming phase 2 trials testing the boost of its PEGPH20 enzyme that may bring to pancreatic cancer treatments. The drug will be tested in concert with Eli Lilly's (NYSE:LLY) gemcitabine.
Between cancer and cosmetics, business and biology, Halozyme seems to believe a good portfolio is a diverse portfolio. With that kind of approach, what investor wouldn't pay it due attention?
Disclosure: I have no positions in any stocks mentioned, and no plans to initiate any positions within the next 72 hours.