2012 may have started off like a bull, but it appears that the bears are lurking in the shadows, waiting to make their move. This week has already seen a disappointing halt to the surge that general markets had enjoyed to start the new year, as drama from overseas as well as lackluster earnings have put a damper on investor confidence. But commodity investors can take advantage of this lull with a number of different products that have been profiting from these turbulent markets; namely precious metals. These elusive investments have been outperforming most assets in the trailing week, leaving many investors chomping at the bit for juicy returns.
The precious metals category consists of gold, silver, platinum, and palladium, all of which are up in green territory on the trailing week. The futures contracts for the former two are always among the most active in the market and platinum and palladium, while not as popular, still see decent volumes. In the trailing five days, gold futures are up 4%, silver 3.9%, platinum 3.4%, and palladium 0.9%, making precious metals the best-performing group of commodities over that time period. For those looking to invest in precious metals, Thursday's testimony from Fed Chairman Ben Bernanke will be a key event to watch, as his comments tend to have a significant impact on these four metals.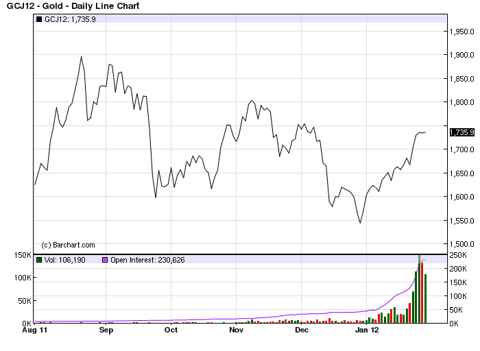 How To Play
The most direct way to play these commodities will come from futures. The COMEX offers a number of different gold and silver contracts, many of which are optionable, to give investors more than just one way to play a particular metal. Moving over to the NYMEX, there are also singular contracts/options for both platinum and palladium, completing the group. For those who are uncomfortable with the complexity that futures can sometimes offer, there are also a number of exchange-traded options available. The DB Precious Metals Fund (NYSEARCA:DBP) tracks front-month futures for gold and silver while the Pure Beta Precious Metals ETN (NYSEARCA:BLNG) tracks the same two precious metals, but utilizes a unique strategy to help avoid contango issues.
Disclosure: No positions at time of writing.
Disclaimer: ETF Database is not an investment advisor, and any content published by ETF Database does not constitute individual investment advice. The opinions offered herein are not personalized recommendations to buy, sell or hold securities. From time to time, issuers of exchange-traded products mentioned herein may place paid advertisements with ETF Database. All content on ETF Database is produced independently of any advertising relationships.