Click to enlarge
Highlights:
Production was up more than anticipated in the quarter rising to 42,700 MBOEpd, up 5% sequentially, on the back of a number of successful lower risk development wells and a better than expected recompletion program. The ramp is starting earlier than expected but should only be the beginning as management has guided this backend loaded year to roughly 58,000 BOEpd. The production profile became oilier as well with oil comprising 72% of volumes, after having held in the upper 60%'s over the last two years.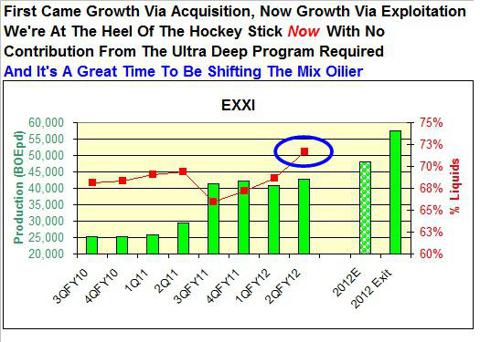 Click to enlarge
Revenue was a very strong at $83.42 / BOE, also a multi year high even though WTI prices were not as high as they had been earlier in the year and gas prices were lower. The BOE price was a function of the oilier mix and the improved premium we have been seeing to WTI for HLS and LLS.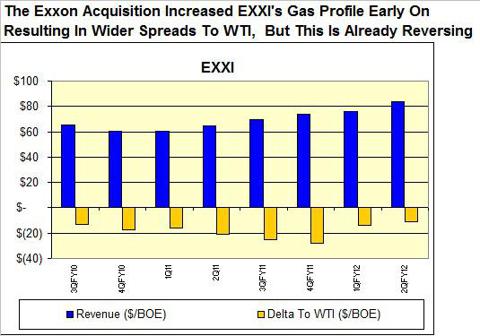 Click to enlarge
Cost control was good with cash costs coming down to $25.67 per BOE, from $26.29 last quarter. LOE looked particularly favorable in light of the rise in oilier production, coming in at $19.74 per BOE.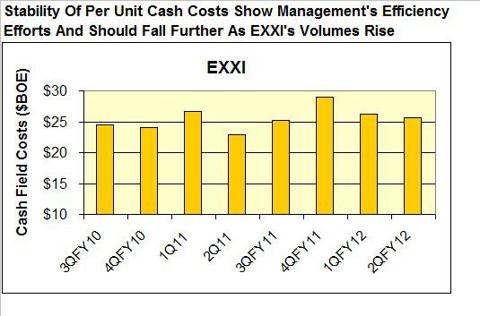 Click to enlarge
This all culminated in the highest EBITDA and EBITDA per BOE we have seen to date in the name. More on this in the Nutshell below.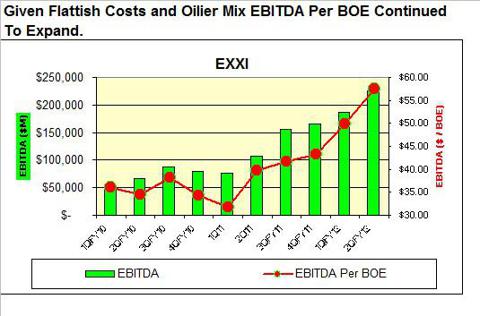 Click to enlarge
Operationally they continue to deliver on their conventional depth Shelf exploitation program. The growth we are now seeing is the result of development drilling and recompletions and not what you'd call out and out exploration. It is the stuff XOM and others didn't care about enough to go after because it simply wasn't going to be meaningful enough to them. Examples where EXXI has taken cash starved assets and applied minimal capital to yield better than expected (as per thinking at the time of acquisition) results abound. As to the Ultra Deep play they essentially only reiterated what MMR said earlier in the week, most importantly to most observers, that the Davy Jones 1 flow test is a calendar 1Q12 event..
Nutshell: Rocket Ship. They continue to underspend cash flow and pay down debt. If you look at the current Street estimate for FY12 EBITDA of $782mm, it's clear the Street is honing in on a per BOE figure for EBITDA of $45 (using the mid point of volume guidance of 48,000 BOEpd that actually yields EBITDA of $788 mm but I'm splitting hairs at this point). On the current 2012 estimate, they are trading at a TEV/EBITDA of 5.1x while the current 2013 estimated EBITDA of $993 yields a 4.0x multiple ... not pricey given their expected growth.
But the 2012 estimate is obviously too low, given that they are now halfway through their fiscal year and have generated EBITDA of $413 mm (53% of the full year estimate) during what will be the lowest production half the year (the first half averaged 41,750 BOEpd, while the second half is set to jump to an average of ~ 54,000 BOEpd. The easy math, assuming no per unit reduction in costs (unlikely) and flat product pricing (conservative at worst) is to grow EBITDA along the lines of production which would yield second half EBITDA of $534 mm and $947 mm for the full year. That's nearly as much as next year's consensus EBITDA estimate. Using this quarter's EBITDA per BOE ratio of $57.43 for the back half of the year similarly yields full year EBITDA of $974 mm.
In short, EXXI is a cash flow machine and the estimates are too low. The Exxon acquisition was a steal and is now proving catalytic and though we would have seen these kind of results sooner had the good folks at BOEMER let EXXI actually access what they bought and get to work improving it, it is welcome to see the plan unfolding now. While we expect the ultra deep to work it is barely included in this year's projection and would as such be icing on EXXI's cake. We continue to own EXXI as a core position in the ZLT with March calls held in the ZMT.
Disclosure: I am long EXXI, MMR.