My program trading has reached the half year mark. Here is the result as of January 31, 2012.
| | |
| --- | --- |
| Maximum cash reserve for this strategy | $248,400.00 |
| Number of shares of DIA I own now | None |
| Net from trading, after commissions | $11699.60 (from 8/3/2011 to 1/31/2012) |
| Return on the cash reserve | 4.71% |
| Return on the cash reserve, annualized | 9.7% (from 8/3/2011 to 1/31/2012) |
| Cash on hand | $260,099.60 |
| Breakeven price for the DIA on hand | Not meaningful |
| Market value of portfolio | $260,099.60 (at the close of 1/31/2012) |
| Market value of portfolio over reserve | $11699.60 (at the close of 1/31/2012) |
During the month of January, only one trade was made.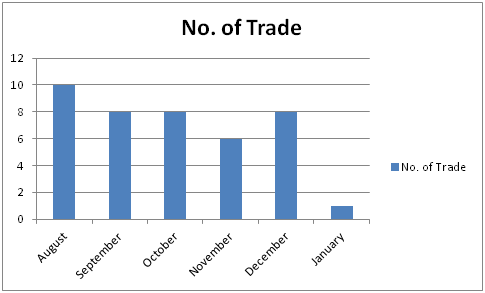 With that trade, I sold off at $124.01 the last lot of DIA I had held and I am all cash now. On December 19, 2011, when I thought the Santa Claus rally was going to fizzle, I sold off 300 shares of DIA. I was timing the market which I should not have done. I was thinking that the market would turn down and I would have an opportunity to buy them back. I should have kept them in the event the market moves beyond the then trading range.
With all that trading, how well did my program trading fare?
On the day I started this program (August 3, 2012), DIA closed at $118.80 and on January 31, 2012, it closed at $126.07, a 6.12% rise. The return on the cash reserve is 4.71%. No question that if I put all my money in DIA at the start of this program, I would have netted better than what I have actually done so far. However, if I bought SPY at $126.17at the start of the program, it closed at $131.32 with a rise of 4.08% which is less than my program gained.
Another way to measure the performance of my program is by the annualized return. As of now, my program is yielding an annualized returned of 9.7% (see the chart below). It means if my program continues to perform similarly in the next six months, it would have a return of 9.7% by August 2, 2012. For DIA to produce the same or better return, it would have to close at $129.48 or better on that day.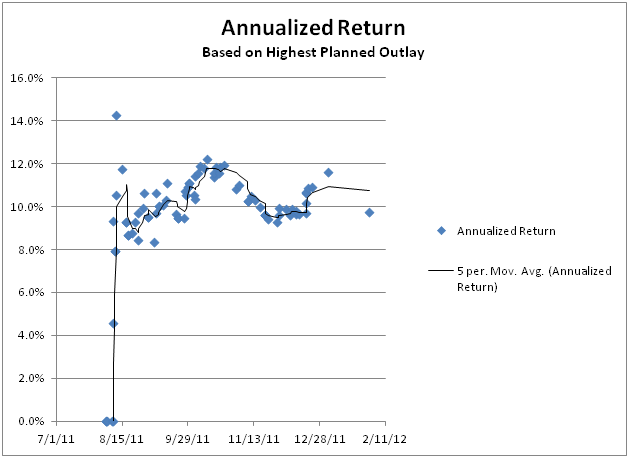 Click to enlarge
One interesting aspect of this program is this: It had never fully invested all of its reserve and, throughout the last six months, it kept most of the portfolio in cash. As shown in the chart below, the average cash position was about $200,000 or about 80%.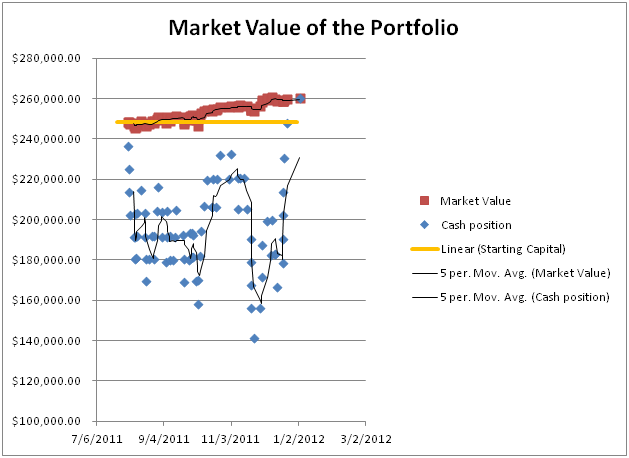 Click to enlarge
Therefore, if I had invested more aggressively, the program might have produced a yield as much as four times that of the current yield, or more than 20%.
There is a different level of risk involved in each of the scenarios I discussed above. I believe the course I have actually taken involved the least risk.
Where do I go from here with my pile of cash in this program? It is 100% cash now.
Here is the daily chart of DIA [from Charles Schwarz's StreetSmart] covering the past six months during which this program has been in place.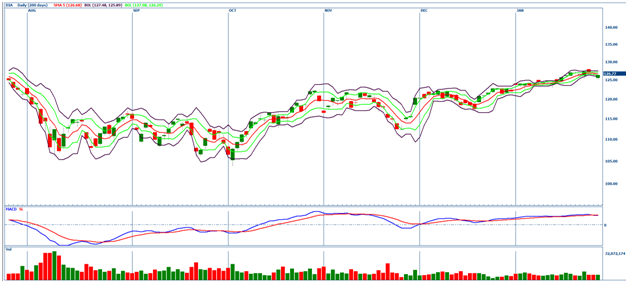 Click to enlarge
As you can see that the trading range of DIA has narrowed considerably in this January and that is not conducive to my program trading.
The DIA monthly chart below (also from Charles Schwarz's StreetSmart and you can see what all those lines and curves mean in one of my previous articles in this series) indicates that DIA has just nudged above its Bollinger Band +2. It may be on the brink of another steep rise. However, as I mentioned above, my program is not designed for this kind of steep rise.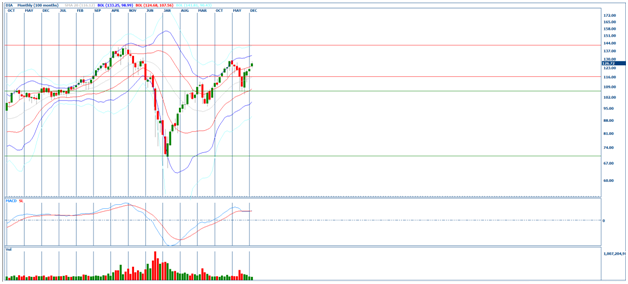 Click to enlarge
I will be sitting on my pile of cash and waiting for the next market correction. As the market rises, it will eventually hit a limit when its collective P/E ratio makes it too expensive. My program will try to take advantage of such a market correction. My guess is that there will be a speed bump somewhere in the following three places:
The previous market high of DIA = $128.63, reached in August 2011
DIA = $136.33, 10% above the January 3, 2012, close of DIA. If the collective earning of the DJIA 30 corporations will increase by 10% in 2012, DIA may advance 10% from $123.94 on January 3, 2012, to $136.33 before the end of 2012.
The all time high of DIA = $141.95, reached in October 2009.
I'll get back into the market somewhere along these milestones. A market correction generally means a retreat of about 10% or more. I may start dipping into the market when it retreats about 5% or more. One thing I like to avoid is to jump into a rising market like the current one only to see it start to correct.
Disclosure: I am long DIA.