By Tim Kiladze
Sino-Forest Corp.'s (OTC:SNOFF) committee of independent directors released its final report overnight, and rather than offer definitive conclusions from its seven month investigation, the document included little in the way of answers.
In part, the committee was in a bind because it signed an agreement with bondholders to release its final report no later than January 31, regardless of what was still pending. The directors made this deadline with just a few hours to spare.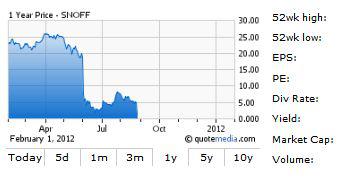 But even if it had more time, the committee implied there was a good chance it wouldn't be able to offer up any more information. Much of what remains unanswered must come from third-party suppliers and brokers, and the committee can't force the people behind these companies to cough up information.
It is also extremely tedious for the directors to weave their way through Sino-Forest's operations. The paragraph provided below, copied directly from the final report, offers a glimpse of just how complex -- and confusing -- the investigation must have been. (To understand the terms included, the Kaitong Report was prepared by a Chinese law firm and looked into Sino-Forest's relationship with its 'authorized intermediaries,' or brokers, as well as 'backers' of these brokers, which are individuals with considerable influence in political, social or business circles, or all three.)
The Kaitong Report does not address the apparent role of an ex-employee Officer #3 who was introduced to the [independent committee] as the person in charge of AI #2 by Backer #5 of AI Conglomerate #1. Backer #5 is identified in the Kaitong Report as a backer of two AIs, including AI#2. (The Kaitong Report properly does not include AI #14. as an AI for this purpose, whose 100% shareholder is former SF employee Officer #3. However, the IC is satisfied that the activities of this entity primarily relate to certain onshoring transactions that facilitated the transfer of SF [British Virgin Island] timber assets to SF [Wholly Foreign Owned Enterprise] subsidiaries.)
As outsiders, some of the confusion just reading it stems from not knowing the protected names behind "Backer #5" or Officer #3, whereas if you knew the names or people, you wouldn't trip up on the numerous monikers. But even if you were on the inside, there are still a slew of people to deal with -- and the committee said very few of them were forthcoming with information.
That being said, there were some areas in which the independent committee made progress, chiefly in verifying Sino-Forest's rights to standing timber. The committee hired outside advisers to verify two plots of land and the results found that the trees actually amounted to just slightly more than Sino-Forest had recorded.
However, Sino-Forest has said it controls more than 700,000 hectares of timber in mainland China. and the plots of land examined were just 80.5 hectares and 66.5 hectares.
In the report, the committee acknowledged that if the same method was applied to the rest of Sino-Forest's holdings, you should be able to verify all the timber. However, the committee has said its work is done and has left that job to the outside advisers. No word was given on what will come of their attempt.
Disclosure: No positions