Endeavour Silver (NYSE:EXK) recently released their fourth quarter and 2011 production totals with silver production growing by 14% recording a seventh consecutive year of production growth.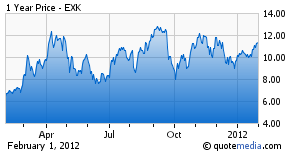 Silver production for the fourth quarter rose by 25% to 1.1 million ounces and gold production rose by 45% to 7,045 ounces. Overall, silver equivalent ounce (SEO) production rose by 29% from a year ago to 1.4 million SEOs.
Revenue fell by 39% to $17.5 million dollars as Endeavour decided to store the silver rather than release it into the market after silver sold off to $25 per ounce, only selling 400,000 ounces of silver and 4,000 ounces of gold, not including gold and silver recoverable from concentrate.
Strong cash management of $155 million in working capital allows Endeavour to execute this unique and shareholder friendly strategy. Metal inventories totaled 812,000 ounces of silver and 3,000 ounces of gold, which at today's prices total more than $32.5 million dollars. For all of 2011 Endeavour produced 3.7 million ounces of silver and 21,810 ounces of gold totaling production of 4.7 million SEOs.
Organic exploration efforts continued to yield success during 2011 with new high grade zones discovered at Guanajuato and a Phase 1 60 hole, 10,000 meter drill program underway at Lomas Bayas.
2012 Capital projects include upgrades at Guanacevi bringing operations to 1200 tpd from the current operating capacity of 1000 tpd. Guanajuato will see new equipment and upgrades expanding capacity to 1600 tpd from 1000 tpd.
Choosing to hold metal inventories rather than sell them into a depressed market has yielded significant value with the price of silver up 20% so far in 2012.
While investors may clamor for dividends, Endeavour's management is taking a different tack by managing their inventory and choosing to hold bullion and wait for better prices than sell into a depressed market. This strategy will increase shareholder value well into the future and shareholders will reap the benefits.
The difficult part now comes in terms of valuing the company's stock as traditional metrics like price/sales and price earnings are beholden to management's new corporate strategy. That said, investors should focus on the value being created by management in terms of managing their inventory.
Disclosure: I am long EXK.