The recent rally in home builders (NYSEARCA:XHB) and regional banks (NYSEARCA:KRE) is indicative of a housing market bottom. The mortgage insurers have not yet participated in the housing rally. This underperformance leaves investors an opportunity to participate in the housing rally without chasing stocks that have already moved.
Signs Of a Housing Market Bottom
Regional Banking ETF 3-month chart (Click to enlarge)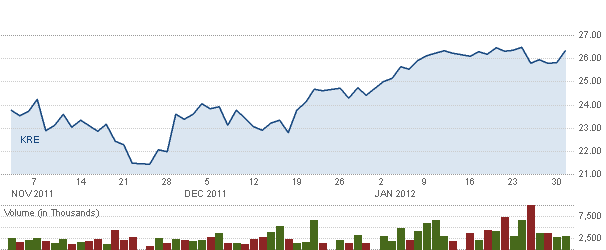 (CNBC)
KRE is up 18% over the past 3 months. The regional banks are highly leveraged to the housing market, thus this rally is a very important indicator for housing stocks.
Homebuilders ETF 3-year chart (Click to enlarge)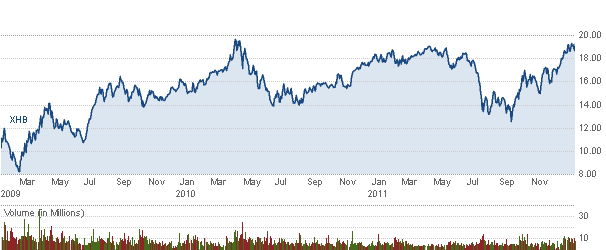 Homebuilders are near a 3-year high. This signals that the housing market has bottomed because homebuilders are the most impacted by the housing market.
Mortgage Insurers Have Not Participated
MGIC Corp (NYSE:MTG) 3-year chart (Click to enlarge)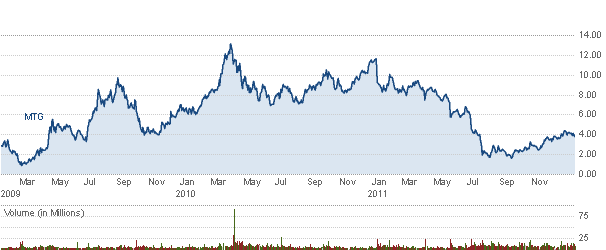 Radian Group Inc (NYSE:RDN) 3-year chart (Click to enlarge)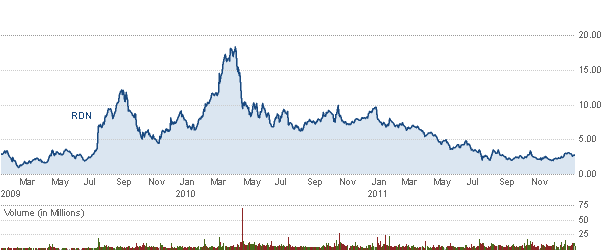 Genworth Financial (NYSE:GNW) 3-year chart (Click to enlarge)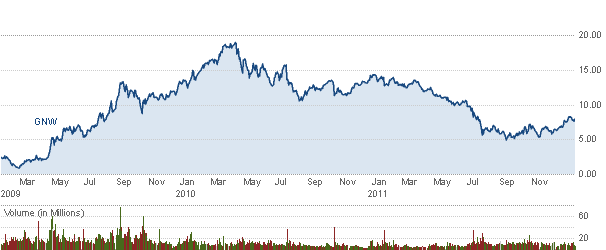 As you can see from the charts above, shares of the three largest mortgage insurers have not participated in the housing rally.
Reasons For The Underperformance
These companies have been forced to do dilutive share sales to raise cash.

They have a difficult time writing new business because there are fewer housing sales.

They are struggling under continued losses from old businesses that were written many years ago.
While these issues have weighed on the stocks, the bad news seems to be largely priced in at this point. These stocks are trading at just a fraction of book value.
Price/Book-value
MGIC: 0.64 times book value

Radian: 0.28 times book value

Genworth: 0.23 times book value
These valuation suggest that the market is very pessimistic about these companies. This point is further illustrated by the high short interest in these stocks.
Short Interest
MGIC: 20%
Radian: 22%
Genworth: 3.1%
Wall Street is so pessimistic on these stocks (especially MGIC & Radian) that any good news could send shares soaring. Good news is likely to come as housing numbers continue to improve.
PMI Group Bankruptcy
In November, struggling mortgage insurer PMI group (PMI) was forced to file for bankruptcy. This is bullish for the remaining companies in the mortgage insurance business as there is now less competition.
Kyle Bass Is Bullish
Hedge Fund manager Kyle Bass, who famously made millions betting against the real estate market in 2008, is bullish on the industry and recently purchased a 4.9% stake in MTG.
Bass' Comments:
You can see that the pig has moved through the python in terms of U.S. Housing losses.

Everyone paints the [mortgage insurance companies] with a broad brush that since they took PMI … they're all going to go the way of the Dodo.

Unlike PMI, [he said] MGIC has a pretty big positive equity position.

We think they'll be one of … the last ones standing," he said. "We're in it for the long haul.
Conclusion
The mortgage insurers are a good place to invest for investors who believe in the housing bottom. Genworth is not a direct play as it is also involved in other insurance businesses such as life insurance. MGIC is probably the best of breed pure mortgage insurer. Radian is the most speculative and has the most upside.
Disclosure: I am long RDN.