This monthly series compares relative strengths of eight stock sectors by yield using projected annual dividends from $1000 invested in the ten highest yielding stocks in each. This is another attempt to respond to the question, "which dividend stocks are good, better, best, bad or ugly?" The effort also aims to heed Yale economics professor Robert Shiller's admonition: "People still place too much confidence in the markets and have too strong a belief that paying attention to the gyrations in their investments will someday make them rich, and so they do not make conservative preparations for possible bad outcomes."
Dogs of the Index Metrics Used to Select The Top Ten Stocks in Each Sector
Two key metrics determine the yields that rank index or sector dog stocks: (1) stock price; (2) annual dividend. Dividing the annual projected dividend by the price of the stock declares the percentage yield by which each dog stock is ranked. Investors select portfolios of five or ten stocks in any one index or sector by yield to trade. They await the results from their investments in the lowest priced, highest yielding stocks they selected and pray that the price of every stock they now own climbs higher (having locked in a high yield percentage at purchase).
This Dogs of the Index strategy, popularized by Michael B. O'Higgins in the book "Beating The Dow" (HarperCollins, 1991), reveals how low yielding stocks whose prices increase (and whose dividend yields therefore decrease) can be sold off once each year to sweep gains and reinvest the seed money into higher yielding stocks in the same index or sector.
Below are charts and descriptions of the top ten January leaders by yield in each business sector. A concluding chart then compares the eight sectors as of January 20.
Basic Materials Dividend Dogs

Oil and gas firm TRU slid off the top 30 list in January based on a revised annual dividend forecast of $.17 per share, leaving the top to the steel and iron company, Great Northern (NYSE:GNI). Only three of the top ten basic materials firms do not mention oil and gas in their industry description: Great Northern ; Oxford (OXF); Rhino (NYSE:RNO).
Consumer Goods Dividend Dogs

The top ten consumer goods stocks paying the biggest dividends in January represent five industries. Top stock Vector (NYSE:VGR) is one of three firms from the cigarettes industry. Business equipment, personal products, office supplies, textiles - apparel clothing, and auto parts categorize the rest.
Financial Sector Dividend Dogs

Top ten financial sector stocks paying the biggest dividends in January represent seven industries. Best yielding financial sector stock American Capital (NASDAQ:AGNC) is one of five REITs in the top ten. Five of the top ten financial firms are REITs. Three are Residential REITs, one is a Diversified REIT, and one a Retail REIT.
Healthcare Sector Dividend Dogs

Top ten healthcare sector stocks paying the largest dividends relative to price in January represent five industries. Top healthcare sector stock PDL BioPharma (NASDAQ:PDLI) is the only biotechnology firm in the top ten. Two (NeoStem (NBS), and Nordion (NYSE:NDZ)) are specialized health services firms. Three are drug manufacturers - major. Two more are medical instruments & supplies firms. The remaining one is a medical laboratories and research firm.
Industrial Goods Sector Dividend Dogs

Top ten industrial goods sector stocks by yield in January represent seven industries. Top industrial goods sector stock Veolia Environement (VE) is one of three waste management firms in the top ten. The ten also include three residential construction firms. The remaining four are in metal fabrication; manufactured housing; aerospace & defense products & services; general contractors.
Services Sector Dividend Dogs

Eight of the top ten services sector firms ranked by dividend yield are in the same Shipping industry group. Top services sector stock, CPI Corp. (NYSE:CPY) is the only personal services firm in the top ten. October's leader by yield, Alon Holdings (NYSE:BSI), the only Grocery Stores firm dropped to third place in January. Second place is held by Paragon (PRGN).
Technology Sector Dividend Dogs

Top technology sector stock, Cimitron (NASDAQ:CIMT) is the only technical and systems software firm in the top ten. IncrediMail (NASDAQ:PERI) at number two is the only business software & services firm listed. Six more industries are represented in the top ten: telecommunications services - domestic; telecommunications services - foreign; information technology services; wireless communications; diversified communications services; internet information providers. The representative of the latter industry, SouFun (NYSE:SFUN) was a rocket, moving from fifth place by yield in October to twelfth in January by virtue of a 27.5% price gain from $12.11 to $19.49 for the period.
Utilities Sector Dividend Dogs

Top utilities sector stock, Niska (NYSE:NKA) is one of five gas utilities firms in the top ten. Two diversified utilities industry firms, two foreign utilities and one electric company constitute the balance of the top ten by yield,
The Baseline: Dogs of the Dow

Three of the top ten stocks paying the biggest dividends on the Dow for January are technology firms. AT&T (NYSE:T) tops this list. The remaining top ten Dow dividend payers include two consumer goods, no financial, no services, one basic materials, one industrial, three health care, no utilities, and no conglomerates representing the market sectors.
See the Sectors & Dow Dogs Vie for Dividend Yield Dominance
The following graph shows annual dividends projected from $1000 invested in each of ten stocks with the top yields in eight sectors compared to those of the Dow. The chart plots projected yields as of a specific purchase date near the middle of each month in the previous quarter plus January. Projected yields increased in the sectors when average stock prices fell.
Relative yield strengths differentiate the sectors on the graph. The Dow shows the lowest yield with a low trajectory swing down. Healthcare, industrial goods, basic materials, technology and financial also vectored down by yield. Otherwise consumer goods, utilities and services sectors all threw higher yields as their component stock prices dropped during the quarter.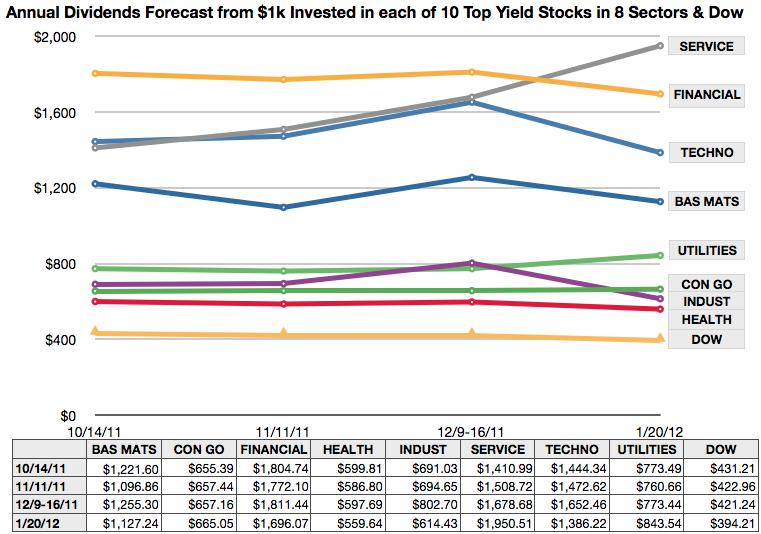 Conclusion
Projected dividend yield amounts from eight sectors over the past four months show fundamental variations in stock performance. These eight representative market indices display their relative strengths in top end dividend yield. Yields in January ranked the sectors in the following order from bottom to top after the Dow baseline: healthcare; industrial goods, consumer goods; utilities; basic materials; technology; financials; services.
The services sector blasted to top yield status in January at $1950.51 annual yield projected from $1000 invested in each of its top ten stocks, the services sector vector crossed paths with technology in December and passed through the financials in January. At a lower level, the industrial goods vector dropped below the upticks of utilities and consumer goods as it dropped from the $800 level.
These eight sectors and their component stocks have ongoing stories to tell. This graph and list of companies will be updated again for publication each month.
Disclosure: I am long T, VZ, INTC, JNJ.
Disclaimer: This article is for informational and educational purposes only and should not be construed to constitute investment advice. Nothing contained herein shall constitute a solicitation, recommendation or endorsement to buy or sell any security. Prices and returns on equities in this article are listed without consideration of fees, commissions, taxes, penalties, or interest payable due to purchasing, holding, or selling same.