For many, the most exciting thing in retail right now is Ron Johnson's push to modernize and reinvigorate JC Penney (NYSE:JCP). Given his achievements at Apple (NASDAQ:AAPL) as well as Target (NYSE:TGT), many assume that his efforts at JC Penney will be equally fruitful. After hearing his remarks at the JC Penney analyst day, and the unveiling of his new initiatives, we are confident that both JC Penney's business, and stock, are headed for a turnaround.
It is true that since JC Penney appointed Ron Johnson as CEO on June 14, 2011, its stock has soared, up almost 37%, compared to a 4.5% rise in the S&P 500.
click to enlarge

Many have taken this run, especially the huge rally on the back of the company's analyst day, as a sign that the stock is done going up. But it is important to keep in mind where the stock has come from. Over the past 5 years, JC Penney has lost nearly half its value, as mismanagement tarnished the brand and cost the company dearly.

But now that Ron Johnson is in JC Penney's corner office, things are going to change. Investors might ask why we, and Wall Street, are placing so much faith in the abilities of Ron Johnson. The reason is quite simple. At Apple, Ron Johnson built and oversaw the most profitable retail chain in the world. Investors are expecting the same sort of magic at JC Penney. And we think that Johnson will deliver. Below we provide a quick overview of JC Penney's financials. Afterwards, we will delve into Johnson's strategic vision.
JC Penney Financial Results
| | | | | | |
| --- | --- | --- | --- | --- | --- |
| | Q3 2011 | Q2 2011 | Q1 2011 | Q4 2010 | Q3 2010 |
| Revenue | $3.986 Billion | $3.906 Billion | $3.943 Billion | $5.703 Billion | $4.189 Billion |
| EPS | -$0.67 | $0.07 | $0.28 | $1.13 | $0.19 |
| Gross Margin | 37.36% | 38.33% | 40.45% | 37.58% | 39.03% |
| Stockholder's Equity | $4.555 Billion | $4.703 Billion | $4.751 Billion | $5.460 Billion | $4.941 Billion |
JC Penney's financial results in the past were, much like its stores before the arrival of Ron Johnson, mediocre at best. While certainly nowhere near the weakness faced by Sears (NASDAQ:SHLD), these results are weak when compared to the consistent execution of JC Penney's competitors, such as Macy's (NYSE:M) and Kohl's (NYSE:KSS). These results are a microcosm of the old JC Penney. The business was just plodding along, posting profits, but unimpressive ones (the loss in Q3 2011 was due to one-time management and restructuring charges, adjusted for those, EPS came in at 11 cents per share). For the holiday quarter, management expects same store sales to be slightly above last year, and adjusted EPS of $1.05 to $1.15 (64-74 cents on a GAAP basis). But these results are in the past. All of the excitement over Ron Johnson is due to hopes that results like these will be a thing of the past. Below, we delve into his plans for JC Penney.
Pricing & Promotions
Nearly every department store has some sort of sale going on every single day, marking down merchandise for 40-50% off. These are not true sales, however. They are mean to create the illusion of value all while marking down merchandise from wildly inflated prices. JC Penney, from now on, will be departing from this trend. Their new "fair and square" pricing policy eliminates such gimmicks. JC Penney will have 3 pricing policies going forward. First, are everyday prices. Second, are month-long bargains that are marked down for the entire month. And the third are "best prices" that appear on the first and third Fridays of every month. JC Penney chose those days because most Americans are paid on the first and third Fridays of the month. This clever strategy is designed to target the highest sales days.
As for promotions, JC Penney is stopping the endless flood of coupons and catalogs that customers are inundated with. In addition to benefiting customers, JC Penney is saving millions in advertising costs. Compared to Macy's and Kohl's (its most direct competitors), JC Penney spends 6% of sales on advertising, versus 4% for Macy's and 5% for Kohl's.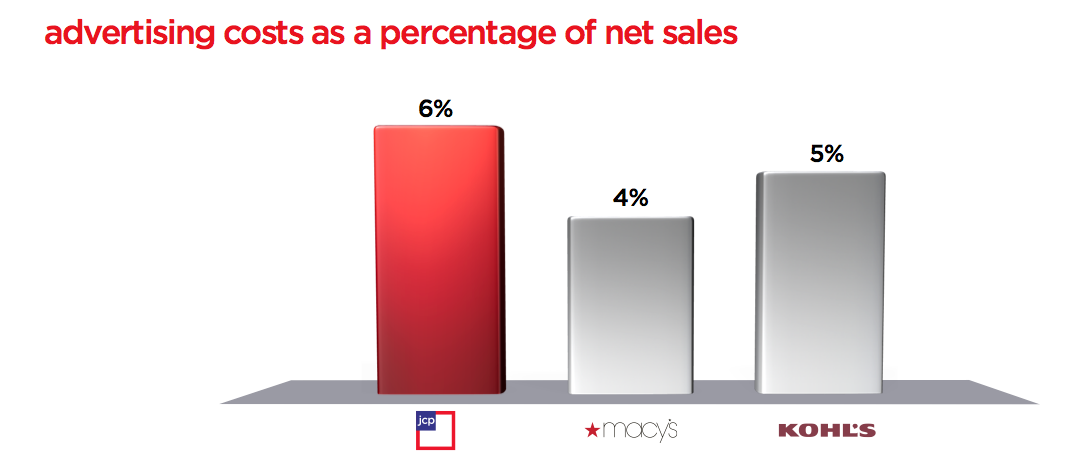 Cutting advertising down to a more manageable level is an improvement for both customers and JC Penney's bottom line. The company will save a great deal by switching to monthly booklets from the usual deluge of ads.
The Retail Experience
By most accounts, Apple stores are the model of what a retail store should be. Customers want to visit an Apple store, not only to buy product, but because it is an experience on its own. As the creator of those stores, we think Ron Johnson knows what it takes to translate the concepts that make Apple such a successful retailer and apply them to JC Penney.
For starters, JC Penney is revamping its return policy. The most successful retailers are those who do the most to not simply bring customers in the door today, but ensure that they want to come back tomorrow. Nordstrom (NYSE:JWN) and Costco (NASDAQ:COST) lead the retail industry in terms of their return policies. At those stores, returns are simple. If you do not like a product or it does not work, bring it back for a refund. And now, JC Penney's return policy is the same. Customer service is what defines a retailer, and JC Penney is positioning itself to be among the leaders of the retail industry in how it treats customers.
JC Penney is also revamping its stores. It is cutting the number of brands it sells from 400 to 80-100 to lessen the clutter of its stores. Furthermore, taking a page from Apple, Ron Johnson is redesigning the stores to highlight what he calls the "Town Square," which will be at the center of each store, designed to improve the shopping experience for every customer. JC Penney is also revamping the brands it is keeping, and expects to have over 30 new or updated brands in time for the fall 2012 shopping season.
Financial Outlook
The initiatives being undertaken by CEO Ron Johnson are not just to make JC Penney a more pleasant place to shop. They are also designed to make JC Penney a much more profitable company in the long run and increase shareholder value. JC Penney expects the entire transformation to be complete by 2015.
In 2012, JC Penney will spend $800 million to revamp its stores, and the company is using existing cash flows to fund renovations. On the cost side, JC Penney is cutting expenses by $900 million over the next 2 years, driving expenses below 30% of sales in the next 2 years. The savings are coming from 3 categories: stores, advertising, and the "home office," JC Penney's term for its management and headquarters. $400 million is coming from cost cuts in stores, $300 million from reduced advertising expenses, and $200 million from management streamlining.
In terms of guidance, JC Penney expects EPS in 2012 to meet or exceed 2010 levels of $2.16 in non-GAAP EPS and $1.59 in GAAP EPS. As part of its revamped strategy, JC Penney will no longer be reporting monthly sales or giving quarterly guidance. However, COO Mike Kramer is improving transparency by beginning to host face-to-face (in addition to conference calls) meetings with analysts after each quarterly earnings release.
JC Penney is targeting gross margins of above 40% in the long run, SG&A expenses that are no more than 27% of sales, and contribution margins of around 13%. These are all great improvements from where JC Penney currently operates, and while the changes will take time, we believe that they will indeed happen.
We recommend that at this time, investors add to or initiate positions in JC Penney. The shares may trade at around 54 times trailing earnings (and 32 times forward earnings), but this is reasonable, for JC Penney's past earnings are in no way a reflection of its future earnings potential (it traded at around 32 times earnings before Ron Johnson was appointed CEO). Furthermore, forward earnings are based on estimates, and most analysts have yet to revise their estimates and price targets on JC Penney. However, analysts who have revised their models have been impressed with JC Penney's plan. Argus, in raising its price target from $39 to $48 (representing upside of over 16%), noted that "Ron Johnson has the right experience, the right incentives, the right vision, and the right team, and the right energy level to transform JC Penney and to generate attractive returns for shareholders." Piper Jaffray also upgraded the shares, from Neutral to Overweight, and nearly doubled its price target, from $29 to $50 based on Johnson's turnaround plan. We think that the Reuters average price target of $39.71 has ample room to rise, as more analysts re-evaluate their positions on JC Penney. JC Penney's dividend, currently set at 20 cents per share (for a yield of 1.93%), should provide some incentive for investors to wait as Ron Johnson executes his turnaround plan.
Conclusions
Few executives have as much credibility in their business as Ron Johnson. His work at Apple, where he created the world's most profitable retailer, has proven that he knows how to sell product in a way that is efficient, profitable, and encourages customers to return time and time again. We think that investors who buy the stock at these levels will be rewarded for their faith. Few companies are able to execute their turnaround plans perfectly, but the ones that are able to almost invariably lead to great returns for their shareholders. We think that JC Penney will be able to turn its business around. Ron Johnson has articulated a clear strategic vision for his company, and we think that investors who buy in at these levels will be greatly rewarded.