In my last article about Antares Pharma's (AIS) VIBEX MTX, I offered opinion in detail regarding why I believe it will be an eventual market winner for the long term. One person who commented on the article tried to sell me on Chelsea Therapeutics (NASDAQ:CHTP) Phase 2 RA treatment drug, CH-4051, saying it will be a big blockbuster money-making drug.
I tried to explain new drugs coming to market and how insurance company support, or lack thereof, is so important. In this article I will try to give more clarity to reiterate this stronger and more precisely.
Insurance companies do not widely support new treatments for non orphan status drugs in general. Orphan status drugs are for treatment of serious and/or potential life-threatening illnesses; cancer, CF Hep C, etc. This is very important in understanding the economics of the health care insurance industry.
In order to gain wide insurance company support, any new drug coming to market for the treatment of RA (rheumatoid arthritis) would have to demonstrate the following:
1. Acceptable cost impact:
Is the new drug priced competitively with the drug it may be more effective than?
2. Well, there is no number 2.
Insurance companies really only care about one thing, their bottom line. Insurance companies and The FDA are two entirely different entities who shouldn't be confused with each other. Simply having an FDA approved drug does not guarantee it will make money. If a new drug is not cost competitive, it simply will not find wide insurance company support, if any. Insurance companies massively support generic drugs over branded drugs because of a lower cost impact to their bottom line.
Antares has not developed a new drug here. It has developed a new delivery system for Methotrexate. (MTX). MTX is a generic drug. Below are some of the names for MTX and the companies who market it:
Rheumatrex: DAVA Pharmaceuticals
Trexall: Teva Pharmaceuticals (NASDAQ:TEVA)
Amethopterin: Too many companies to list
The bottom line here is that insurance companies are in the business to make money. MTX is the most widely prescribed drug treatment for rheumatoid arthritis because it is a generic and cheap. Those patients who do not benefit from MTX are prescribed the following drugs until one is found that works;
The above drugs are considered as effective, if not more effective than MTX, yet MTX leads as the most prescribed RA treatment with 70% of RA patients prescribed. When VIBEX MTX becomes available, the insurance companies are likely to instruct doctors to first try these patients on VIBEX MTX who do not respond to oral MTX because of the lower cost impact.
VIBEX MTX is not a new blockbuster drug. It is designed to greatly reduce doctor-injected MTX with patient self injection. Currently, injections are given to patients who have negative side effects and/or lack of proper response from the pill form of MTX.
Injected MTX does not pass through the stomach as ingested pills obviously do. The commonly reported side effects from ingested drugs are rather standard; bloating, cramping, nausea, and headaches. Let's take a look at the side effects from standard needle-injected drugs: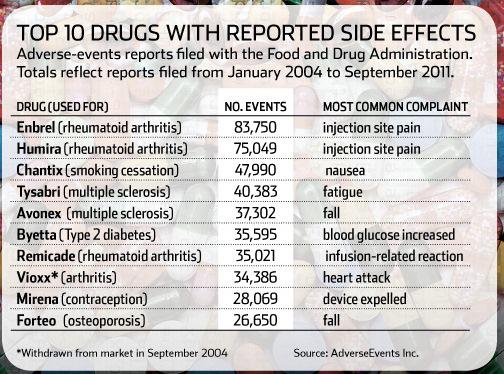 Click to enlarge
The first 2 drugs for RA show the most common side effect is injection site pain. Have you ever had pain after being injected with something from a needle? I certainly have, and it's annoying and painful. This is caused by several factors:
Needle penetration too deep;
Wrong angle of injection;
Drug pooling near the injection area.
VIBEX MTX is designed so it does not penetrate near as deep as a standard needle, and each dose is pre metered. The system works in a way that you basically push a button while pressed against the skin, a small needle quickly comes out, delivers the dose, and the needle retracts. The VIBEX injector is then thrown away with the needle safely retracted back into the VIBEX casing. In other words, it is pretty much dummy-proof.
Does this mean VIBEX MTX is going to take over the world? No. Running the numbers with a fellow Antares investor, I used a variable of an MTX 10-15% market share penetration. On the low side, 1 out of 10 people would use VIBEX MTX on a regular basis.
To reiterate:
2 Million patients in U.S.+
10-15% market share +
$50 per injection +
52 weeks +
52% margin +
May 2014 commercial launch (possibly earlier).
The equation produced the following high/low MTX earnings projections for 2014 and 2015:
2014 - $203M ($1.70 eps)/$135M ($1.13 eps)
2015 - $405M ($3.24 eps)/$270M ($2.16 eps)
This is about money, pure and simple. I am not trying to be cold and callous to those suffering from RA, because I know it is terrible and painful. In a perfect world, I wish every drug would have insurance company support. But this is not a perfect world. Most people invest in stocks to make money.
The number one reason why many investors fail in bio-pharma is that they get excited on hype, but do not understand or consider the economic situation of how insurance companies work. There are so many small cap bio-pharmas that are based on hype and pipe dreams. Only a very few actually will have a drug that makes it to market. Normally when they do, it is in a royalty partnership with a big pharma because these tiny pharmas do not have the leverage to broker better deals.
However, there are a few that have orphan drugs that could eventually make it to market and find insurance company support. Take a look at Vertex Pharma (NASDAQ:VRTX) with their Hepatitis C drug, Incivek. Incivek did $1 billion in sales in a very short time. It has wide support by insurance companies because of its orphan drug status to treat both rare and/or deadly diseases. No drug will be given orphan status to treat RA, which is not a rare or deadly disease.
Getting back to Chelsea Therapeutics Phase 2 RA treatment drug, CH-4051: Is the RA drug really going to make a bundle of cash if it wins FDA approval? It is certainly not a generic like MTX; it is a small molecular-based drug, which is very expensive. It will not be given orphan drug status to treat RA.
These are some of the things potential bio-pharma investors need to fully consider before making any investment in any bio-pharma company. Unless a company has an orphan designated drug in their pipeline, it is not likely any other new drug will simply replace what is currently widely supported by the insurance companies. This why most of these small cap bio pharma's fail to ever significantly appreciate in pps.
In my opinion, VIBEX MTX will be a big money maker and Antares stock will see the benefit of this in the long run. I vested long term in Antares for one reason: To make money!
Disclosure: I am long AIS.