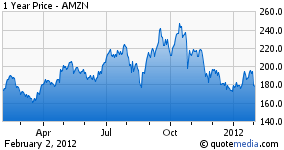 There are several important issues that surface after reading Amazon.com's (NASDAQ:AMZN) 10-K. I call them the elephants in the room, as there are more than one and they are all large.
These elephants are of great importance not only due to their size, but also because they all run counter to the commonly held belief that Amazon.com has lousy earnings because "it's investing in the future."
The Slowdown
It cannot be over-emphasized just how much Amazon's growth has moderated in Q4 2011. Remember, Amazon.com didn't have the Kindle fire - a $1 billion revenue business - during Q3 2011, yet revenue growth including the Kindle fire managed to drop from 44% yoy to 35% yoy. That's a pretty impressive slowdown.
Also, Amazon.com's media business showed an even worse slowdown domestically (U.S.), growing just 8% yoy even though it also had the Kindle fire pulling content. This media slowdown is particularly worrying not only because this is a higher margin segment, but also because it reminds people that the trend toward media purchases on mobile Apps such as those on Apple's (NASDAQ:AAPL) iOs or Google's (NASDAQ:GOOG) Android is unfavorable for Amazon.com.
Fulfillment Costs
This elephant has been in the room for a while, now. But amazingly, it keeps getting larger.
This, taken directly from Amazon.com's earnings release, sums up the problem …

Click to enlarge
This problem is one of the main reasons hitting margins, and has little or nothing to do with the supposed heavy investment taking place. Instead, Amazon.com itself says in the 10-K why this is happening:
We expect our net cost of shipping to continue to increase to the extent our customers accept and use our shipping offers at an increasing rate; to the extent our product mix shifts to the electronics and other general merchandise category; to the extent we reduce shipping rates; to the extent we use more expensive shipping methods; and to the extent we offer additional services. We seek to mitigate costs of shipping over time in part through achieving higher sales volumes, negotiating better terms with our suppliers, and achieving better operating efficiencies.
On top of this, anyone who listened to FedEx (NYSE:FDX) or United Parcel Service (NYSE:UPS) earnings calls knows that shipping prices have been going only one way: up. Also, with the Post Office on the verge of bankruptcy, there's a great deal of pressure toward raising rates there as well.
It doesn't stop here. Amazon.com went to great lengths (and costs) to increase Amazon Prime membership. Yet, the shipping revenue line is still showing slower and slower growth, falling to just 21% yoy on Q4 (compared to 30% for the whole year). This is far outstripped by outbound shipping costs (up 55% on year, 47% on quarter), and thus the greatly increased net shipping costs.
Technology/Content Costs
The remaining non-investment related elephant is technology and content costs. Amazon.com does not say how much of this line is AWS, and how much is content for its Prime giveaways (free movies and free books). But it's obvious that the acceleration in this line has to be at least partially connected with giving free movies to Prime members, which number in the millions (5 million estimated one year ago, should be at least 6 million now). Also, this line has to include content costs for all the Kindle Fire Prime membership trials.
To have an idea of how expensive the content can be, Netflix (NASDAQ:NFLX) has subscriber costs, which consist mostly of content costs to provide DVDs and streaming content for its 21.67 million subscribers which were at a run rate of close to $2 billion in last quarter.
The costs in question are really becoming heavy, increasing at a rate of 68% yoy, or by a full 1% of revenues in just the last year:

These costs are not really investment related, they are recurring for as long as Amazon.com decides to give the freebies to Prime members. And obviously, at this point Amazon.com cannot risk the public relations blowback if it decides to cancel those freebies.
Also important to note here is the way Amazon.com is capitalizing a lot of costs related to its software development. Granted, Amazon.com is depreciating these on a two-year schedule so the difference in earnings doesn't seem substantial, yet the numbers are gaining relevance.
For 2011, 2010, and 2009, we capitalized $307 million (including $51 million of stock-based compensation), $213 million (including $38 million of stock-based compensation), and $187 million (including $35 million of stock-based compensation) of costs associated with internal-use software and website development. Amortization of previously capitalized amounts was $236 million, $184 million, and $172 million for 2011, 2010, and 2009.
Conclusion
Although in this earnings release the ruckus regarding "Amazon is investing in the future" was a lot quieter, it still made an appearance in several news stories. However, careful examination of Amazon.com's 10-K shows that there are several elephantine problems already visible, none of them justifiable by the investment thesis.
Given this, it amazes even more that Amazon.com can trade at a forward P/E over 115 after yesterday's report and even taking into account Thursday's plunge. As a matter of fact, Amazon.com's fundamentals have been deteriorating much faster than the share price, which means that the forward P/E on the stock has only been growing larger with the passage of time.
Disclosure: I am short AMZN.