This week's Insiderize pick: Cosi, Inc. (NASDAQ:COSI),
This week's pick for my insider trading newsletter is based on a small ($50,000) insider trade made by Carin Stutz, the new CEO of Cosi (COSI), in her firm's stock. It's a small trade, yes - but the impact and signal of this new CEO's commitment to growing COSI is the real story here.
About COSI
Cosi's just a $45M marketcap company and runs premium convenience dining restaurants. As of August 26, 2011, it had 80 company-owned and 58 franchise restaurants in 17 states in the United States, the District of Columbia, and the United Arab Emirates. Cosi, Inc. was founded in 1994 and is based in Deerfield, Illinois.
Cosi's got a nice menu, and the restaurant is similar in concept to Panera (NASDAQ:PNRA), an absolutely great, well-run restaurant and a monster stock (up 389.29% in 10 years).

But COSI isn't Panera. It's got a strong brand, menu with potential, and customers who really enjoy it. But a runaway hit it's not.
Cosi: A story of poor management and a man named Blum
Here's what you need to know about COSI:
Cosi's stock is down -85% over the past 5 years
The company isn't profitable and if it doesn't turn itself around quickly, bankruptcy is a real option
Top management has been a revolving door
The company is a perennial laggard, falling behind stronger comparable restaurant chains like Chipotle (NYSE:CMG) and Panera Bread in sales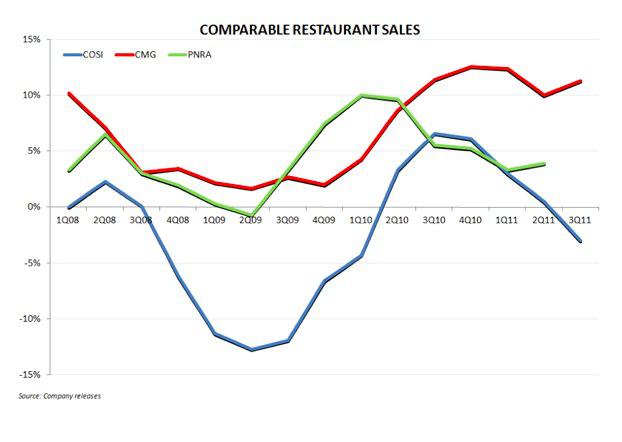 Click to enlarge
COSI stock went nowhere but down, whereas CMG and PNRA were BIG winners for investors over the past 5 years. (Cosi stock chart by YCharts.)
In spite of all of this, there are sparks of life for the troubled COSI. December's same store sales (SSS) showed that there is life here in the COSI story. From an article on FastCasual.com:
System-wide comps recorded an aggregate 2.6 percent increase compared to the fourth quarter of 2010. Same-store sales increased 0.9 percent at company-owned locations and increased 5.3 percent at franchised restaurants.

The increases were driven by a 0.6 percent increase in guest traffic and a 0.3 percent increase in check average. Additionally, the positive comp-sales results stemmed from several marketing initiatives intended to drive traffic and build check averages, as well as from seasonally milder weather.
Cosi's liked by industry analysts, too. According to Hedgeye's Howard Penny, COSI is a great concept in the fastest growing segment of restaurant, fast casual.
There are not many small restaurant concepts today that that have the potential triple in size.
Penny isn't a slouch, by the way. He's been a restaurant analyst since he spent 13 years at Morgan Stanley beginning in the early 80s.
Some smart money in COSI
There's also smart money in the COSI story. Brad Blum, who runs Blum Capital and is a 7% holder of COSI stock, sees a lot of potential in a COSI turnaround and has done his best to become a thorn in management side. He has his own plan to turn Cosi around:
The most important pillar of the vision for Cosi is the formation of a closely aligned and well-functioning team of qualified, talented, experienced and motivated people who would work well together to bring to life a clear, concise and compelling vision for the Cosi brand. Once this is established, the leadership and the entire Cosi team will be keenly focused on flawless execution to achieve profitability, significantly improve company performance and greatly increase shareholder value.

The overarching objective is to drive the Cosi brand to its rightful place as a key player in the most dynamic segment of the restaurant industry: Fast Casual. Clearly, the successful attainment of this status will drive significant shareholder value for years to come.
Blum's been exchanging nasty letters, lobbying for the ouster of the Board of Directors and senior management.
"You must now cease and desist from making these types of inflammatory and grossly incorrect statements to mislead the very people who have suffered under your leadership," Mr. Blum wrote. "It appears you are trying to pacify people and buy time while you continue to turn out meager results."
When that didn't happen, he threw his own hat into the ring, offering to run the company for just $1 per year. That's not actually as crazy as it sounds. Blum previously ran Burger King as its CEO and was instrumental in significantly improving the firm's financial performance. To drum up support for change at COSI, Blum lobbied shareholders to express their frustration at the current BOD's performance.

It didn't quite work - they didn't hire Blum. But they didn't promote from within either. In fact, they hired Carin Stutz, who used to be a senior operations executive at Brinker (NYSE:EAT), a global restaurant chain that runs Chili's. And it was Stutz's purchase of 65,650 shares on January 31, 2012 that triggered this edition of the Insiderize newsletter.
Market reaction to Stutz's purchase
The market responded very positively to the news that COSI's new CEO was spending her own money to buy some stock (even though she was granted a million shares when the firm signed her. This seemingly insignificant buy got investors juiced and the stock was up almost 25% at one point, settling down with a +13% gain on the day.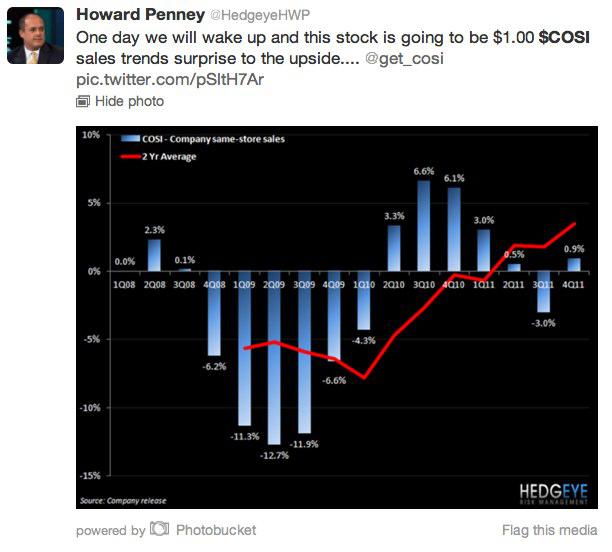 Click to enlarge
COSI is a penny stock, and is a major turnaround play. So, it's risk on. But new CEO Stutz is a real player, and having Brian Blum's watchful eye (as well as his investment dollars) make this story worthy of our attention. What do you think of Cosi -- the restaurant? The stock? Is this a real turnaround play?
Disclosure: I have no positions in any stocks mentioned, and no plans to initiate any positions within the next 72 hours.
Disclaimer: This should not be construed as investment advice. You're an adult and shouldn't believe everything you read. Not annual statements, not politicians, not CNBC, and certainly not this. I've tried my best to be as faithful to the story as I could, using sound resources to help describe the insider trading activity at leading companies. But you should definitely do your homework. Don't base an investment decision off this information.