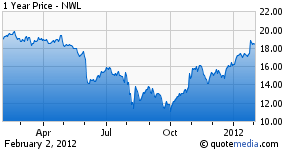 Newell Rubbermaid (NYSE:NWL) the global marketer of a wide range of consumer goods including Baby products, office products and a range of lifestyle products trades up 8% closing at almost $19 a share after the company announced fourth quarter results on Thursday the 26th of January which came in slightly above analyst expectations.
Long term bear trend
Shares of the diversified consumer product maker are in a long term bearish trend. By 1998 shares traded $50 a share and have continued to steadily decline over time. In 2009 they hit $5 as consumers in the US saw spending power decrease and constant restructuring charges of the business steadily increased leverage.
Restructuring efforts have turned prospects around and shares have recovered since then on reinstated, although modest revenue growth and profitability.
Fourth quarter results
Profits for the fourth quarter rose slightly to $80 million or $0.27 per share. Excluding restructuring costs profits came in at $0.40 vs. analyst expectations at $0.38. Sales were up almost 4% to $1.5 billion on strong growth in emerging markets and an increase in market share in North America. Full-year earnings come in at $1.53 before restructuring charges and impairment charges
Questionable accounting methods
Newell has the annoying attitude of reporting GAAP-adjusted earnings which exclude "one-time" charges such as restructuring charges, impairment charges and other items. These charges totaled $320 million in 2011, $150 million in 2010 and $80 million in 2009. One can hardly think of these as "incidental" charges as they are recurring very single reporting period. These are real cost of doing business and should be taken into account.
Outlook
Shares are up on the outlook as management expects 2-3% core revenue growth for 2012 up from 1.8% in 2011. GAAP-adjusted earnings are expected to come in at $1.63-$1.69, but of course there will be "restructuring charges" reducing the net profit outlook to $1.34-$1.40. Operating cash flows of $550-$600 million will be used again to retire debt and repurchase shares.
Valuation
After today's jump in the stock price on high trading volume, the company is valued at $5.5 billion or about 13-14 times expected normalized earnings for next year. If Newell wants steadily increase its valuation and make an attempt to break through the $20 long term resistance price level, it should start by making an end to the questionable accounting practices in order to increase transparency and valuation.
Disclosure: I have no positions in any stocks mentioned, and no plans to initiate any positions within the next 72 hours.