The final auto sales numbers are in and we saw a nice surprise in the sector today. While analysts were expecting a rise of about 6% in auto sales, the final numbers bested even the most bullish expectations and delivered a gain of a bit over 11%.
This is good news for Sirius XM (SIRI), as it was looking like we would start off 2012 with a modest auto sector gain of 6% when we are looking at an improvement of 10% for the year. January is typically the slowest month of the year, and as I wrote, there were many reasons why Sirius XM investors did not need to worry about a slow start. The first reason was that even though analysts were exciting a gain of less than 10% to kick off the year, none had lowered their projections of 2012 auto sales approaching 14 million. The second reason Sirius XM investors could be confident if the start was slow is the emergence of the used car market contributing to the subscriber pool in meaningful ways.
What I have been saying in previous articles now becomes more important than ever. The surprise in new car sales is great, but consider what else that means. Used car sales were likely up at similar levels. Sirius XM actually sees a double benefit here in many ways.
Now before people jump up and down and celebrate, let's take the next step. As many regular readers know, not all car companies are treated equal when it comes to deals with Sirius XM. Some provide the company with a subscription at the time of production, some at the time of sale, and some only after a three month trial and only if the consumer elects to become self paying. I call these categories "Leading," "Point-Of-Sale" and "Production." In the short term, this means we are interested in what the month of January means to the current quarter.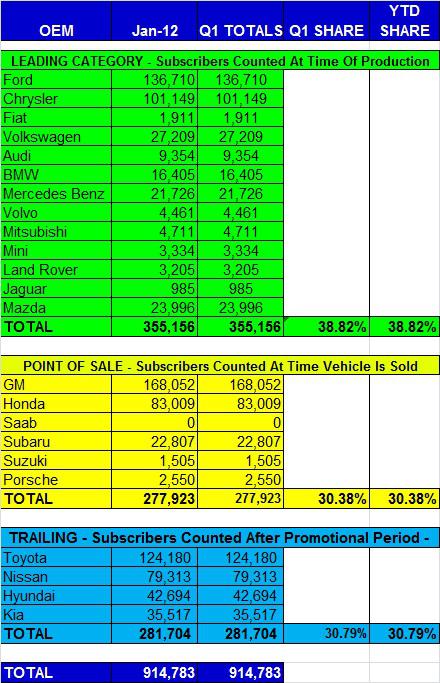 Leading
The "leading" category sales in January carry no impact on the current quarter. It is Q1 production that matters from this category. While production numbers for January from all of the OEMs in this category are not available yet, we can consider what happens in sales as a guide for the fact that these makers will have to produce enough cars to maintain their growth pace.
Impressively, sales in this category were up an impressive 24%. Last year this category had sales of 287,040. This year we saw a boost to 355,156 units. With partners like Ford (F) and Chrysler as key elements of this category, you can imagine that they were producing more in order to maintain inventory levels. This bodes well for Sirius XM. There is also a bonus factor in that Ford provides six month subscriptions, and Chrysler one year.
Point-Of-Sale
This is the category where we see an ever so slight red flag. Sales here were actually down by about 1%. This means that the category that supplies subscribers in the here and now, based on sales, will likely deliver subs at last year's pace, not this year.
In some ways, from a satellite radio perspective GM (GM) (the biggest player in this category) losing sales to Ford or Chrysler actually helps Sirius XM in that GM offers three month subscriptions compared to six month and one year subscriptions.
Trailing
This is where things get interesting. The trailing category saw a 9% gain. This is interesting because none of these sales will help the current quarter, but instead will help the next quarter.
It would appear that for the first time in a long time, the impacts of the disaster in Japan and the floods in Thailand are finally behind us. Great news going forward.
For the first time in many months the balance between these categories has all three of them above the 30% mark. This is also good news as it removes the see-saw effect that we saw happen last year. Bear in mind that the used car deals also act like trailing subscribers, boosting this category up to perhaps be on par with the leading category. This means that fruit for the future is being developed now.
The jump from a modest 6% gain to a slightly ahead of pace 11% gain happened with about 40,000 in additional sales. Not a huge number, but every little bit helps. The good news is that we are on pace. That 40,000 units translates into about 12,000 subscribers. In this economy they all help.
Disclosure: I am long SIRI.