Coinstar, Inc. (NASDAQ:CSTR) is scheduled to release last fiscal quarter's results after the closing bell on February 6, 2012. This could be a very big day for investors with two thumbs up.
Coinstar, Inc., through its subsidiaries, provides automated retail solutions primarily in the United States, Canada, Puerto Rico, the United Kingdom, and Ireland. The company was founded in 1991 and is headquartered in Bellevue, Washington. You likely know Coinstar from all the "Redbox" video vending machines that appear to be everywhere including Mars. Officially Coinstar states that a machine is within a very quick drive (5-minutes) for over 2/3rds of the population in the United States.
Anyone who has watched their investments in stock trade through earnings knows how important earnings can be. What makes Coinstar's earnings so important to watch is the massive short interest combined with the general trend of the stock. Take a look at the chart below with the earnings history for the last five quarters.
Here is the last few quarters to get an idea how well they perform compared to estimates: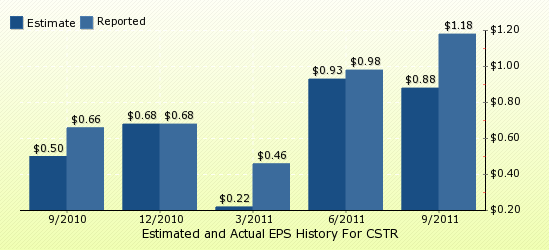 Reported earnings per share compared to the mean estimate. Differences are rounded.
For the last five quarters, the worst quarter is a break-even so we can all know that everyone is going to expect a beat of the estimates, which have fallen off a cliff. This could be setting the stage for the price to pop higher like a jack-in-the-box on the last note. But lets take a closer look at what the market space is like for the thousands of Redboxes spread out from coast to coast.
No investment conversation about Coinstar is complete without the obligatory discussion of physical delivery verses digital delivery of movie content. Every bear and non-bullish viewpoint is very quick to point out and highlight the movement from physical to digital. The bears may be correct, but what gets lost in the details so often is the time frame in which this will happen. I would imagine few will argue for physical delivery 50- 100 years from now, but surely 10-15 years from now is realistic if not likely.
As fellow contributor Joseph Poma pointed out, it will take a lot more than technology to deliver movies into someone's home to make the transition complete. Beyond consumers having the necessary equipment to stream movies, the studios don't appear to be gung ho to make it happen either. Netflix (NASDAQ:NFLX) has clearly given us insight to what the studios have in mind, and you can bet your popcorn it doesn't include low cost streaming of movies.
While I believe Netflix can become much more profitable than the company currently is by following in Amazon's (NASDAQ:AMZN) footsteps, Netflix appears to be content with leaving the majority of the money on the table for others to pick up, instead of its shareholders. With over 20 million streaming customers on the Netflix website one has to wonder what is going on in the minds down in Texas. Netflix's current move to focus on streaming and leave the DVD part of the business as a second-string quarterback is just one more reason Coinstar's future looks brighter.
What happened to $1 movies? After raising prices last year, Coinstar's stock price experienced a gap down in price of about 10%, followed by another month of consolidation and short selling. Look at how the number of days to cover short interest doubled right after the price increase.
The number of days to cover short interest based on average daily trading volume for CSTR:



With the recent price move back above $50, almost all the recent "price increase suspense" losses have been recovered, as investors realized it was a bit dramatic, but not so awful in the end.
With Blockbuster circling the drain and Netflix focused on streaming, it appears to me that Coinstar's death may not be imminent. While one may be also able to argue Coinstar has saturated the market with more than 34,000 Redboxes, I counter that share price is not pricing in any growth with a PE multiple near 12. If Coinstar is able to continue to grow, it will be icing on the cake. For more about why Netflix is making it easy for Coinstar, read this highly informative article from Rocco Pendola.
Coinstar did recently announce a renewal of the Wal-Mart (NYSE:WMT) agreement, and I would have imagined it would have pushed the price higher, but it does appear to be setting a standard of what to expect -- more renewals and locations.
Investors in Coinstar will be able to buy a lot of movie tickets (and more) if Coinstar's short sellers start to get nervous. With earnings just around the corner (and after Netflix just reported good DVD earnings) I have a couple of ideas how someone could put capital to work with Coinstar.
As mentioned above, a very strong storm may be just over the horizon for short sellers. Short interest has doubled since right before the gap down in price in late October, and now the price has nearly recovered. Many short sellers are likely underwater or close to it, which also likely means stop losses are near to be triggered, causing the classic short squeeze.
What may light the fuse on this one is Monday's earnings release. While earnings will be very important, guidance -- and how the market interprets the guidance -- is what I will be most closely watching. With the combination of a big beat with higher than expected guidance, investors could be celebrating.
Additionally, using options to minimize risk can help you sleep better at night. I prefer to use options as my primary investment tool because you can dial in just about exactly what you want to risk for a known (given) amount of profit. With stocks, you are generally stuck with cost to carry (granted, very cheap right now) and the full up and down ride that they often bring.
I also normally prefer to sell volatility, and so I will start with a trading idea with put options. The March $50 put strikes are currently selling for about $3.80. I like this month better than the front month, due to the extra premium received and the lower risk. All in all, February may be higher revenue per day average in premium, but I prefer the March.
The second idea I have is buying options. I sometimes like to buy options/volatility for binary events (oversize win or lose), like earnings, and this is one where a bullish call spread may make sense. This bullish spread has a lot of characteristics of a put in the sense that some time premium is sold. By buying the $45 Feb strike price for about $6.70 and also selling the $55 strike price for $1.15, the net cost is about $5.55 and the maximum gain is about $4.45. Not quite a double, but what makes this attractive to me is that the selling of the higher-priced call just about covers all the time premium of the call bought.
Option trading is not for the new or inexperienced investor, as there are many "gotchas" that can get in the way of a retail options trader, with simple lack of understanding the biggest underlying reason.
I use a proprietary blend of technical analysis, financial crowd behavior and fundamentals in my short-term trades, and while not totally the same in longer swing trades to investments, the concepts used are similar. You may want to use this article as a starting point of your own research with your financial planner, but not as a reason to make a trade.
Disclosure: I have no positions in any stocks mentioned, but may initiate a long position in CSTR over the next 72 hours.