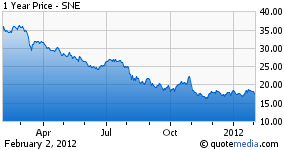 When you think of quality portable must have devices today, the first brand that comes to mind is Apple (NASDAQ:AAPL). With the invention of items such as the iPod, iPhone and the iPad, the company has revolutionized not only the devices themselves, but also the way we consume content. Rewind this thought 30 years ago and the clear-cut answer would have been worldwide electronics manufacturer Sony (NYSE:SNE), the company that introduced to the world the sensation then known as the Walkman - that was 1980.
For much of the credit the company has received over the years, it has always fallen short in the areas of innovation even though it has received much (undue) credit. Before Sony brought to market many of its popular items such as the Playstation, other invented items were already on the market that included the VCR, CD as well as video games systems. The company's specialty has been the remarkable way that it can transform an existing idea into something that becomes an immediate must have. Sounds like another name in this article, doesn't it?
Today it's 2012 and as Mark McGwire once famously said, "I'm not here to talk about the past." For Sony, it is now a much different company that is trying to hang on to a legacy that is just not coming back. But disappointingly, I'm not sure that the company has appreciated this reality just yet.
The Current State of Affairs
On Thursday, the company reported disappointing Q3 fiscal 2011 results that sent its shares tumbling almost 7% near its 52 week low. Sony posted a $2.1 billion loss for the quarter ending in December and issued gloomy prospects for the year. It also now expects a loss for the quarter ending in March of almost $3 billion - a number that is not only more than double what the market was expecting, but it will be the company's fourth consecutive year of losses. The company hinted that the Thailand flooding of last year contributed to a portion of the weak numbers as it affected the manufacturing supply chain.
New Direction
Where the company goes from here remains to be seen. But the positive signs are that it is not going to rest until it gets things right. Unlike Research in Motion's (RIMM) recent managerial change that yielded little hope for optimism, Sony vows to go in a different direction. With sales down almost 20% for the recent quarter, mounting share losses as well as an inability to inspire innovation, it goes without saying that the incoming CEO, Kazuo Harai, has his work cut out for him.
At the news conference announcing his appointment he said the following:
"I have a very strong sense of crisis about the environment surrounding us. We cannot be afraid to make painful choices for the future of Sony. Our rivals and the operating environment won't wait for us."
Mr. Harai's appointment comes with both optimism and pessimism. The fact that he is a seasoned executive of the company, he is viewed and highly regarded by several analysts. However analyst Kim Young-Chan of Shinhan Investment Corp. in Seoul feels as follows:
"It won't be easy for Sony to regain its lost ground under new leadership, as its overall competitiveness has sharply weakened. It's got structural problems that will take years to fix. It's not just Sony, but Japanese IT firms have similar problems. They are failing to innovate and produce industry-leading products in almost every major area - from TVs to displays, tablets and smart phones."
Which sentiment is correct will be decided by time. But for Sony, the question remains, has it lost its ability for innovation and its ability to compete? As mentioned, Apple is now the unquestioned leader in portable music but Sony does not even rank among the list of most popular devices. One has to think even a troubled company such as the aforementioned RIM comes more highly regarded in terms of its music service played through its still ubiquitous smart phone. To make matters worse, accessory maker SanDisk (SNDK) might also be considered ahead of Sony.
If it is still unable to inspire innovation, what will the future hold? It is not farfetched to think that a company such as Sirius XM (NASDAQ:SIRI) with its growing popularity in the automobile might also surpass Sony considering that the company is now on the verge of several new radio features that appeal more to consumers. Dare I say, maybe Sony should buy Sirius or even perhaps RIM? Clearly it needs to do something.
Summary
As with Apple before it, it is not out of the realm of possibility to consider that Sony can once again thrive. But absent drastic changes to its structure, I fail to see how that is likely to happen. The company is just too big. While we have heard of "too big to fail," Sony is a case of "too big to succeed." I think it needs to spin off some of its businesses as well as engage in some cost-cutting measures to establish the things on which it needs to focus to regain that innovative edge.
Disclosure: I am long SIRI, RIMM.