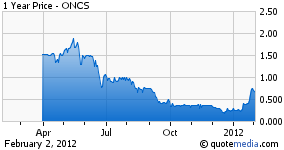 During the past few sessions, we've been watching shares of OncoSec Medical Inc. (NASDAQ:ONCS) rising on heavy trading so we reached out to Punit Dhillon, President and CEO for an interview to find out why investors are starting to take positions in the company after a slow but steady sell-off in the market.
As we found out, the firm has hit the ground running since our initial profile of the company back in May of last year-- shortly after the firm first began trading publicly.
In March of 2011, Mr. Dhillon became president and chief executive officer after co-founding the firm. He was formerly Vice President of Finance and Operations at Inovio Pharmaceuticals, Inc. (formerly Inovio Biomedical Corporation) until March 2011. In his corporate finance role, Mr. Dhillon was pivotal to the company raising over $125 million through multiple financings and several licensing deals including early stage deals with Merck and Wyeth.
BioMedReports: What is OncoSec's clinical focus, and why has the company chosen to address these indications.
OncoSec is a therapeutic oncology company that has a benefit of relying on extensive clinical experience in both early and late stage clinical trials. The Company was built upon the use of a proprietary drug delivery technology system for the targeted delivery of both chemo and protein therapeutics. We are focused on developing therapeutic products that prioritize safety, efficacy, pharmacoeconomic benefit and Quality of Life (QoL) and based on our clinical experience have chosen a development focus for the treatment of lethal skin cancers, such as metastatic melanoma, Merkel cell carcinoma and cutaneous T-cell lymphoma. We believe a targeted delivery approach such as OncoSec's solution, which destroys cancerous tumors while sparing healthy normal tissues, results in improved functional, cosmetic and quality of life parameters while also addressing the priorities for a successful product.
BioMedReports: Please explain OncoSec's technology and how it works.
The OncoSec Medical System (OMS) is a platform delivery technology based on electroporation that can be used for the delivery of a variety of therapeutic agents for solid tumors. The OMS ElectroOncology technologies are composed of two different therapeutic approaches: OMS ElectroImmunotherapy and OMS ElectroChemotherapy. At the heart of both these product areas is a scientific phenomenon called electroporation, which is the application of electric pulses to open pores in cells, enabling the cells to absorb a critical therapeutic agent and once inside the cell the agent performs its intended function. In the former, it involves electroporation-mediated local delivery of a DNA plasmid encoding for a specific immune stimulating protein, called a cytokine. This approach generates an immune response against the locally treated tumor, in addition to generating a systemic response against distant untreated tumors. In the latter, a low dose of an anticancer drug is locally injected into a targeted tumor, which allows for significant uptake of the drug into the surrounding cancerous cells, resulting in drug-induced apoptosis of the cell. This approach reduces the harmful side effects linked to traditional chemotherapy.
BioMedReports: What is OMS ElectroImmunotherapy and how does it set itself apart from other technologies that are trying to address the same indications?
OncoSec is combining its proprietary OMS electroporation delivery system with a DNA plasmid construct that codes for the immune stimulating protein interleukin-12, DNA IL-12. Local delivery of DNA IL-12 into the tumor followed by electroporation results in efficient and effective transcription of the plasmid to produce fully humanized IL-12. Upon release from the cell, IL-12 stimulates the recruitment of cytotoxic T-cells and activates the release of interferon-gamma. The potent stimulation of the immune system through these mechanisms by IL-12 not only initiates selective destruction of the locally treated tumor through an innate immune response, but also stimulates an adaptive immune response against distant, untreated metastatic lesions. In a Phase I trial treating metastatic melanoma, 53% of patients demonstrated an objective response, while 15% showed 100% clearance of distal, non-treated tumors.
To use an analogy, with our ElectroImmunotherapy the engineered DNA instructs the cells they enter to produce a specific cytokine - IL-12. Cytokines are actually naturally produced by the immune system. You can think of it like this: Cytokines act as the communication system used to sound an alarm to the immune system, instructing it to attack a foreign body once it is detected. In the case of cancer, the immune system can overlook the growth of cancerous cells because they grow in the body and are not seen as foreign. So the immune system doesn't sound the alarm. But if we intervene by helping the body to produce a significant number of cytokines, they will in turn trigger the production of killer T cells and other immune system components. The previous human study data described above of our technology is very encouraging when compared against other emerging therapies and first line therapy for metastatic melanoma.
BioMedReports: What is OMS ElectroChemotherapy and how does it set itself apart from other technologies that are trying to address the same indications?
OMS ElectroChemotherapy is local delivery of bleomycin into the tumor followed by electroporation, which also results in significantly improved uptake of the anti-cancer agent even when only using 1/50th the dose used for systemic chemotherapy. This results in significantly reduced toxicities and side-effects. The therapy selectively destroys tumors, as well as allows treatment of the tumor margin, while preserving surrounding healthy tissue. In contrast, surgery requires removing a margin of predominantly healthy tissue surrounding a tumor to eliminate peripheral cancerous cells. We believe a key component to distinguishing the OMS ElectroChemotherapy approach over standard of care is it: is effective in treating solid tumors, spares normal tissue, is not specific to tissue types, is not detrimental to wound healing, reduces post-operative care, has pharmacoeconomic advantages and, most importantly, improves quality of life outcomes for these patients. Another distinguishing factor over other emerging therapies is the access to a robust clinical data set. We are encouraged with the results we have seen to date and our previous data has showed response rates equivalent to surgery with overall response rates in the 99th percentile and complete response in the 89th percentile for skin cancer. We have now concluded top-line review of our previous Phase III recurrent head and neck study and we are looking forward to sharing those results this year. In addition, there were two phase IV studies that were completed in Europe for recurrent and primary skin cancers and recurrent and primary head and neck cancer. These results are also going to be fully available in 2012. All of this along with our clinical development plan that is focused on a streamlined regulatory path in the US and a CE mark on our device supports strong partnering opportunities and commercialization of this program in the near term.
BioMedReports: Can you talk a bit about your plans for seeking approval and what the regulatory path is for this technology?
OncoSec is currently initiating three Phase 2 clinical trials in metastatic melanoma, Merkel cell carcinoma and cutaneous T-cell lymphoma. All three of these trials are being held under a physician Investigational New Drug application. This regulatory path has allowed OncoSec to enter the clinic and quickly obtain clinical catalysts. The Company will leverage data from these studies to initiate our own sponsor IND in 2012.
OncoSec intends to advance its late-stage OMS ElectroChemotherapy programthrough a commercialization strategy that leverages previous in-depth clinical experiences and previous CE approvals for the electroporation-based devices and late stage clinical studies (Phase III/IV) in the United States and Europe. The company will seek regulatory approvals to initiate studies to collect clinical, reimbursement, and pharmacoeconomic data. OncoSec will consider partnering and/or co-developing the OMS ElectroChemotherapy platform with one or more regional partners or a single global partner.
BioMedReports: Besides the clinical benefit, how else can your technology benefit the patient?
We believe that besides the obvious clinical benefit of a new treatment with strong efficacy and safety outcomes, our OMS ElectrOncology therapies also provide the patient with a treatment option that can provide a better quality of life outcome and cost benefit - each of these characteristics are key factors for product success within a complex healthcare system. Because of the targeted nature of the OMS ElectrOncology therapies, it offers better quality of life, function and cosmetic outcomes. In addition, because of the low manufacturing costs related to the OMS device and corresponding agents including their stability profile (i.e. DNA IL-12 or bleomycin), our therapies will provide a potentially cheaper treatment option for patients who suffer from the deadly skin cancers that OncoSec is attempting to address.
BioMedReports: What is the potential market size that this technology addresses?
Skin cancer is the most predominant cancer diagnosed in the U.S., with more than two million new cases each year. The most deadly form of skin cancer, melanoma, has more than 70,000 new cases diagnosed each year with an expected 10,000 deaths each year resulting from this disease. Unlike other cancers, the incidence of skin cancer is rising, and there are still few treatment options for this disease.
Metastatic Melanoma:
There are over 70,000 new cases of melanoma diagnosed each year, and until recently there have been no new effective treatments available to patients with advanced metastatic disease. The recent approvals of Yervoy and Zelboraf have provided new treatment options for these patients, but by no means are a clinical solution. Despite this, first quarter sales of Yervoy of over $900 million has demonstrated that this market is yearning for a treatment that is safe and effective and applicable to the entire patient population.
Merkel Cell Carcinoma:
There are an estimated 1,500 new cases of Merkel cell carcinoma (MCC) each year in the U.S. Although this appears to be a very low number, it must be prefaced with the fact that there are currently NO treatment options available for this disease and MCC has a mortality rate of 40%, which is greater than the rate of death seen in melanoma. Thus, it is clear that this is truly an indication with an unmet medical need.
Cutaneous T-cell Lymphoma:
Cutaneous T-cell lymphoma (CTCL) has an estimated 3,000 new cases each in the U.S. This disease does not have a high mortality rate and can generally be managed using chemotherapy and other immunotherapy applications, however, these therapies are not cures and these patients will more than likely die with this disease. Other clinical studies employing a recombinant version of interleukin-12 (IL-12) have demonstrated very encouraging responses, however, they have also demonstrated that in order to achieve these results, the patients must be treated with very high doses of IL-12 that produce severe and intolerable side effects. OncoSec believes that using a low dose of DNA IL-12 delivered with electroporation can circumvent the safety issues seen demonstrated in previous studies, while still providing similar if not better response rates.
Both MCC and CTCL are orphan indications and OncoSec has the potential to file for orphan designation with the FDA, which could encourage an expedited track to improvement.
BioMedReports: What are the upcoming milestones that a person following the company can look forward to hearing?
OncoSec's strategic goals for theOMS ElectroImmunotherapy program in 2012 include:
• Initiate and enroll (OMS-I100) Phase II melanoma study led by the University of California at San Francisco along with other cancer centers across the US.
• Initiate and enroll (OMS-I110) Phase II Merkel cell carcinoma study led by the University of Washington (Fred Hutchinson Cancer Center) and University of California at San Francisco.
• Initiate and enroll (OMS-I120) Phase II cutaneous T-cell lymphoma (CTCL) led by the University of California at San Francisco along with multiple centers across the U.S.
• Complete and report interim analysis of clinical data from each of the clinical studies.
• Finalize sponsor IND based on positive Phase II clinical results in consultation with regulatory authorities.
OncoSec's strategic goals for the OMS ElectroChemotherapy in 2012 include:
• Finalize and present data analysis of completed Phase III recurrent head and neck cancer study.
• Finalize and present data analysis of completed Phase IV recurrent and primary head and neck cancer study.
• Finalize and present data analysis of completed Phase IV recurrent and primary skin cancer study.
• Establish regulatory path with the FDA for clinical development of advanced stage skin cancer and other solid tumor targets in the US to achieve licensure.
• Consider out-licensing opportunities through potential regional partnerships or a global partner to maximize near term commercialization opportunities in Europe, Asia and potentially other emerging markets.
BioMedReports: Who are some of the key players behind OncoSec Medical?
Within our staff, we are supported by a wonderful and experienced team. They are truly the A-team and have all made personal sacrifices either financially or by absorbing the work load for this relatively new company!
Management:
As OncoSec's President and CEO, I have over 10 years experience as an executive in the biopharmaceutical industry. Most recently I served as VP of Operations and Finance at Inovio Pharmaceuticals, the pioneer in developing electroporation devices for clinical use.
OncoSec's Board of Directors carries significant experience in the biopharmaceutical industry including experience in developing electroporation devices for clinical use, developing cancer immunotherapy products, and building start-up biotechnology companies.The chairman of the board is Dr. Avtar Dhillon, the former CEO of Inovio Pharmaceuticals, where the studies OncoSec is advancing today were first completed.
Clinical:
OncoSec has aligned itself with respected academic institutions such as the University of California San Francisco and the University of Washington, as well as key opinion leaders in the fields of deadly skin cancers such as Adil Daud, M.D., Shailender Bhatia, M.D., Ph.D., Paul Nghiem, M.D., Ph.D. and Weiyun Ai, M.D., Ph.D.
BioMedReports: What are your firm's biggest challenges, right now?
In 2011, OncoSec achieved all of its milestones. However, like all clinical stage biopharmaceutical companies, OncoSec's biggest challenge is keeping up with the aggressive pace we have set and delivering on the clinical milestones we have set for 2012 while being fiscally responsible during these financially difficult times. Our advantage is that we are in a great position to shorten the usual timeline that biotech companies must work with. We do not have to go through the many, many years of R&D, preclinical work and Phase I clinical studies. After we start enrollment on our Phase II ElectroImmunotherapy trials, we expect to report interim data within 18 months, which can provide great insights to a therapy's potential benefits.
Disclosure: I have no positions in any stocks mentioned, and no plans to initiate any positions within the next 72 hours.