Since we profiled Neurocrine Biosciences (NASDAQ:NBIX) on January 25th, share prices have increased another 18% and closed at $9.65 on Wednesday.
As you may recall, last week the firm announced that its VMAT2 inhibitor product candidate, NBI-98854, has been granted Fast Track designation by the U.S. Food and Drug Administration (FDA) for the treatment of neuroleptic-induced tardive dyskinesia.
Tardive dyskinesia is characterized by involuntary, repetitive movements of the extremities, lip smacking, grimacing, tongue protrusion, rapid eye movements or blinking, puckering and pursing of the lips, or impaired movement of the fingers. These symptoms are rarely reversible and there is currently no known treatment.
From a purely technical standpoint, the chart continued to look good and though we may see a very slight pull-back given the Williams%R levels-- which currently indicate an "overbought" state. We note, however that, 71% of the other technical indicators in the stock are still very much bullish and may continue to be for the short term (2-6 days). The continuation pattern we told Seeking Alpha readers about continues to play out here.
There is a lot of accumulation at these levels and we would not be surprised to learn that institutional investors are been buying here. This one is still worth watching.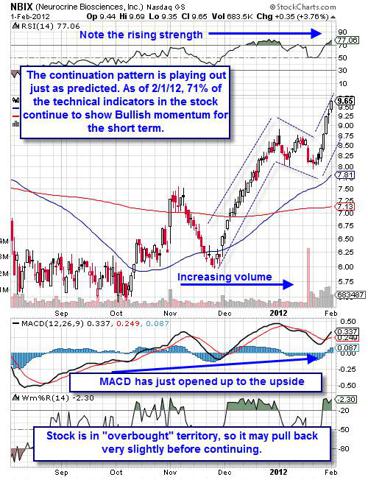 Click to enlarge
(Click to enlarge)
Disclosure: I have no positions in any stocks mentioned, and no plans to initiate any positions within the next 72 hours.