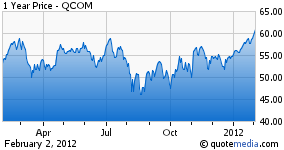 I always find it surprising that Qualcomm (NASDAQ:QCOM) seldom gets mentioned in conversations involving the "big tech names." For a company that still dominates the smart phone and devices industry by being inside most of the quarter million or so devices that were sold last quarter, Qualcomm doesn't get enough respect. In its most recent quarter, the company reported revenue growth of approximately 40% and up almost 14% quarter over quarter. This included 39% growth in its core chip business as well as 48% growth in its licensing revenue.
This once proud titan still has several challenges and not the least of which includes stiff competition from the likes of the aforementioned Texas Instruments (NASDAQ:TXN) as well as Nvidia (NASDAQ:NVDA). It is such competition that appears to continue to apply pressure on its margins and its ability maintain any growing momentum. But regardless, the company has a tremendous business and continues to be a leader in its industry. It also helps to see that management believes in its strategy and has continued to re-invest capital back into the business.
The Quarter That Was
On Thursday, the company released its Q1 2012 earnings results and proved once again why it belongs in the group of the elite. The company reported earnings per share of 97 cents which is up 18% from the year-ago period - well above analyst expectations of 90 cents. The company said that its revenue for its fiscal Q1 climbed 40% to $4.68 billion, ahead of the $4.56 billion that analysts anticipated. Not to be outdone, in terms of its Q2 outlook, the company projects $4.6 billion to $5 billion in revenue. These figures would represent an increase in the range of a 19% to 29% gain from a year ago, as well as an increase of 6% to 13% in earnings per share.
During the stellar report, CEO Paul Jacobs offered the following:
"I am pleased to report another record quarter with revenues, earnings and MSM (mobile station modem) shipments reaching all-time highs, driven by our industry-leading chipset portfolio and the continued strong demand for smart phones around the world."
"We are raising our revenue and earnings guidance as our broad licensing partnerships and extensive chipset road map, led by our integrated Snapdragon processors, position us well for strong growth in fiscal 2012."
In a recent article, I ranked Qualcomm as having been one of the companies to consider adding that has a direct link to Apple (NASDAQ:AAPL) and one that can benefit from its success. Based on this recent quarter, it is tuning out to prove true. As of this writing, the stock is up to a new 52-week high at a price of $61 - yet this is on top of a 10% premium that it had already added on the year. Earlier today, S&P analyst James Moorman reiterated a buy rating on Qualcomm and while setting a 12 month price target of $77, he added the following:
"The company raised its FY12 (fiscal 2012) forecast on increased demand for smart phones, and we believe it gained market share in the chipset business," he said in a research note. "We believe QCOM will continue to benefit from a strong product road map and FY12 is shaping up to be a very strong year."
Mr. Moorman was not the only analyst shown to have been impressed by the figures. Pacific Crest analysts James Faucette as well as Brad Erickson who have an outperform rating on the stock feel that the improved outlook for Qualcomm is primarily attributable to new products set to launch from original equipment manufacturers like HTC and Research In Motion (RIMM).
Summary
The bottom line is, Qualcomm has a tremendous business in a fast growing industry. Furthermore, as evident by the recent earnings announcement, it is clear that its management knows exactly what it is doing and should be able to sustain the level of performance. The question for investors is, what is the right entry point for the stock seeing as it is at a new 52-week high? The company currently sports a P/E of 15. While it is not entirely too expensive, it is far from conservative. However, seeing as analysts continue to feel there is at least 26% more room to the upside, I would feel comfortable adding at this level for the long term.