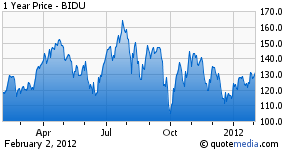 It really wasn't that long ago that China, emerging markets, and many of the biggest names in these markets like Baidu (NASDAQ:BIDU) were all the rage. Today, with China stocks lagging most global markets, China's market labeled as being improperly regulated, and investors using the stronger dollar to increasingly allocate capital into the U.S., the Chinese market has been one of the worst performing markets over the past year.
While, certainly, negative sentiment towards China has been building because of reasonable concerns over the recent drop in the dry bulk shipping index, issues with reverse mergers, and mispriced IPOs, not all Chinese companies are created equally. Given the nearly 40% sell-off in Chinese equities we have seen over the last year, I think it is worth asking if their are stronger Chinese companies with better accounting practices that are wrongly be grouped in with some of the more poorly run Asian companies that have been in the news of late.
Investors seem determined to find growth. With worries of a recession abating and but economic data remaining only average, the trading and investing community has been determined to find the stocks that truly have sustainable growth rates north at or around the 20% threshold. While some have latched on to Chipotle (NYSE:CMG), others continue to cling to the usual suspects, like Apple (NASDAQ:AAPL) and Amazon (NASDAQ:AMZN). However, with China's markets down around 40%, investors still very concerning about this country's economic outlook and regulatory practices, strong Chinese companies are being overlooked.
China remains an economy that based on recent data points like the Chinese PMI data, should continue to grow in the high single digits. With China's central bank now focused on growth rather than inflation, Europe stabilizing, and the U.S. economy strengthening, it is likely that China will begin to see at least a moderate rate of growth acceleration in the back half of the year. Given these positive economic trends and still very negative investor sentiment towards most Chinese companies, I think it is worth looking at the better performing sectors within this market. No sector of the Chinese economy has been faster growing over that last several years than the IT and online advertising space.
By far, the biggest and performing Chinese company within the IT and internet search area has been BIDU. BIDU peaked at around 180 just over a year ago, and sold off below 100 around the end of September, before rallying to around 130, where it is today. The company recently delayed their earnings report because of what management said was a lack of visibility in their earnings outlook because of the Chinese New year. At 130 I think the stock is highly undervalued, and I think using a conservative valuation formula, the stock should be in the 175-185 range.
Unlike most Chinese and emerging market equities, BIDU produces an earnings report and balance sheet that is the same quality as most U.S. companies. BIDU also has consistently delivered on their increasingly stronger guidance, the company keeps a strong cash surplus on their balance sheet, and they have been able to show a very strong profit for several years now. BIDU also is benefiting from some strong secular growth trends that should continue for years to come..
While U.S. companies continue to use television as their primary a focus for advertising dollars in Western markets, the younger Chinese generation spends far more time playing online role games and engaging in social media through the many Chinese internet cafes. In short, in China the internet is the preferred advertising multimedia medium to reach the younger generation. Also, while companies like SINA and SOHU have been successful with their search engine businesses, games, and news sites, BIDU is has remained the dominant player in search for several years now..
With over half the overall market and Google continuing to have trouble with the central government, BIDU has centralized control over the search market in China while developing some nice additional business features in the music space that have strong appeal to younger users.
So what about valuation. Here again, BIDU looks very appealing. Since the stock has traded with the very poor performing Chinese market, it is off nearly 40% from its high of its 52 week high. Also, at roughly 29x the average estimates for next year earnings, the stock looks to be pricing in future growth of around 18-22%, far below the company's historic growth rate of 35-45%.
Even if we assume that BIDU, like nearly all high growth companies, will likely see their growth rate drop over the coming years, a company with a 25-35% growth rate should easily be valued at 35-40x forward earnings. Just for comparison stakes, Chipotle trades at around 35x next years average analyst estimates, despite analysts projections of a five year growth rate of 20-25% for that company.
If BIDU were valued at 35-40x the average estimate of next year earnings of 4.55 a share, we would get a share price of between 170-180 dollars a share, roughly where the stock was trading just a year ago. Given that analysts have consistently been behind on the company's earnings and growth estimates, it is also likely that the 4.50 cent number is a baseline estimate that will likely go up if growth accelerates in the back half of the year.
To conclude, today in China pessimism remains high even while fear levels have come down. While Europe was the center of much of the latest market sell-off, no market has been hit harder than China. While, it is likely that economic and regulatory challenges will to effect the valuation of most stocks in this market, with many Chinese equity names down 30-40%, it is time to pick amongst the rubble.
Not all companies are created equally, and the accounting concerns created by recent Chinese IPOs and some reverse mergers are not issues investors need to worry about when investing in a company like BIDU. While the construction market has slowed, retail spending in China has remained strong, and a number of restaurant chains and retail companies like YUM (NYSE:YUM) and Nike (NYSE:NKE) continue to report strength in consumer spending trends in Asia.
The easiest way to invest is to think yesterday winners will also be the best performing stocks of the future. However, with negative sentiment towards China's markets at near all-time highs, it is likely a good time to find value in names that have a strong track record and good future growth prospects.
Disclosure: I have no positions in any stocks mentioned, but may initiate a long position in BIDU over the next 72 hours.