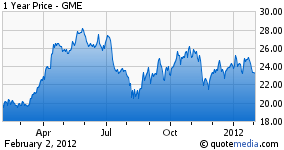 GameStop Corp (NYSE:GME), currently runs 6,627 video game retail stores and an online store, but the business may be going the way of the record store. The company used to dominate sales in the video game industry, but improvements in technology and distribution are rendering its business model obsolete.
GameStop has three primary revenue sources. The first is sales of new physical video games, customers walking into the store and buying a new game in the box from the shelf. The second is the company's trade in program, where it exchanges used games for credit towards new games, then resells the used games at a markup to the credit the customer receives. The final major revenue source is hardware sales, sales of new video game consoles and handheld gaming devices. Each of these revenue streams faces major headwinds in the years to come.
Sales of New Physical Video Games
U.S. retail sales of new physical video games fell 8% in 2010. This decline in sales is primarily due to two emerging trends that threaten GameStop's existence. The first trend is the rise of the smart phone and the tablet computer. The second is an evolving video game industry where developers cut out the middle man by selling their products directly online through downloads.
The ubiquity of smart phones and tablet computers offering cheap gaming apps and multi-functionality is taking a huge bite out sales of expensive portable gaming systems and the games that come with them. A person with an iPad can get games for free, or a marginal fee, from companies like Zynga (NASDAQ:ZNGA) through the app store on their device. A customer with a smart phone of tablet computer gets a multifunctional device for their money, while a person with a Nintendo (OTCPK:NTDOY) or Sony (NYSE:SNE) device will shell out over $100 and pay $20+ for each game. Shares in Nintendo, maker of the Nintendo DS series of portable gaming platforms, recently took a hit after some disappointing sales data in its handheld gaming devices revealed the impact of the casual gaming market shifting away from dedicated gaming handhelds and moving towards smart phones and tablet computers.
Sales of new computer and console games are also threatened. Video game developers are beginning to market their wares directly to gamers through applications that perform multiple functions as online stores, cloud storage for save games and scores, and even social networks which allow gamers to earn achievements and play online with friends. In the computer game market, Valve Corporation's Steam, Electronic Arts' (NASDAQ:EA) Origin, and Activision Blizzard's (NASDAQ:ATVI) Battle.net, all offer gamers the ability to download games directly to their computer. Other e-retailers, such as Amazon.com (NASDAQ:AMZN), are also offering games for purchase and immediate download. The broad increase of bandwidth in recent years has made it more efficient to download games directly from the developer, cutting out the packaging and shipping costs as well as the markups from middlemen such as GameStop. Console gaming systems, such as Microsoft's (NASDAQ:MSFT) Xbox 360, have integrated hard drives for data storage and have also begun to sell content directly through their online services, suggesting that full game downloads of new games could be in the not too distant future. So far, GameStop's efforts at entering the digital PC gaming market have been met with lukewarm success, with its current market share well under 10%.
Trade In Program
GameStop's trade in program has been hugely profitable and is a major source of the company's growth. Under the program, GameStop gives customers store credit for their used games, then repackages and sells the games at a markup, booking a substantial profit in the process. The system is a money machine, so long as management is able to properly estimate the demand for the used games and doesn't end up paying too much or acquiring a glut of inventory. Recently, GameStop has begun applying the system to old Apple (NASDAQ:AAPL) iPads, an attempt to enter the tablet computer market. While the effort is being hailed as incredibly successful so far, the company could be left holding an excess of inventory acquired at a higher price. Check out the first point in Peter von Roden's recent article on GameStop.
GameStop's pre-owned inventory reached a record level in Q3 before the holiday season, mostly due to big promotions which cut into margins and a swath of popular new titles that drew gamers' budgets away from pre-owned. Keep an eye on pre-owned inventories and margins to see how management's decision to build inventories impacts earnings.
Hardware Sales
GameStop's hardware sales, which consist mostly of sales of gaming systems, fell 19% last quarter. Management argues that the decrease in hardware sales is temporary due to a lack of new systems to spur sales, but a look at the market suggests that there may be some fundamental changes underway that will permanently reduce system sales. Newer systems, such as the Xbox 360, PlayStation 3, and Nintendo Wii, can download updates from the internet, potentially improving their lifespan dramatically. Most console makers lose money on the sales of the systems themselves, recouping the losses with gains from accessory and game sales. This means that it is generally in their interest to maximize the amount of time a customer uses a system before purchasing a new one. In addition to the possibility of diminished overall console sales in the future, GameStop faces increasing competition from big box retailers such as Wal-Mart (NYSE:WMT), Best Buy (NYSE:BBY) and online retailers, like Amazon.
GameStop faces major fundamental headwinds in its future. While the company currently trades at an attractive P/E of 8.6, investors should be wary of buying into a dying business model. If the company can successfully develop its tablet computer and digital sales lines, it may continue to succeed in the highly competitive video game industry. As always, do your own due diligence before investing, feel free to contribute to the discussion, and thanks for reading.
Disclosure: I have no positions in any stocks mentioned, and no plans to initiate any positions within the next 72 hours.
Disclaimer: This article is solely for the purpose of discussion. The author does not claim any financial expertise and any recommendations made or implied in this article should not be taken without further research or consulting your financial professional.