Endeavour Silver Corporation (NYSE:EXK) announced today that it is forecasting its eighth consecutive year of production growth for 2012. The company owns and operates two high-grade, underground, silver-gold mines in Mexico, the Guanacevi Mine in Durango State and the Guanajuato Mine in Guanajuato State.
Endeavour's silver production is forecast to rise 16% in 2012, to 4.3 million ounces (oz) and gold production is anticipated to increase 24% to 26,000 oz (5.6 million oz of silver equivalent production at the current silver:gold ratio of approximately 50:1) as shown in the table below.
| | | | |
| --- | --- | --- | --- |
| Mine | Silver (M oz) | Gold (K oz) | Ore Tonnes per Day |
| | | | |
| Guanacevi | 2.7 | 6 | increase from 1000 tpd to 1200 tpd |
| Guanajuato | 1.6 | 20 | increase from 1000 tpd to 1600 tpd |
| | | | |
| Total | 4.3 | 26 | increase from 2000 tpd to 2800 tpd |
Cash costs of production are expected to remain in the US$5.50 to US$6.00 per oz range, but will continue to be subject to industry-wide rising cost pressures, partly offset by rising gold credits at both mines. Assuming US$30 silver and US$1500 gold, Endeavour anticipates its mine operating profit margin will exceed US$24 per oz in 2012. The chart below depicts the cash cost component being managed downward over recent years. It also shows the divergence between the costs and the realized silver price, which is very impressive for 2011. Now can you imagine what this chart will look like should we get the boost in silver prices that many of our peers are predicting? Simply awesome.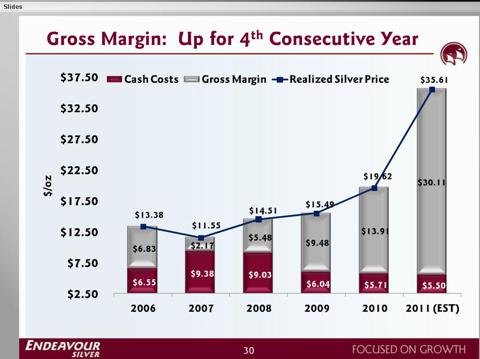 Courtesy of silverseek.com virtual silver conference
As a result of recent exploration successes at Guanajuato and Guanacevi, Endeavour's Board of Directors has approved plans for a 60% ramp up of mine production at Guanajuato from the current 1000 tonnes per day (tpd) output to the 1600 tpd plant capacity, and a 20% mine and plant expansion at Guanacevi from the current 1000 tpd to 1200 tpd, both to be completed by the end of 2012.
Capital investments include mine and plant infrastructure upgrades, new mine equipment and accelerated mine development. These expansion programs are both part of the Company's US$42.5 million capital budget for 2012, including US$21.3 million for Guanacevi and US$20.6 million for Guanajuato, which should readily be covered by the Company's anticipated 2012 cash-flow.
Modest quarterly increases in silver and gold production are anticipated in the first half of 2012 as management focuses on mine development, plant optimization, and other capital programs. However, metal production is expected to accelerate in the second half of 2012 as the capital programs gain traction.
Bradford Cooke, Chairman and CEO, commented:
Endeavour is on track to deliver its eight consecutive year of production growth in 2012 thanks to our philosophy of continuous improvement. Every year we acquire prospective new exploration properties. Every year, we make new discoveries to boost our resources and reserves. This allows Endeavour to expand production and cash flow each year, which provides the fuel for our future growth. In addition to delivering annual organic growth, this winning formula also allows Endeavour to grow through strategic acquisitions as well. With over US$155 million in working capital and substantial silver and gold inventories, the Company is well positioned to execute its business plan in 2012.
Endeavour Silver Corporation is a mid-cap silver mining company focused on the growth of its silver production, reserves and resources in Mexico. Since start-up in 2004, Endeavour has posted seven consecutive years of aggressive silver production and resource growth. The organic expansion programs now under way at Endeavour's two operating silver mines in Mexico, combined with its strategic acquisition program should help Endeavour achieve its goal to become a premier, mid-tier silver mining company.
The company's market capitalization is $988.44 million with 93.1 million shares (fully diluted) outstanding. The 52-week trading range is $6.06 to $13.10 and the stock price closed at $11.32 on the NYSE yesterday.
Endeavour Silver Corporation is traded in Canada [TSX: EDR], the United States [NYSE-AMEX] and Europe [DB-Frankfurt: EJD].

So it is appearing on a silver screen near you.
For disclosure purposes Endeavour Silver Corporation is our second-largest stock holding and we will look to increase our holdings going forward.
Disclaimer: gold-prices.biz or SK Options Trading makes no guarantee or warranty on the accuracy or completeness of the data provided. Nothing contained herein is intended or shall be deemed to be investment advice, implied or otherwise.

Disclosure: I am long EXK.