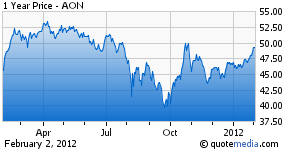 Aon Corporation (NYSE:AON), the risk management and insurance/reinsurance broker, is due to release results Friday. Earlier this week Morgan Stanley upgraded the stock, though kept its target price for the shares at $50. With analysts' expectations for fourth quarter income moving down from $1.01 per share to $0.96 per share over the last three months, since third quarter results disappointed, I thought I'd take a look at Aon in comparison to its sector peers.
Price to Earnings
With Aon shares changing hands at $49, the shares trade on a trailing price to earnings ratio of 18.18. This is lower than all its main competitors: Arthur J Gallagher (NYSE:AJG) 23.77, Marsh & McLennan (NYSE:MMC) 18.99 and Willis Group 24.91.
With Aon's earnings for the year expected to come in at $3.29, and then increase to $3.64 for the year ending in December 2012, the shares trade on a forward price to earnings multiple of 13.56. Again, this is a less demanding ratio than both Arthur J Gallagher and Marsh & McLennan (17.24 and 15 respectively), though about even with Willis Group.
Dividend and Yield
Aon shares, with dividend paid over the last year of $0.60 per share, yield 1.20. This dividend is covered more than four times by its earnings, the best rate of cover of the four companies.
Arthur J Gallagher shares yield 4.1%, but at the expense of cover (at just 1.05 times the tightest cover of the group). Marsh & McLennan and Willis Group both yield around 2.75%, but with cover of less than two times.
Margins
Profit margins at all four companies are within 0.5% either side of 8%. Here again, though, Aon comes out marginally on top, with a profit margin of 8.33%, with an operating margin of 14.6% beating both Arthur J Gallagher and Marsh & McLennan (12.54% and 13.74%).
Though Aon's return on equity of 13.71% lags marginally behind Marsh & McLennan's 14.44%, it beats both Arthur J Gallagher and Willis Group.
Revenue and Earnings Performance
Quarterly revenue growth at Aon is far more compulsive than at its competitors. It has enjoyed double-digit year on year revenue growth for the last four quarters, and this in its last quarter reached 51.2%. Earnings in the last quarter, when it failed to match market expectations, missing estimates of $0.73 per share by four cents, grew by 37.5%.
Quarterly revenue growth at Arthur J Gallagher is second highest of the four companies at 21.5%, while Willis Group languishes at a lowly 4%. Both Marsh & McLennan and Willis Group saw net income fall in their last quarterly reports from a year earlier.
Debt Position
Aon's debt/equity ratio at 55 is the same as that of rival Arthur J Gallagher, though a little higher than Marsh & McLennan (45). Willis Group has the highest relative level of debt, with a debt/ equity ratio of 89.29.
Conclusion
Aon shares trade at a less demanding price to earnings ratio than its peers, both trailing and forward looking. Its dividend is well covered by earnings, and the company has greater opportunity to maintain and increase this dividend to come more into line with others in the sector. Were the dividend increased to a level that would yield 2.7%, around the same as the shares of Marsh & McLennan and Arthur J Gallagher, it would still be covered by a greater percentage of its earnings than the dividend at its peers.
Aon's earnings growth has been solid through the last few quarters, with better recent performance than its rivals. Margins are in the upper quartile of its industry.
With its shares trading above both its 50 day exponential moving average of $46.63, and its 200-day exponential moving average of $46.59, I expect the upward trend since their 52-week low of $39.68 hit in October last year to continue. Market consensus of a 12-month target price of $54.80 may be too low.
Disclosure: I have no positions in any stocks mentioned, and no plans to initiate any positions within the next 72 hours.