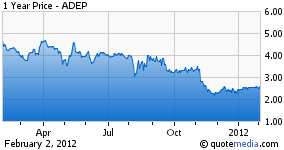 Adept Technology (NASDAQ:ADEP) rose on higher than usual volume Thursday. After release of earnings, revenues for the company were 14.2% higher than the same quarter last year. While ADEP's financials look poised for continued growth as 2012 progresses, its portfolio of technology in barely tapped markets make it an interesting play in the field of robotics.
Moving Into Mobile Technology
Adept's mobile robots may just be the newest and smartest in the industry. Most mobile robots are guided by a computer program or human interface with intelligence coming from outside the robot itself. Adept differentiates itself by providing intelligence in the robot. Adept robots can use sensory technology, such as vision, to interact with materials and the environment. Innovations allow robots to wirelessly open doors and maneuver around fluctuating obstacles such as people. ADEP's mobile robotics technology rivals that of more established competitor iROBOT (NASDAQ:IRBT) with an industrial focus.
ADEP's Core in the Food Packaging Industry
ADEP has made its business in the food packaging industry. The acquisition of InMoTx gave Adept the perfect complement to its existing packaging product line. The Adept Quattro s650HS is the only parallel robot which is USDA accepted for meat and poultry processing. The new innovative gripping technology increases its value proposition in an untapped market. Highlights of this technology can be seen at Adept's Octomation website.
The natural food market has great potential. Public companies in the fruit natural food industries that could benefit from robotic technology as they battle rising wages include Chiquita Brands International (NYSE:CQB), Dole Food Company (NYSE:DOLE) and Fresh Del Monte Produce (NYSE:FDP). In the meat area, Tyson Foods (NYSE:TSN), Pilgrim's Pride (NYSE:PPC) and Smithfield Foods (SFD) may be target companies for ADEP's technologies.
Expanding Business Home and Aboard
The company has expanded its solutions into China, the world's fastest projected growth market. ADEP has an office now open in Shanghai. Additionally, ADEP has brokered an exclusive deal with Swisslog Healthcare Solutions to provide logistical solution robotics for hospital use. Healthcare specified models are standardized on the ADEP MT400 platform. The Denver based Swisslog handles material transport and medication management in over 3,000 hospitals worldwide with over 2,000 based in North America.
Why Invest in ADEP Now?
Adept Technology is continuing to differentiate itself from its larger competitors and has built a niche in which to grow revenues. The specific robotics markets Adept has been targeting are quite substantial, with revenue in the billions, which is quite a feat for a company trading at such a small market cap of $25 million. Further, the company's focus on unique markets which are new to robotics, like the natural foods sector, is likely to produce increased future revenue. In these areas, Adept has little competition from peer companies.
News from the February 1st 2012 conference call was holistically positive. Revenues this quarter are up 14.2% over the same quarter a year ago. This quarter has seen ADEP net its first significant packaging revenue of close to $1 million. Recently acquired gripping technology has allowed the company to provide an innovative solution, protected by IP, in the food packaging target market. As a consumable product, the gripper component feature allows for a continued flow of high margin revenue. Positive news is coming out of its European market despite the shaky economy aboard. Europe is currently Adept's number one market, bring in 43% of revenues. Though the company does not report backlog, CEO John Dulchinos sounded quite confident that business was increasing and European orders would be expanding revenues throughout 2012.
While investors who took a position in ADEP in its $16 days may be hesitant to consider the stock again, the company may have finally found a working formula of technology, market growth and business plan that could net investors gains. Currently priced under $3 with a target $12, ADEP could be a beneficial addition to a portfolio.
Disclosure: I have no positions in any stocks mentioned, and no plans to initiate any positions within the next 72 hours.