Poseidon Concepts: Storms Ahead
Poseidon Concepts (OTCPK:POOSF) is an interesting company. It is a Canadian and entrepreneurial success story. Poseidon was born out of a need to better manage the massive water quantities needed in hydrofracking operations and the resulting toxic waste which is a by-product of those operations.
In 2010 Open Range Energy (OTC:ONRGF), which is a Canadian oil and gas company, observed that available solutions to manage the required water for fracking and the resulting waste water were inefficient and inadequate. Prior to the introduction of the Poseidon product, fracking companies had two options to store their water requirements:
Steel tanks: An average job required dozens of steel tanks sitting in "tank farms". It took 30 to 50 trucks to transport those tanks to location and one to three days to assemble them.
Lined open pit: like the name indicates it is just an open pit. Such pits have a risk of undetectable leakage, they are open and thus a source of air pollution and in some jurisdictions a state permit is required to establish them.
Open Range management looked at the above options and thought that there must be a better option. There was: their solution was called Poseidon (named after the God of the sea in Greek mythology). It was a simple solution. Open Range has basically built a big modular swimming pool. The product was easy to assemble (4 to 10 hours), could be transported in one to two truckloads and on top of that savings for the operator were as high as 40% in the summer and as high 70% in the winter. The product was vastly superior to what was available on every front.
Initially Open Range used the product for its own oil and gas operations, but shortly after, management rightly observed that there was a big business opportunity out there; why not rent out those tanks? This is exactly what they did.
In June 2010 the company rented its first tank and the rest is history. The demand was phenomenal. Being the only player in town offering such modular and efficient design, Poseidon felt truly like the god of the sea: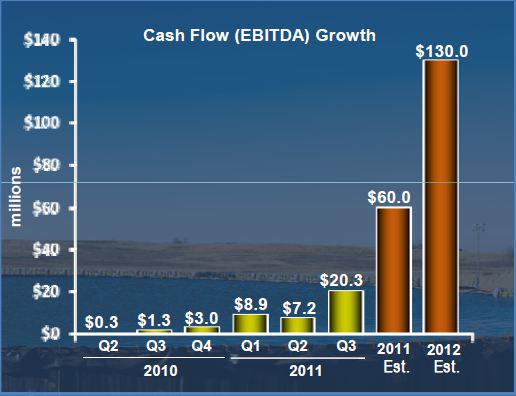 ( Source - Poseidon Concepts*)
With demand skyrocketing and EBITDA margins estimated at over 80%, the company did very well for itself and its shareholders: Open Range's stock appreciated from the $1 range to over $10 in under 18 months. At which point Poseidon Concepts was spun off as a separate dividend paying entity. Its stock has continued to rise on its own, bringing the company's valuation to over $1.2 billion dollar after its most recent share offering.
It must be said that despite all the growth Poseidon has experienced the company controls a very small portion of its target market. Its current 240/250 tanks fleet represents only 6% of its estimated 4000 potential tanks location. Even after the company adds an estimated 160 tanks this year, the company will control only 10% of the market. (Certain financial institutions such as BMO Capital Markets project a total market of 3000 locations, but this still leaves a lot of room for growth.)
It is worth noting that on January 11th 2012, Poseidon raised its expected EBITDA for 2012 to $170m.
Possible storms ahead
I learned a long time ago that exiting an investment is always harder than entering it, thus is it time to exit Poseidon Concepts? Here are the pitfalls I see for the company at this stage of its development:
Unsustainable margins
A business operating at an 80% Ebitda margin is highly unusual. Being a first mover and the only provider in this modular tanker market has given Poseidon an unparalleled pricing power. With no rival solution remotely able to compete with their product, Poseidon was able to offer meaningful savings to the operators while maintaining very high margins for itself due to the low-tech nature and low staffing requirements to manage the product.
Obviously, such high margins are attracting competition. In late 2011 Total Energy Services (OTC:TOTZF), an established oil field service provider, launched a product with similar characteristics to Poseidon called Apollo (for some reason they like Greek gods in the tank business!). Over time, as more competitors introduce similar products, the business is likely to trend toward the average oilfield rental margins of 40% to 60% (In line with Strad Energy Services (OTC:STRDF), Black Diamond Equipment (OTC:BDIMF) and Total Energy Services margins). Those margins are still substantial but significantly lower than Poseidon's current margins.
The second potential pressure on margins is the current providers of steel tanks. Prior to Poseidon's introduction there was lack of competition except for lined open pits, thus the steel tanks providers had low incentive to lower prices beyond what their steel tank competitors were offering. But with no other way for them to compete and due to the low sunk costs of steel tanks, it is likely that those providers will respond by significantly lowering their prices to maintain market share.
Pressure to diversify
Poseidon's management is aware of the rising competition and they are realistic in their long term margins expectations: Poseidon management has indicated an interest in expanding in complimentary business lines such as water purification and water recycling.
While a diversification into a new business line is a wise long term move, such an entry could prove problematic in the short term. The water purification and recycling business is inherently more complex than water tanks. Companies operating in this segment, such as Ecosphere Technologies (OTCQB:ESPH) or Heckman Corporation (HEK), have vastly lower margins and neither one is operating profitably.
It is hard to make a judgment at this stage about the business Poseidon will choose to enter, but it is fair to say that in all likelihood it will be a much harsher operating environment compared to what Poseidon management or its investors are accustomed to.
Overvaluation
Due to the low cost nature of the tank business Poseidon is trading at about 1400% premium to the replacement value of its assets. However, on a 2012 EBITDA multiple the stock is trading at a more reasonable multiple of 7 (the peer average is 4 to 5) and on price to earnings ratio of 9 on estimated 2012 estimated EPS of $1.21. One reason the stock is maintaining such a high valuation relative to book value is due to its strong Return on Invested Capital (in excess of 100%) and its high dividend yield at about 7.2%.
The overvaluation on book value basis and the reasonable valuation on earnings per share basis makes the company very sensitive to any slight change in its business or margin outlook. Its valuation is solely supported by its cash flow generating ability and not its assets. It is worth noting that such a situation is not unheard of. Companies with strong brand equity and a moat around their business (think Coca Cola (NYSE:KO); Google (NASDAQ:GOOG)) can trade significantly above their tangible book value, but this is not usually the case in a commodity cyclical business.
Spillage risk
I must start by saying that this is a remote risk, but a significant one if it took place. Poseidon offers three types of tanks: a small one (9000 barrels), a medium (18000 barrels) and a large one (40000 barrels) compared to an average of 300 to 400 barrels capacity per steel tank. Those massive Poseidon tanks often hold a mixture of extremely toxic material resulting from hydrofracking operations. Due to the large size of those tanks, in case of containment failure, there is a risk of significant environmental damage and associated liability. The company maintain however that their tanks are designed with at least double the storage capacity, thus making a risk of such failure remote.
Growth of waterless or low water fracking
In the last couple of years the hydrofracking industry has experienced a rising backlash from the public; documentaries like Gasland have shown several cases of environmental damage caused by fracking and specifically fracking waste water. Late last year the EPA has issued a controversial report on fracking water pollution, while in Ohio earthquakes were blamed on the disposition of fracking fluids.
The public backlash in combination with the spectre of enhanced environmental regulation has incentivized the industry to better manage the toxic waste water issue as well as search for alternative waterless or low water fracking solutions. To that end companies such as Schlumberger (NYSE:SLB) introduced a product called HiWay, which according to the company leads to a 85% reduction in fracking water usage. Likewise Halliburton (NYSE:HAL) has introduced RapicFrac, while Baker Hughes (NYSE:BHI) has introduced FracPoint. Both companies claim lower water usage with those two technologies.
In addition low water CO2/N2 Foam fracking technologies have gained further acceptance as a viable replacement for water based fracking, while waterless Liquefied Petroleum Gas (LPG) fracking has emerged in the last four years and is steadily gaining market share.
It is important to note however, that none of the above mentioned technologies is likely to replace water fracking anytime soon, but over the long term the industry is looking for alternatives to water fracking. Not just due to the rising pollution, but due to the massive quantities of water required to frac a gas or an oil well. The industry consumes 2 million to 10 million gallons of fresh water per fracked well. To put that in perspective, 5 million gallons of water is what a city like New York consumes in 7 minutes.
In conclusion, I believe Poseidon Concepts management has demonstrated great foresight. They have identified a need in the market, developed a proper product and scaled it very quickly. In the process they have created a tremendous amount of wealth for themselves and their shareholders. Having said that, I believe Poseidon Concept today, with a valuation of $1.2 Billion, largely reflects that success. The company may have a few more quarters of torrid growth and low competition, but rising competition and the upcoming diversification efforts present both a business and execution risk. Investors in Poseidon will likely enjoy an attractive dividend for years to come, but the outlook for substantial capital gains seems illusive at this stage. Longer term (3 to 5 years) there is a significant risk of capital loss should the company operating margins compress and management fails in its attempts to properly diversify.
Disclosure: I have no positions in any stocks mentioned, and no plans to initiate any positions within the next 72 hours.