Although I am wary of the market at current prices after its recent run, I am still positive on the energy sector. I especially like the oil services sector given all the activity happening in the gas and oil shale space in North America. I have several positions in the sector, the biggest being Schlumberger (NYSE:SLB) given its solid prospects. I am also becoming more and more positive on Weatherford (NYSE:WFT) for a variety of reasons.
Weatherford International - "Weatherford International Ltd. provides equipment and services used in the drilling, evaluation, completion, production, and intervention of oil and natural gas wells to independent oil and natural gas producing companies worldwide. It offers artificial lift systems, which include progressing cavity pumps, reciprocating rod lift systems, gas lift systems, hydraulic lift systems, plunger lift systems, hybrid lift systems, and wellhead systems, as well as production and well optimization systems, multiphase metering systems, and production control system" (Business Description from Yahoo Finance).
7 Reasons to pick up Weatherford at $17 a share:
Weatherford is showing remarkable earnings growth. The company made $.56 in FY2010, it is expected to earn $.86 in FY2011 and analysts project $1.54 in earnings for FY2012.
The mean analysts' price target on Weatherford is $21.50. S&P has a "Buy" and a $22 price target on WFT.
It is selling near the bottom of its five year valuation range based on P/B and P/S. Earnings estimates for FY2012 have risen over the past two months.
The stock is showing increasing technical strength, is over its 100 day moving average, and is poised to cross over its 200 day moving average (See Chart)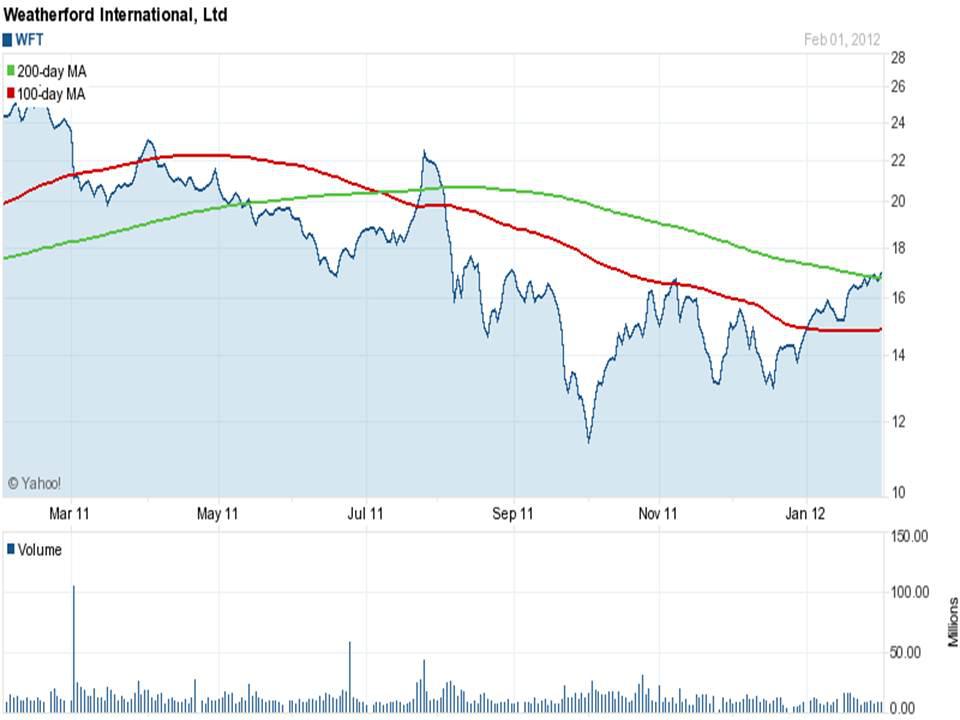 Click to enlarge
The market seems like it underestimating WFT's growth prospects judging by its five year projected PEG (.35).
Weatherford produce's close to 50% of revenue and over 80% of profits from the fast growing North American energy market. More importantly, 70% of that business comes from oil production and it should benefit as more producers move over to oil production due to the extremely low prices for Natural Gas.
The stock is down some 30% from its highs last year and should be ready to move now that has put a bribery scandal and tax error behind it.
Disclosure: I am long (SLB). I also may pick up WFT in next 72 hours