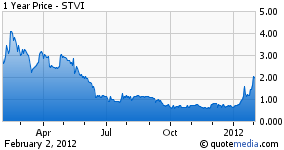 On Wednesday after the market closed, Facebook filed its S-1 IPO offering document. This filing allows us to take a full look at the business model and offers some key insights for Snap Interactive (OTCQB:STVI) investors.
Snap's expected 2011 revenue growth of 198% will significantly exceed Facebook's growth of 88%. Moreover, looking at Zynga for an additional data point, we see that Snap is also growing faster than its 90% rate. On a compounded annual growth basis from 2009 - 2011, Snap's revenue is growing at a rate of 154%, compared with 119% for Facebook and 206% for Zynga (NASDAQ:ZNGA).
In terms of revenue composition and quality, we believe Snap's focus on subscription revenue is superior to Facebook's advertising model and Zynga's advertising/virtual goods model. With advertising revenue, there are no recurring obligations to continue campaigns and pricing rates can change. Furthermore, Zynga's virtual goods model is highly discretionary and has customer concentration issues. We believe Snap's subscription model offers greater revenue visibility and pricing stability among the three companies.
Looking at gross margins, STVI has the highest among the group at 86% versus 77% and 73% for Facebook and Zynga, respectively. Furthermore, Snap's R&D and G&A expenses are in-line with peers. Zynga has significant development costs with producing new games. Snap's marketing expense is noticeably higher than peers, though is an intentional decision to re-invest cash flow to acquire users.
Most importantly, Snap is the only company that is currently leveraging the mobile revenue opportunity. According to Snap, 10% of revenues are currently derived from mobile versus none for Facebook and Zynga.
On a valuation basis, Snap appears significantly undervalued to both Facebook and Zynga. On an EV/2011E revenues basis, Snap trades at 3.7x vs. 26.9x and 6.1x for Facebook and Zynga, respectively. On a Monthly Active User (MAU) basis, SNAP trades for 9.3x vs. 118x and 30x for Facebook and Zynga, respectively.
Business Model Comparison
Click to enlarge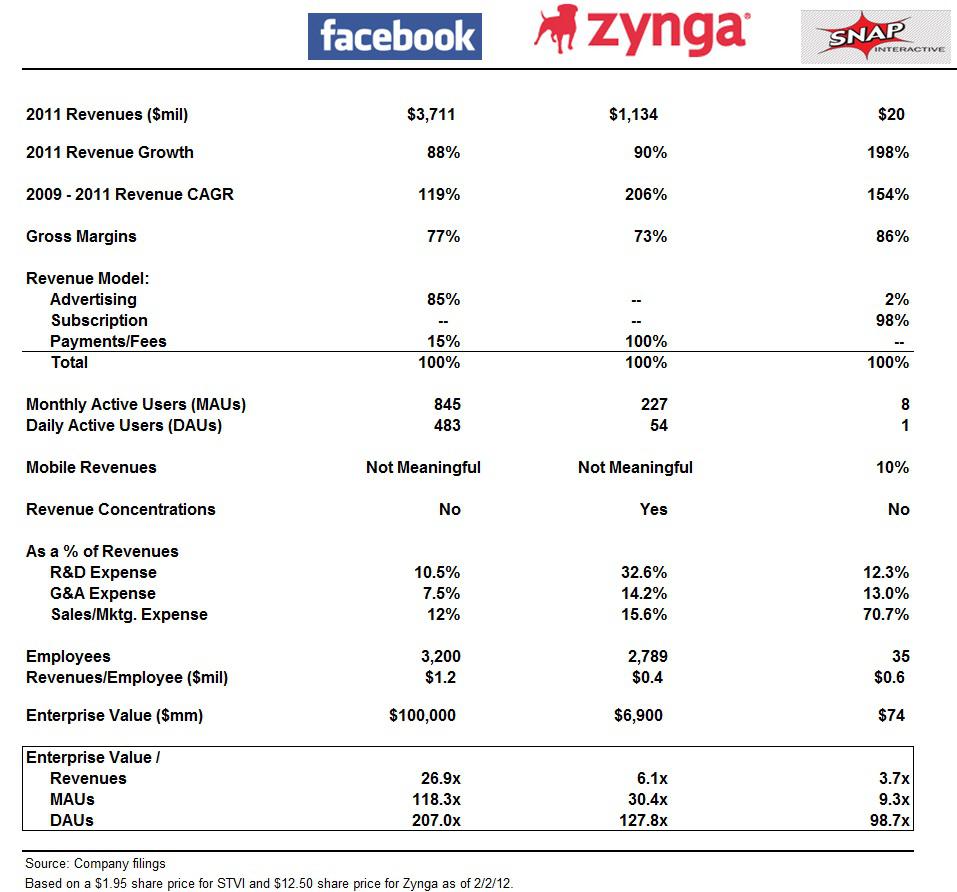 Click to enlarge
Snap Interactive Valuation Comparison
If we apply Zynga's current valuation metrics to Snap's, we can derive a reasonable price range for Snap's shares. We believe Snap's business model offers greater secular growth to Facebook with less risk than Zynga's model due to its subscription revenue model, current leverage to mobile revenues, greater customer diversification, and no dependence on significant capital expenditure costs to produce games that may ultimately not succeed. The gaming market is also significantly more competitive on Facebook than the dating market, with larger players like Electronic Arts (NASDAQ:EA) and Disney (NYSE:DIS) attempting to take market share.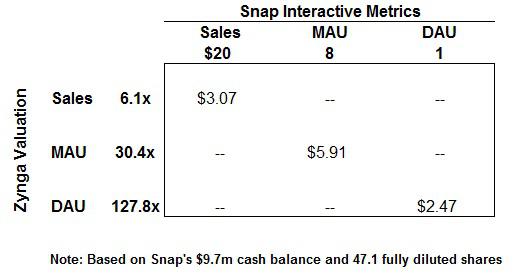 Click to enlarge
Conclusion
We believe Facebook's recent filings confirm our previous conclusion that Snap Interactive is significantly undervalued. If we compare Snap's valuation to another pure play Facebook application provider such as Zynga, we see that a more realistic valuation is closer to $3.00 per share.
Disclosure: I am long OTCQB:STVI.